The Malt Maniacs Malt Monitor
Premium Deluxe Edition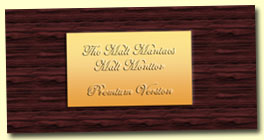 As said before, just like some distillers who have decided to gouge as much money as possible from their loyal customers, we too now have a deluxe version of the Monitor!
Only on line for two weeks.
Price: 675.00 Euros a single download of the exciting Premium Deluxe Edition. Same content as the popular regular version but this one lavishly packaged in a super-deluxe mahogany 'box'. Strictly limited edition and highly collectable, surely worth your hard-earned money (well, that's what we think).
We're also considering a Tippex-finished version later this year but that won't come cheap.
Get in now!!! Click here!
We said HERE!