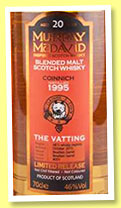 Coinninch 20 yo 1995/2015 (46%, Murray McDavid, blended malt, 250 bottles)

Oh what a name again! But why not, maybe is it better than Norse gods? What? You say Coinninch was a Norse god? There are eight different malts inside, from all Scottish regions. Colour: pale gold. Nose: gutted, they did it again. No peat this time – or very little – rather a wonderful, quite subtle waxy Highlandness, with some sea air, some linseed oil, some kelp, some green apples, some lemons, some… wait, some peat! It is actually rather peaty. How would I put it, remember the older Black Bottle? That's more or less the style, but this one has got more profoundness and certainly more depth (tsk tsk, that's the same, S.) I think they almost reconstructed Clynelish, no small feat. Mouth: super good, for sure. What bothers me a little more is this sweet and oily vanillaness that coats it and makes it a little slow after the wonderful nose. It's lost a bit of oomph and zestiness, but there's no denying, it's very good. Oranges, vanilla, smoked fruits, and perhaps a little too much fudge (given the style). Finish: rather long, rather smokier (a peater seems to be willing to have the last word) and slightly salty. Which is good. Comments: I find it less interesting than the Rìgh Seumas, but it's most certainly very good whisky. IN a way, and that's only my opinion, there's either not enough peat, or too much of it (oh S., would you mind your own business please!)

SGP:553 - 83 points.