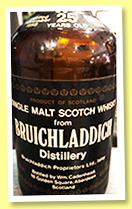 Bruichladdich 25 yo 1958/1984 (92 US proof, Cadenhead Dumpy)


Indeed that young little bugger named Angus already tried this one one good month ago. I'm asking you, where's the respect? Colour: pale white wine. Cool, we'll get closer to the spirit! Nose: ah, and now for something different! Never nosed something like this. I'm thinking fresh rubber, leatherette, burning plastic (only wee bits, no worries), and then fresh nuts, seashells, green tea, then mango peels, then Colgate toothpaste, then green melons (melons, already!), then brine and coaly oils, engine oil, raw wool, brand new tweed jacket, old books, new electronics… In short this is very flabbergasting, and one cannot not wonder why they stopped making this kind back in 1960. Now I'm sure they had good reasons, but seen from almost sixty years later, that all sounds odd. Mouth: some glorious, blazing peat! Not transmuted peat, not ideas of peat, not tropical fruits that came from peat, rather raw, pure, fat peat. And please believe me, we've tried quite a few very old peaters from the south shore that had become much less peaty than this Bruichladdich over the years in glass. Yep, Ardbeg, Laphroaig, and Lagavulin. No, Port Ellen wasn't working. So, loads of smoked fish, especially smoked salmon, clams and whelks, brine, barnacles, some kinds of tarry lozenges, then more citrus, grapefruits, bamboo shoots, old chenin blanc, seawater, and all that. Oh would you please call the Anti-Maltoporn Brigade before we start to use pornographic descriptors? Finish: long. Passion fruits and mangos, plus precious cough syrups. Comments: holy featherless crow! What happened? This is a new whisky to me, while it spent 25 years in (gentle) wood plus 35 years in glass! It really is exceptional, and you cannot not wonder what would have happened, had someone not decided to go unpeated sometime in 1960. My year, by the way, but that's not of the utmost importance, is it. No, really, what an insane discovery! It was in the books, it's now in my tasting library – what some call a milestone, I suppose. This sort of thing is why I'm still doing Whiskyfun, by the way.

SGP:565 - 95 points.