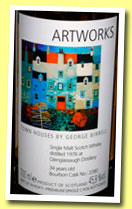 Glenglassaugh 34 yo 1976/2010 (45.9%, Art of Whisky, Artworks, bourbon, cask #2380)

This little German bottler has already issued quite a handful of excellent whiskies, always fairly priced if I remember well. Colour: white wine. Nose: there is this paraffin again, but otherwise it's a finer spirit than the 1986, with more fruits although I wouldn't call this 'fruity'. Apples, greengages… Also touches of lemon, then whiffs of sunflower oil, unless that would rather be grape pips oil. It's a rather delicate spirit, but it's got character. A light character… Mouth: ah yes, this is where the differences wrt the 1986 are most obvious. Bigger, fatter, fruitier again, with several sour fruits that give it an interesting side. Grapefruits, sour apples, rhubarb perhaps… Also some melissa water, not-too-ripe grapes… It's rather unusual, getting greener and greener minute after minute. After ten minutes it's almost grapefruit juice. Finish: quite long, lemony, a little earthy… This could be a margarita, in a way. Fun stuff. Comments: fun stuff indeed. Rather unorthodox, but fun.
SGP:551 - 85 points.