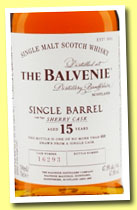 Balvenie 15 yo 'Single Barrel Sherry Cask' (47.8%, OB, cask # 16293, 2014)

This new one was fully matured in sherry casks, contrarily to the older SBs that, if I remember well, used to be aged in bourbon. Colour: deep gold. Nose: we're actually rather close to the 12, with similar oranges and honey, and certainly not a big sherriness like in, well, sherry bombs. So probably not first fill. This one's actually a notch grassier and spicier after one minute or two, but it remains very fruity globally, and that would be fresh fruits rather than dried ones. So a light sherry on the nose. Mouth: an unusual arrival, with touches of dried porcinis and leather as well as notes of rhum agricole and even old wood. More and more triple sec after that, caramel liqueur, roasted almonds and raisin cake. Slightly burnt kugelhopf, would say the Alsatians. Rather creamy mouth feel, the strength is perfect. Finish: quite long, with this feeling of rum and raisins again. A little vanilla, chocolate and ginger in the aftertaste. Comments: not a tiring kind of sherry at all, they managed to keep the distillery's 'rather light' style. I say very good stuff.
SGP:551 - 84 points.