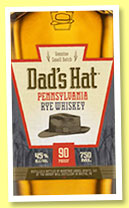 Dad's Hat 'Pennsylvania Rye Whiskey' (45%, OB, USA, Pennsylvania, +/-2014)

The vermouthy version was very fine, let's check this one. According to the very excellent people at K&L, this is 'made from 80% rye, 15% malted barley, and 5% malted barley'. Ahem, that could be the Mai Tai effect ;-). Colour: gold (lovely colour). Nose: same feelings, it's a milder, easier version of Dad's Hat. Soft breads, soft breads, and soft reads. Leaven, gingerbread, sweet brioche, violet and lavender ice creams (you should really try them, really. Go to Provence!)… There's also a discreet earthiness – an asset, for sure. Mouth: cancel that, this works a treat. Rye aplenty, breads, cakes, pastries… It's like visiting a baker friend early in the morning while he starts working (and you've just left the nightclub). Orgeat, spicy bread, caraway, cinnamon, geranium syrup (ever tasted that?)… Finish: long, spicy, a tad drying once again. It's probably hard to come up with a great finish when you're using very active oak on some young distillate. The craft distiller's dilemma, as FZ would have said. Comments: very great effort nonetheless. There is some depth to this young baby.

SGP:451 - 82 points.