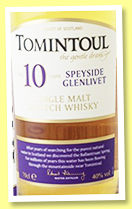 Tomintoul 10 yo (40%, OB, +/-2018)


When we last tried this little expression, around ten years ago, I thought it was pretty mundane (WF 75). But they've changed the packaging (good one, S.) Colour: pale gold. Nose: floral, buttery, slightly metallic. Mashed potatoes, dandelions, sunflower honey, barley, hints of old tin box full of old herbal teas. A rooty touch too, celeriac, carrot… Mouth: it is fine, gentle (that's their motto anyway), slightly toasted, with roasted peanuts, some molasses, Golden Grahams, peanut butter, and rather more burnt sugar after one minute. Malt bars, some kinds of energy bars (the Bon Accord in Glasgow is an energy bar too, ha). Finish: short, getting just a little bitter, like many other single malts in the same 'entry-level' category. Notes of Guinness. Comments: well, I like this newer batch better than last time, but perhaps am I softening a bit. No, of course not (insert appropriate insults here).

SGP:341 - 78 points.