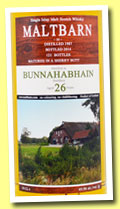 Bunnahabhain 26 yo 1987/2014 (49.9%, Maltbarn, sherry butt, 121 bottles)

Martin Diekmann's got some great little bottlings in recent months, let's hope this one will be on par. Why wouldn't it, you may wonder! Colour: pale gold. Nose: it's an oily one again. Not that the texture is oily, it's just that it smells of various oils, between straight engine oil and vegetal ones, sunflower, grape pips, even hazelnut… Behind that, some apples and greengages, a little ink again, waxed papers, grass, cut cactus, a little eucalyptus, some paper smoke, a little camphor… So this is different again, it's incredible how Bunnahabhain can be variable – in a good way. Mouth: bingo, same very high quality as the 1989. Drops of seawater, lemon juice, dried porcinis, tangerine juice, crème de menthe, gentian (Suze), then more brine, tinned sardines, cough syrup… I know the inventory sounds unlikely, but believe me it's all perfectly amalgamated – so to speak. Finish: long, briny, with a mild peatiness and more and more earth. Lemony aftertaste – lemon in the aftertaste is always good news, keeps your palate tidy and ready for a next dram. Comments: the smoke never stopped growing.
SGP:453 - 90 points.