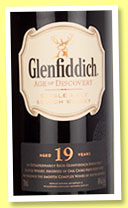 Glenfiddich 19 yo 'Age of Discovery' (40%, OB, red wine cask finish, +/-2013)

Red wine cask finish? How very scary. Apparently, they've been using South American Bordeaux blend wine casks. Now, the Age of Discovery bourbon and Madeira have been to my liking (both WF 85) so we'll see what we'll see… Colour: gold. Good rinsing ;-). Nose: well done! No 'red wine', which is cool. I love red wine, but if I need red wine, I drink red wine. Haha. Rather Virginia tobacco leaves, earl grey tea, butterscotch, humus and mushrooms, ripe greengages (which makes it pretty summery, how appropriate), apricots… It's a very subtle and complex nose, only the lack of watts makes it a little frustrating. Oh and there are funny hints of miso soup and smoked ham. Mouth: another world after the undemanding Reserve Cask. It's grassier, oakier, grittier, kind of wilder, with a little ginger and green pepper (quite cabernety), then oranges, tea, dried apricots, and 'ideas' of smoked ham. It's light, but it's not too 'scrawny'. Finish: short, but with a funny saltiness. Or something that triggers our salt receptor, as some would say. Some tea tannins. Comments: the pedigree was scary, but it was all very all right. The red wine has been kept at bay.

SGP:451 - 82 points.