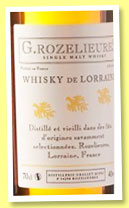 Rozelieures (40%, OB, Grallet Dupic, France, Lorraine, single malt, +/-2014)

Right, Lorraine isn't Alsace. They're our neighbours/cousins from the West. Well in fact we will soon live in the same mega-region, as our very wise government has just decided to amalgamate Alsace, Lorraine, and Champagne. I don't quite know what will happen with the brand new Alsatian IGP ;-). Another version by Rozelieures, a peaty one it seems, just won another Gold medal in Paris. This one was matured in sherry wood. For how long, I don't know. Colour: gold. Nose: more oak and more spices in this one, less lightness, more heaviness (bravo, S.), with caraway, sloe, ginger, cinnamon, nutmeg… Also whiffs of grape pips oil, then the expected vanilla. Tarte tatin. Touches of menthol. Mouth: much, much, much more whisky-ish than the Elsässer, fatter (but the Alsatian was very light), less fruity, spicier again, with a faint smoke, some cloves and cumin, some ashes, even a touch of salt, gingerbread, cinnamon mints… Finish: rather short, a notch sugary perhaps. Ashes in the aftertaste. Comments: frankly, this is quite okay. The oak feels a bit, while the spirit isn't very big on the palate. Perhaps more balance…

SGP:551 - 75 points.