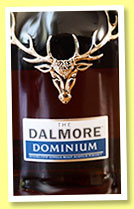 Dalmore 'Dominium' (43%, OB, Fortuna Meritas Collection, +/-2016)

Oh, 43% vol., hallelujah! This one was finished in Matusalem sherry, which is to Dalmore what Connolly leather was to Rolls-Royce. Colour: gold/bronze. Nose: the driest, the most leathery, the most walnutty, and the woodiest of them all. New humidor, curry powder, cocoa powder, sweet mustard, old walnuts, these sorts of things. We're almost nosing some old oloroso, there's even a kind of wood/coal smokiness, very peculiar. No, not struck matches, rather flints, old rifles… Mouth: well, it reminds me a bit of neighbours Glenmorangie's first sherry finishings, that was quite a long time ago. Toffee, coffee, Corinth raisins, and more chocolate than in a Swiss bank. Some heavy black tea as well, Russian style, which gives it a tannic-like feeling. Finish: medium to long and rather spicier. Cloves, caraway, gingerbread, and perhaps sweeter drops of PX. Bizarrely, the aftertaste is rather sweeter and almost liqueury, Zacapa-style, but I like this Dalmore much, much better. And the after-aftertaste is grassier/leafier again. Comments: the biggest one, and that's not only the higher strength.

SGP:561 - 85 points.