Strange Bits
(HTML, various statistics, updated 26/09/2004)
Various statistics, like our favourite bottlers, our our prefered styles of whiskies. Worth checking!
- - - - - - - - - - - - - - - - - - - - - - - - - - - - - - - - - - - - -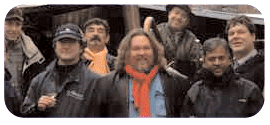 Malt Maniacs Picture Book
Unlike many web communities, the maniacs meet in real life, whatever the distances.
From Adelaide or Tel Aviv, Hamburg or Amsterdam, Palo Alto or Ottawa, they all take
every single opportunity to meet and to share a few (well, many) drams together,
and many of their ideas about the fantastic world of single malts as well.
Why not have a look at the pictures hereunder right now?

Islay 2004 Davin's Photos
Islay 2004 Serge's Photos
Islay 2004 Olivier's Photos
Islay 2004 Ho-cheng's Bruichladdich Photos
May-June 2004, Davin, Ho-cheng, Olivier and Serge having fun again
on beautiful Islay. What a blast!
Alsace 2003
In December 2003, malt maniacs Davin, Klaus, Krishna, Mark, Olivier and Serge
gathered in Alsace for a Brorathon, an Islay breakfast and to distil their own spirit.
And talking about spirits...
Scotland Pildrammage 2003
In May-June 2003, malt maniacs Johannes, Craig, Davin, Krishna and Serge
made a pilgrimage (or pildrammage) to Speyside. Oh, that was fun!
Hamburg 2003
JOLTing and Pandora operations are two of the maniacs favourite activites,
and German Maniac Klaus does always participate very actively. See the pictures!
Milan 2002
Maniacs Johannes and Serge made it to Milan, where world famous collector
Giorgio d'Ambrosio made them browse his fantastic collection. I tell you, a dream!
Paris 2002
The Paris Whisky Festival took place at the Distillerie Clacquessin in September,
and of course French maniacs Olivier and Serge attended the event.
Some good friends from the industry... and perhaps too many malts!
Islay Festival 2002
An absolute must! Was it because of the Old Alliance? French maniacs Olivier and Serge
(and American maniac Michael Wade) went there, for some incredible moments.
Dramsterdam 2002
When Israeli maniac Roman, Canadian Davin, German Klaus and French maniac Serge
meet in Johannes' home city, what can happen, other than a lot of dramming?
Fun and pleasure to meet somewhere else than in the cyberspace, of course!
Various events
Davin and Mark at WoW, San Francisco, various tasting sessions...
And a picture of Dutch maniac Johannes' car. You just can't miss it!

Slainte!