January 2004 <--- February 2004 ---> March 2004
---
February 25, 2004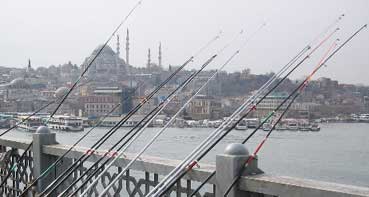 VARIOUS MATTERS - Gone fishing for one week in Istanbul. See what I caught hereunder...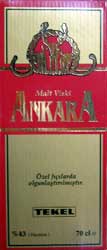 That's right, one bottle of Ankara, the Turkish 'viski'. This one will be shipped to Craig in Australia for his next EOZ tasting session. Tell me about a trip!
---
February 19, 2004
MALTS - HIGH SPIRIT SPEYSIDERS - Tasted disclosed at home, with Olivier
Macallan 18 yo 1978/1996 (43%, OB)
This one could be an ideal benchmark malt for this evening, even if it isn't a cask strength malt. The colour is full amber, and at first nosing it appears to be mellow and warming. Great, fine sherry, but not bold like in the 12yo. Then come some bitter orange, coffee bean, nutmeg. Develops on vanilla pod and, surprisingly, on ginger tonic, and finally some fresh fruity notes appear (kiwi, melon). The mouthfeel is balanced, sweet and slightly bitter. Even a little sharp. The palate has a lot of fine sherry of course, some fine wood, and then some very ripe banana and crystallised orange. It's very balanced but gets a little bitter, and the finish is medium long. In short it's quite big and bold, at least more than the 1984. Not very complex, but beautifully 'crafted'. We'd like it to be a little more 'extravagant', but don't forget it's still a mass-market malt. SV 87 points, OH 88 points.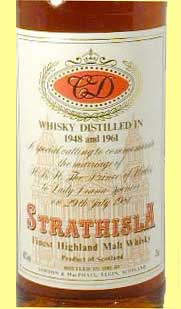 Strathisla 1948-1961/1981 'Royal Wedding' (40%, Gordon & MacPhail) This one was issued in 1981 to celebrate the marriage of Prince Charles and Lady Diana. It's a vatting of both birth years, 1948 and 1961, so its average age is 26yo, although it's technically a 20yo. Its colour is amber, and at first nosing it's very mellow. Some great perfume notes are soon to arise: lavender, 'vetiver', citronella, peppermint, and then some torrefaction. It's not marked by the wood, and quite different from most G&M Speysiders. Great freshness. The first mouthfeel is a little light, smooth and sweet. The palate is on the fruity mode at first (tangerine, exotic fruit, camomile) and then it gets quite woody, in a fine way (ginger, cinnamon, cocoa powder) and a little dusty as well – who said like the Prince? In short, very refined and elegant and, again, surprisingly fresh. The finish is short to medium. This malt lacks some power, for sure, but it's very subtle globally. It's got some 'old bottle' notes both Olivier and I like a lot. We both think malt does age in bottle – almost always for the better -, even if most connoisseurs claim it doesn't. Sure, the process is much longer than with wine, but we found these 'old bottle' notes only in… erm, old bottles, and never in recently bottled malts. Anyway, our ratings for this 'Royal' malt: SV 90 points, OH 92 points.
Linkwood-Glenlivet 14 yo 1987/2002 (58.6%, Cadenhead, refill sherry) Here's one of these almost unsherried Speysiders, as shows the almost white colour. I must admit I'm not a big fan of this style, mainly because there's never much going. But it's a nice way of finding out about a distillery's actual style, because the cask itself has no, or very little influence. At first nosing, it's very powerful, almost tingling. Strong coffee notes (ristretto!) then brown sugar, lavender, Cologne water. Develops on bitter orange and tangerine, then gets a little feinty. Really powerful and very nice, but again, where's the sherry? Even the orange smells don't look like some sherry's. It lust have been a third-fill cask – at least. The first mouthfeel is curiously balanced – more than expected, in any case. On the 'weet'n'bitter mode. Very floral (lavender) then vanilla, crème brûlée, Kalhua, Grand-Marnier. Gets a little cereally: broiled cereals, hot milk, yeast, and finally a lot of peppery notes. Bold and robust, not very subtle, but still enjoyable. The finish is long. In a nutshell, the nose is much more aggressive than the palate, which gives you quite a lot of pleasure. The Glenfarclas 105, which is another benchmark malt for us is simpler, dryer and more bitter and woody. SV: 85, OH: 88.
Aberlour-Glenlivet 15 yo 1987/2003 (62.1%, Cadenhead, bourbon cask) Again, the colour is very light (white wine), but at first nosing it's very powerful. Heavy coffee, medical alcohol, green apple, fresh almonds, marzipan, orange, vanilla… and some peppery notes. Much fresher than the Linkwood. The first mouthfeel is very powerful, again on the sweet and bitter mode. Develops on cooked apple, crème brûlée, liquorice stick and fresh fruit (apple, pear, peach). Bold, simple and robust! It needs some water to open up actually, because it's really too strong, even for some hardcore drammers. By the way, I noticed that, again, there's some saponification happening for a while when you add some water, and it's always better to wait for thirty seconds before nosing your malt. Anyway; this Aberlour is quite good, even if not very complex. Nothing to do with the Glenfaclas 105, but I like both more or less the same. SV: 84 points, OH: 86 points.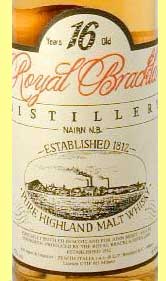 Royal Brackla 16 yo (57%, OB, Zenith Import Italy, b. in the 70's) Here's one of these old Italian OB's! It's really astonishing to see that the Italians had so many different OB's way before the rest of the world, even the UK, including Caol Ila, Clynelish, and this Brackla. The latter shows a pale straw colour, and at first nosing it's powerful, even tingling, and surprisingly fresh. Great fruity notes (watermelon, white peach, rhubarb). Then it gets a little grassy (dill) and woody. But what a nice wood! I really like this sharp and very fresh nose. The mouth is more balanced, but still quite powerful. Beautiful fruit (pineapple, peach), then gets quite grassy, ala Banff. A lot of pepper and some fresh woody notes underline the whole. Again, very good, but not extremely complex on the palate. The nose is very interesting still, like some great Clynelishe's. SV: 87 points, OH: 88 points.
Glen Elgin 16 yo 1985/2001 (56.7%, The Bottlers, Refill Spanish Oak Butt #1212) I already had this one, and liked it a lot. The Bottlers are famous (well) for their great firstfill sherry cask malts, and this Glen Elgin is a great example, with its beautiful copper colour. At first nosing, it's mellow and powerful at the same time, which is great. Then you get a lot of Oloroso sherry, in the Macallan 18yo's style, but the Glen Elgin is much more powerful. Which makes me wonder when The Macallan will launch an affordable 18+ yo C/S version! Anyway, a beautiful nose, in the greatest 'sherry' style. On the palate, the first feeling is a little drying, but still beautifully balanced and powerful. Then you get something like a great vatting of some Macallan 18yo, Springbank 21 yo and Highland Park 18yo. Yes, no less. Salty, creamy, coconut milk, sherry and all sorts of fruit, underlined with some beautiful woody notes. Long and wonderful finish. In short, a great, great malt, very satisfying, even if not totally spectacular. SV: 91 points, OH: 91 points.
Glen Elgin-Glenlivet 22 yo 1971/1993 (50.1%, Cadenhead) This one is completely different! Its colour is quite ugly (bronze, greenish) and it's warming at first nosing. Then it becomes very feinty and yeasty, hot milk, fresh baguette. Develops on grassy notes (sorrel), and then fuit (melon, green apple). Quite disappointing, and in no way near the The Bottlers version. On the palate, it appears to be more balanced, but it's quite spirity and grassy, with some white fruit and broiled cereals. Interesting hints of aniseed, but that's not enough to make it enjoyable. Quite a lot of wood, and a medium finish. A little more sherry wouldn't have done some harm, for once! SV: 79 points, OH: 82 points.
Glen Keith-Glenlivet 22 yo 1973/1995 (57.1%, Cadenhead, oak cask) Again quite a weird old Cadenhead. I didn't have that many Glen Keith before, but I sort of liked the 10 yo OB, which I found quite fresh and youthful. But now that Pernod Ricard closed the distillery, let's check if it was worth it again. The colour is pale straw, and it's very sharp at first nosing. A lot of coffee, burnt cake and white fruit at first, but then it gets a little bitter, feinty and vegetal. And then coffeeish and sweetish again. Not that great, to be honest… The palate shows some overcooked American coffee (the one they serve by litres), some grass, some pepper and some clove – that's all. Not very sexy, that's for sure. The heavy alcohol makes it bold and robust, but it's really too simple to get interesting. SV: 79 points, OH: 81 points.
Glendullan 36 yo 1968/2002 (55.1%, DL Platinum, 559 bottles) Another underestimated Speysider, here in a very old version. Curiously, its colour is pale straw, and the first nosing is warming and powerful. Quite a baby! A second nosing comes up with a lot of freshness and cleanliness. Strange… Lots of white fruit (gooseberry, pear) and some nice woody notes. Another one which isn't very complex. A very nice nose, but no emotion… The first mouthfeel is very powerful, in the same vein as the nose, plus quite a lot of pepper and liquorice, certainly from the wood, and yes, some nice woody notes. Bold, robust, very clean and with a long finish, it shows an astonishing strength considering its age. In short, it's very young, and probably one of the best Glendullans ever. SV: 87 points, OH: 89 points.
Tomintoul 37 yo 1966/2003 (52.8%, DL Platinum, 201 bottles) An intriguing malt, as we wonder why they decided to do such a finishing on a 37 yo malt. The colour is surprisingly pale, and at first nosing, we get a lot of peat. Much more peat than from any old Ardbeg from the same vintage, I should say! We even wonder if this is a Tomintoul, actually… A lot of cooked apple as well, a little sour… Really in the Ardbeg style – and a great Ardbeg, moreover. The palate is in the same vein. Heavy peat, smoke, and cooked apple, with an extremely long finish. Holy sugar! Who would have guessed Tomintoul could match Ardbeg? And frankly, it couldn't have been the rum, could it? Anyway, this expression must have been an experiment they did in the sixties… A tremendously great experiment, deserving some high ratings. SV: 93 points, OH: 93 points.
Macallan-Glenlivet 30 yo 1963/1993 (54.7%, Cadenhead) Here's a rare old unsherried Macallan, just one month older than Olivier. Quite unusual! The colour is incredibly pale, like some white wine's, and at first nosing it's mellow and warming. Beautiful nose with cold coffee, flowers from the fields, freshly cut apple, gooseberry. No sherry at all. Hints of liquorice, gets a little grassy. Very nice, it helps check that Macallan is a very fine distillery, not only a special wood treatment factory. The first mouthfeel is quite balanced, but extremely powerful. Malty and yeasty (fresh bread crumb), then grassy (rhubarb) with lots of liquorice stick and wood. Gets a little too spirity (pear, apple). Too bad, the palate doesn't match the nose. Again, it's bold and robust, but a little too simple: it lacks some finesse, even if we can find some interesting aspects in it. No need to tell that nobody would say it's Macallan when tasting it blind… In fact, both Olivier and I become to feel tired after having tasted all these unsherried cask strength Speysiders. Duty, heavy duty, but this isn't the most attractive Scottish style… Time to switch to heavy-sherry mode!!! Our ratings for the Mac: SV: 86 points, OH: 88 points.
Braes of Glenlivet 15 yo 1979/1995 (60.0%, Signatory, sherry butt #16040) We already had some great, great Braes from Signatory, all having been bottled in the years 1995/1997, and this one starts well with a beautiful dark amber robe. The first nosing is very warming, and then we get lots of coffee and black toffee. Heavy sherry (very nice), chocolate, caramel, pecan pie. Really nice. Develops on some slightly meaty notes, and even on balsamic vinegar. Bold and rich, it's a nice alternative to Macallan, I mean, the sherried Macallan. The first mouthfeel is balanced and powerful at the same time. Great wood, clove and cinnamon, then crystallised orange, kumquat, toffee, vanilla fudge. And of course some great Oloroso. Bold, rich and very long finish… 'What a beast, what a cask!' says Olivier. He's right, and our benchmark malt Glenfarclas 105 is just crushed by it. Ratings: SV: 90 points, OH; 91 points.

Glenfarclas 32 yo 1970/2003 'Old Stock Reserve' (50.1%, OB, 295 b.) Here's another great Glenfarclas from Germany, which is the distillery's largest market. Beautiful amber colour, and very refined and warling at the same time at first nosing. Very winey, lots of fresh grape, Smyrna raisins, sultana, fudge and Christmas cake. Dried fruit, crystallised orange, exotic fruit (passion fruit, pineapple) and finally beeswax. What a great nose, what a splendid balance! The first nosing is very balanced, and somewhat 'coating'. Very sweet, but again, very balanced. Then it gets very winey, but with a lot of style and great elegance. Lots of dried fruit and crystallised fruit, and a great wood. Really a classic, even if not as bold as the Braes. The finish is medium to long, and we feel the mouth is a little weaker, or let's rather say less bold than the nose. But how elegant it is! Our ratings: SV: 91 points, OH: 92 points.
Glen Grant 31 yo 1970/2001 (55.4%, High Spirits Collection, 485 b.) Another very dark old Glen Grant – I just had an old Glen Grant Adelphi that made Loch Dhu look like some crystal-clear water – and yes, the colour is really brown. At first nosing, it appears to be very warming and rich. Then come some heavy sherry, raisin, black toffee, coffee, caramel. A great sherried nose, really, even if just a little 'common'. A classic. The first mouthfeel is bold, and then, again, lots of great sherry, and also some fresh fruit, cassata, caramel. Much fresher than expected. Roasted peanuts, cream, orange… A very fine oloroso, much less brutal than the Braes, for instance. Long finish, gets just a little mat. But what a robustness for a 31 yo Glen Grant! Superb malt, all in strength and balance. Wow! Ratings: SV: 91 points, OH: 92 points.
---
February 15, 2004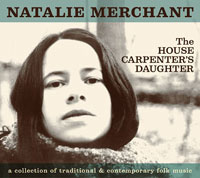 MUSIC - Natalie Merchant has always been one of my favourite singers, even if I really like what she does on her own much better than what she did with 10,000 Maniacs - yes, despite the band's name ;-). Anyway, I happened to listen to her new album, 'The House Carpenter's Daughter', and I think it's just brilliant! My favourite tracks: 'Crazy Man Michael' and 'Soldier Soldier'.
---
February 12, 2004
MALTS - OFFICIAL LAUNCH OF WHISKY MAGAZINE FRENCH EDITION - Whiskies tasted blind, with Martine Nouet, Michael Jackson and Dave Broom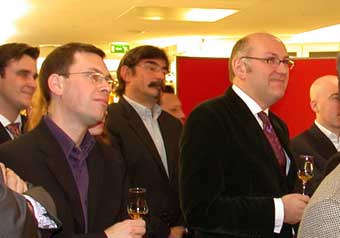 Suntory Hakushu 12 yo (43.5%, OB) Hakushu is one of Suntory's two Japanese distilleries. Yamazaki is somewhere in the plains, while Hakushu is in the 'Japanese Alps' – that's what I understood - at a height which is twice Dalwhinnie's – the latter being Scotland's highest distillery. Colour is light gold. The nose is very floral and a little honeyed, and I could get a whiff of peat. Something between a very good Bladnoch and an Ardmore. The palate is quite honeyed and fruity, very nice, quite subtle. It made me think of Balvenie. The finish isn't very long, though. Even shorter than a Britney Spears marriage.84 points (70 Euros)
Bushmills 21 yo Madeira finish (40%, OB) This one comes in a magnificent wooden box which will make a great pencil box. The malt shows a deep golden colour. The nose is very aromatic, with lots of exotic fruit (pineapple, guava), small fruit (raspberry, strawberry) musk and honey. Very joyful and demonstrative.The palate is in the same vein: exotic fruit, overripe banana, honey, marzipan, raisin, vanilla, leather. Very expressive, but a little weak for my taste. Lacks structure and some oomph, like many Irish. That made me think it was an Irish at first hand. They should have bottled it at 43, or, better, 46%. It's very good whisky, sure, but I think it's very steep. Not sure my fellow compatriots from Pernod Ricard, who own 90% of the Irish whisky industry, do the right thing when coming up with such high prices… 86 points (160 Euros)
Brora 30 yo 2nd release (55.7%, OB) Finally, I could taste the second release of the Brora 30yo. The first one was very good, quite clean and austere, although not as extreme as most Douglas Laing Platinums. The second release's nose is much more in the 'horse stable' style. Very organic, peaty, very smoky, and then a little fruit. Quite odd, if you ask me. It made me think of the Talisker 20 yo 'bourbon' OB, which isn't odd, of course… But Broras, especially from the beginning of the seventies, use to be much 'cleaner'. I don't like this one so much…The palate is more classical. Lots of smoke, peat, but then some 'rotten grass' notes appear and last till the end of the finish. Really astonishing and not typical at all. I wonder why they composed such an odd vatting… Or perhaps they didn't have enough casks to create a more 'classical' combination. It's very interesting, but it's far from being the best Brora from those years… and far from being the cheapest as well. I'd say you can pass, unless you want to try all aspects of this multi-faceted malt…87 points (269 Euros)

Tasted disclosed, with Jean Donnay, from Celtic Connection
Port Ellen 25 yo 1979/2004 Burgundy finish (XX%, Signatory Vintage Decanter) Jean is a master at 'special finishings', and he's got many different styles amongst his range: Sauternes, Armagnac, Jura Vin de Paille etc. He's also a Port Ellen fan, and I was curious about his reaction when tasting this version. First, like me, he was somewhat shocked when discovering it. Look, finishing some relatively 'mundane' Speysiders makes sense, and it often works. But a Port Ellen? I know the latest 'Portwood finish' didn't sell that much, despite the heavy advertising campaigns, while the Laphroaigs sell pretty well. It appears that the market considers than 'making up' such a beauty as Port Ellen, even if the cask isn't a stellar one, is kind of a sacrilege, and both Jean and I aren't very far from agreeing with that. But let's our nostrils and taste buds decide…The colour is reddish, as one would have expected. The nose hesitates between the peat and the wine, and both just don't melt together. The palate is marked by the red fruit, mostly cherry, which somewhat masks Port Ellen's traditional rubbery notes. What's odd is that a great Bourgogne usually has some cherry notes, for sure, but also some great animal smells (fur, venison, hare's belly, leather, humus, mushroom). But these smells come after a few years, and a young Bourgogne isn't very interesting usually. Red wine oak casks all contained only some young wine, obviously, because most wines age in bottle, not in wood. So, obviously, no typical 'Burgundish' note is present in this Port Ellen, too bad. That would have been interesting! The finish is quite long but undetermined, still. I think that this just doesn't work. Sure the market asks for variety, sure you can't really guess what a try will give beforehand, but frankly, what was the use of doing this? Even the people from Beaune or Nuits-Saint-Georges won't like it! 77 points (no price yet)
Balblair 27 yo 1974 (46%, OB, Highland Selection, Sherry, 550 bottles) This is the usual tall bottle from the 'Highland Selection' series. The colour is mahogany, and the nose is accordingly heavily sherried, but somewhat not as extreme as in some old Glendronach or Ben Nevis OBs. It's quite refined and elegant. The palate is extremely sherried as well (Oloroso but not of the bolder versions), and I feel the spirit is perhaps a little weak to resist the sherry. It's good malt, for sure, but in no way a winner, and it'll disappoint the hardcore sherry freaks. Perhaps that's why they sell it for quite cheap, but Balblair OBs are never very expensive anyway. 82 points (around 80 euros)
Balblair 1989 (46%, OB, circa 2003) The colour is dark straw, and the nose is very balanced. Nothing special happens, but it isn't weak at all. I would say it has 'a little bit of this, and a little bit of that'. A little honeyish, a little liquorice, a little nutty, somewhat spicy and grassy… The palate isn't utterly interesting, but it's nicely crafted. Smooth, rounded, fruity (cooked apple, raisin), honey, flowers. Medium finish, quite fresh. A very good and balanced whisky, which will easily please anybody at your place. Not unlike Dalwhinnie, for instance. 80 points (45 euros)

Benromach 1980 (58.1%, G&M Cask series, circa 2003) Deep golden colour! Very nice nose, a good punch at first, then some very nice sherry notes. Chocolate, orange peel, toffee, a little spicy. The palate is bold and rich, and the alcohol gives much more structure than in all the other weaker Benromachs I had before. Another proof that 40% just do not do justice to most of the malts. Nice woody and coffeeish notes. In short, the best Benromach I ever had, but I think it's too expensive. Too bad! 83 points (112 euros)
Yoichi 15 yo (45%, OB, Nikka) Yoichi is a great distillery, and it is often said that it can stand up to any Scottish distillery. I don't know Nikka very well, and all I can say is that I enjoy the small 'pure malt' bottles very much (white, red, black). The colour is light amber. The nose is very classy, elegant and quite fresh. White fruit, such as melon and peach, all sorts of nuts, nice wood. Some beeswax, Havana tobacco and varnish as well. Really great! The palate is rounded, quite oily and rich, but not bold. Dried flowers, aniseed, chocolate, vanilla, cloves, orange and coffee. The finish is rather long and very balanced.
What a nice whisky! Its spicy notes are very special, and it's globally very complex and refined. And, above all, it doesn't mimic a Scotch single malt at all. Recommened. 86 points (90 euros)
Macallan 18 yo 1984 (43%, OB) Here's a grand classique, and many say the 18 yo is back on the tracks after a few 'middle of the road' vintages. The colour is amber. The nose is quite sherried, but not overly so. Bitter orange, chocolate, vanilla, a little spicy. Good, but not thrilling. The palate isn't as bold as most of the older vintages' It's astonishingly fresh, which is good news, but it lacks some oomph. Oloroso sherry, a little wood, vanilla, spices, chocolate, raisins. Sort of restrained. The finish is of medium length. Where's the big, bold and complex 18yo? I liked this 1984, but frankly, it has lost most of the greatness that did lead his predecessors to cult status. I could taste the 1970 again very recently, and it's just another world. But that's just my opinion. 85 points (90 euros)
---
February 9, 2004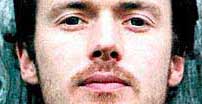 MUSIC - I've finally got Damien Rice's new CD, 'O'. It's just great! You can download a mp3 of Damien's appearance at the Letterman show. A lot of live music is downloadable here.
---
February 5, 2004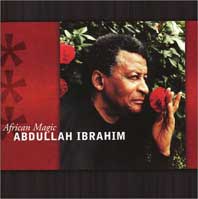 MUSIC - Jazz: rule Abdullah Ibrahim! (great website). Last time I saw him in concert - it was last year in Strasbourg - I needed one whole week to recover. Emotions... Listen to this very short clip if you want to get into the mood... Or rush out and buy his CD 'African Magic' (picture above). One of the greatest jazz piano players, definitely. I also have to tell you about Don Pullen one day...
---

January 2004 <--- February 2004 ---> March 2004


Check the index of all entries:
Whisky
Music
Nick's Concert Reviews