July 2004 <--- August 2004 ---> September 2004
---
August 31, 2004
MALTS - TWO MACDUFFS TO CLOSE THE MONTH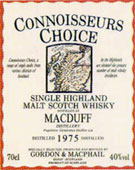 Macduff 1975/1993 (40%, G&M CC Old Map Label) Nose: nice freshness. Freshly cut ripe apple. Cider, hints of white pepper and a little vanilla. A very nice nose, far from being complex, but with a great freshness. Mouth: very nice again, on apple pie with white pepper. Delicate and subtle, almost feminine. Medium finish. A very good Macduff, undemanding but highly enjoyable. Serge 82 points, Olivier 84 points.
Macduff 17 yo 1978/1996 (43%, Signatory, sherry butt #6673) Nose: again, not very expressive. Weak. On old wood and 'tired' pepper. Mouth: really weak, even if drinkable. Not much defined aromas. Some wood, some pepper. Short finish, on some sourish notes. Well, I've seen some better ones… Serge 69 points, Olivier 72 points.
---
August 30, 2004
MALTS - TWO MANNOCHMORES

Back from a few days off in Provence, where I had a very interesting horizontal tasting session of 25 different wines from Chapoutier's (Rhone Valley). I'll report on it within the next days, but for the moment, let's just taste these two Mannochmores if you like...
Mannochmore 1984/2002 (40%, G&M Connoisseur's Choice) Colour: amber. Nose: quite weak and undemanding. Caramel, feints, vanilla. Not much more, I'm afraid. Mouth: okay, just okay. Traces of wood… getting a little dry. It's not bad, but it's just a little uninteresting and, again, a little weak at 40% ABV. 74 points, Olivier 76 points.
Mannochmore 16 yo 1984/2001 (43%, Signatory, butt # 4576) Colour: straw. Nose: quite closed. Hello, is there anybody in there? Milky and sourish. Hints of porridge and broiled cereals, not much else. Just a little fresh fruit, like pineapple or ripe kiwi. Mouth: not completely un-enjoyable. A little grassy and sweeetish, getting even sugarish. Some tannins. Medium long, but somewhat dirty finish, on pear liquor. Not too bad, actually! Serge 75 points, Olivier 75.
---
August 25 to 29, 2004
MALTS - NINE INDIE HIGHLAND PARKS - YUM-YUM!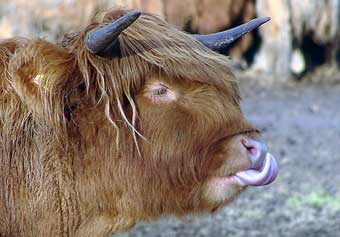 Highland Park 11 yo 1988/2000 (43%, Signatory, sherry butt #11745, unchillfiltered) Already tasted this one before. Colour: white wine. Nose: very fresh and spirity. Quite close to a new make. Hot milk, broiled cereals, getting a little grassy. Dill, wild carrot, celery. Hints of flowers (lavender, heather). Mouth: quite sharp, rather spirity. Eau de Cologne, orange zest, tannins. Not much distillery character. Gets a little 'rooty'. Medium finish, on liquorice stick. Serge 75 points, Olivier 75.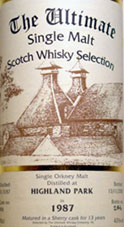 Highland Park 13 yo 1987/2000 (43%, The Ultimate, sherry, dist 31/3/87) Colour: almost orange. Nose: great sherry, very elegant. Dried orange (the power of suggestion?) zest, much fresher than expected. Still a little raw and un-matured. Traces of wood. Mouth: elegant, on great sherry. Again, it's a little rough around the edges. Some toffee, crystallised orange, marmalade. Rather long finish, on dried fruits. A very good malt even if, again, Highland Park's markers aren't very present. Serge 82, Olivier 84.
Highland Park 10 yo 1992/2003 (45%, Blackadder, refill sherry butt #20569) Colour: almost white. Nose: lots of toffee and coffee, plus quite a lot of caramel. Develops on flowers (daisy) and hot butter. Hay. Very nice nose, fresh and elegant. Mouth: quite strong yet balanced. Liquorice and cold herbal tea. A little aniseed, dill, parsley. Very nice, not overly complex but most enjoyable. Nice and fresh finish, like a baby's mouth. Serge 83 points, Olivier 85.

Green Chartreuse (watch the old 'Tarragones')
Highland Park 10 yo 1993/2003 (46%, Hart Bros, dist July 2003) Colour: white wine. Nose: very grassy. Dill, celery, fennel, freshly mown lawn, green Chartreuse. Gets a little milky and feinty. Very similar to the Signatory, but cleaner. A very, very nice freshness. Mouth: nice, on tea and vegetable juice. Gets quite spicy, on white pepper, clove and cinnamon. Hints of wood (vanilla). Very nice but again, not too complex. Very little cask influence, which lets the distillery character go through. Rather long finish. Serge 80 points, Olivier 83 points.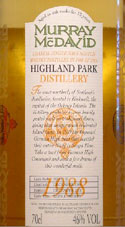 Highland Park 1988/2002 (46%, Murray McDavid, MM 75852) Colour: white wine. Nose: again and again, very clean, very delicate. Some great flowery notes (lavender, heather – here we go – honey). Milk caramel, vanilla fudge. Gets a little sourish, but in a nice way. Much closer to the official bottlings than all the other ones. Hints of freshly squeezed orange juice. Mouth: beautiful, with a lot of oomph. Strong and bold, yet very refined. Dried orange, banana. Quite spicy (pepper, light chilli). Develops on caramel and vanilla ice cream. Long and bold finish, on toffee. A great bottle. Serge 87 points, Olivier 87 points.
Highland Park 15 yo 1988/2004 (55.4%, Dewar Rattray, bourbon cask #883, 274 b.) A bottle Olivier just brought back from Scotland. Dewar Rattray is the company behing Stronachie, and they have just launched a new and interesting portfolio of single malts, including this Highland Park. Colour: straw. Nose: again very clean and grassy. Traces of peat. Roots, herbs (parsley, chives). Hints of heather, lavender, thyme. Very spicy. Interesting! Mouth: bold and rich, on aniseed (like a pastis), peppermint. Gets quite smoky and sweet at the same time. Develops on liquorice stick, bread crumb, satay sauce. Long and interestingly smooth finish. A great Highland Park! Serge 88 points, Olivier 90 points.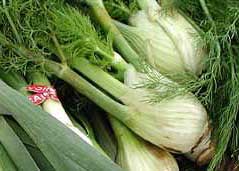 Fennel
Highland Park 14 yo 1978/1993 (55.2%, Cadenhead, dist November) Nose: punchy, almost pungent. Very, very grassy (celery and fennel) but with lots of eucalyptus and mint. Camomile, gentian root. Gets a little feinty but again, in a nice way. Extremely pure, not unlike some Broras or Clynelish. A little 'farmy'. Mouth: extremely powerful, on Chartreuse and pepper vodka (and Zubrowska). Gentian eau de vie, herbes de Provence, Tia Maria (coffee liquor). Extremely austere even if, again, a little farmy. A beautiful malt with a long, very long finish on tequila. Great complexity – it really makes me think of some Broras, even if the HP is much less peaty. Serge 92 points, Olivier 92 points.
Highland Park 12 yo 1988/2000 (58%, SMWS #4.79) Colour: amber. Nose: lots of sherry, and some smoke. A nice mixture of various herbs (thyme, parsley, green pepper) and the usual sherried notes (chocolate, dried orange, sweet wine). Notes of Armagnac. Very very nice, even if the sherry makes it just a little 'vulgar'. Mouth: bold and rich again. Heavy sherry – perhaps too much, that makes it a little sweetish. Caramel, cold coffee. The sherry really overwhelms the distillery character on the palate – which is not the case on the nose at all. Long, but sweetish finish. A very good malt, but I think the sherry took too much of its share. Thank God they bottled it quite early. Serge 84 points, Olivier 87 points.
Highland Park 1990 (59.1%, James MacArthur) Nose: pungent and much peatier than the previous ones. Lots of farmy aromas: fermenting hay, grass, horse-dung, you like it or you don't – I do. Hints of ginger, gentian roots and butane. Mouth: very strong, just like a gentian eau de vie. Brilliant. Extremely grassy, with lots of white pepper, cinnamon, nutmeg. Cold camomile tea, dark chocolate, liquorice stick, lapsang souchong tea. Long finish on dried herbs and smoke. A beauty! Serge 92 points, Olivier 92 points.
I'll take a few days off in Provence until Sunday, so sorry, no updates till then.
---
August 24, 2004

MALTS - Kinclaith 1966 (40%, G&M CC old map label, 5cl) Built in 1957, Kinclaith was the last distillery in Glasgow when it was dismantled in 1975. This one is the first Kinclaith I ever tasted, and exactly the 1000th malt I happened to score as a member of the Malt Maniacs. Not sure I should be proud, though… Anyway, let's taste it now. Colour: light amber. Nose: not too bold but quite peppery. Cooked apple, butterscotch, fresh pastry, hot croissant. Gets quite grassy (fern), Olivier says it's quite similar to the latest Killyloch OB. Some nice hot butter notes. Mouth: salted caramel, butter, and lots of herbal tea notes. Very interesting. Develops on cooked spinach, liquorice, burnt cake, coffee liquor, roasted pecan nuts. Quite malty, with a salty tang. Very salty, in fact. A good and interesting Lowlander, and not only because it's a rarity. Serge 86 points, Olivier 88 points.
---
August 23, 2004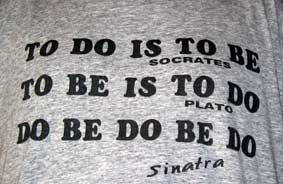 MUSIC - Some do worry about the actual value of our modern Western culture. I think this T-shirt, seen in Greece, will make us all feel reassured ;-).
---
August 22, 2004
MALTS - HEAD TO HEAD: SIMPLE PLEASURES
Ardbeg 8 yo 1991/1999 (43%, Signatory Vintage, cask #617) vs Caol Ila 10 yo 1991/2001 (43%, Signatory Vintage, cask #10788)
Colour: Ardbeg - white wine (but white wine isn't white, it's yellow, says the popular book 'Wine for Dummies'). Caol Ila: even lighter, almost white, this time – like water, that is.
Nose: Ardbeg: very fresh and crystalline. Lots of seaweed, burning fir wood, garden bonfire. Very clean, with much less 'cooked apple' notes than usually. Hints of turpentine and eucalyptus. Most enjoyable. Caol Ila: very fresh too, but much fruitier. Pineapple, freshly cut pear, granny smith. Rubber (brand new tire), hints of varnish. Less clean and straightforward than the Ardbeg, but almost as enjoyable.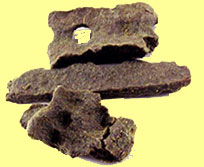 Raw propolis
Mouth: Ardbeg: lots of peat, very austere. Cold smoked tea, bitter chocolate, raw bee propolis (picture above). Sharp like a blade, and still no fruit. A love it or hate it Ardbeg – I love it. Medium long finish, on tea leaves. Quite tannic.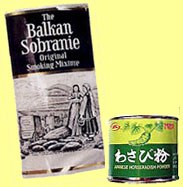 Caol Ila: much closer to the Ardbeg than their noses would suggest. Punchier, with almost as much peat. Tobacco (Balkan Sobranie), tea, wasabi, horseradish. The finish is a little longer than the Ardbeg's, and a little feintier too. But it's still very, very good.
In short, these two young Islayers are both very enjoyable. Not too complex, for sure, but they've both got a lot of oomph, and it's difficult to decide between them. Let's say 87 points both – congrats to Signatory.
---
August 21, 2004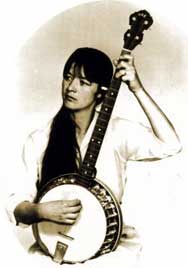 MUSIC - Genius alert! Too bad Karen Dalton did only one serious recording, and too bad that was 35 years ago. She's virtually unknown today - she died in 1993 -, but if you ever wondered what a perfect blend of Billie Holiday and Janis Joplin would give, here you have the answer: 'In the Evening When the sun goes Down' (mp3). Totally brilliant.
---
August 20, 2004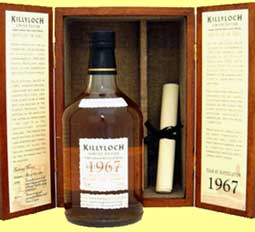 MALTS - Fellow maniac Olivier just went back from Scotland, where he could taste the latest (and said to be last) Killyloch 1967 and Glen Flagler 1973 official bottlings, thanks to Robertson's of Pitlochry. Olivier gave 88 points to the Killyloch (worth 1 400 Euros) and 85 points to the Glen Flagler (770 Euros). Very rare, very expensive, but very enjoyable as well, it appears, even if these will certainly never win the Malt Maniacs' Bang-for-you-Buck Award!
---
August 19, 2004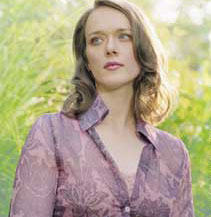 MUSIC - 'Hey Serge, why did you stop posting about pretty singers?' - That's what a friend just asked me. Geez, see how boys are? Most luckily, Michael, a fellow malt friend from Texas, just sent me a hint about Laura Cantrell, a very good, although quite traditional country singer and composer from... Nashville, Tennessee. It's true that she's got a great, candid voice, and that her slide guitar playing is quite good too. Have a listen to Churches Off The Interstate or When The Roses Bloom Again (mp3). Very nice! Laura has put several other very good downloadable tracks on her website - which doesn't mean you shouldn't buy her CDs if you like her music like I do!
---
August 17, 2004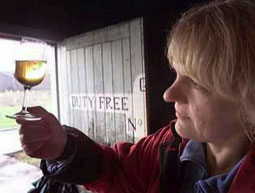 MALTS - After Charles MacLean, hugely skilled and appreciated French - and neo-Ileach - writer and journalist Martine Nouet just joined the Malt Maniacs. Our first Maniacette! We're all thrilled, no need to say... (but did you actually drink this full glass, Martine?)
---
August 14, 2004
MUSIC (and contemporary art) - Ubu.com is a totally fabulous website if you're into modern poetry, painting or music. From Meredith Monk to Joseph Beuys, through Jean Cocteau and Laurie Anderson... Hundreds of modern or avant-garde artists are showcased. Take a few minutes - I should say hours - and you'll see what you'll see (and hear)!
---
August 13, 2004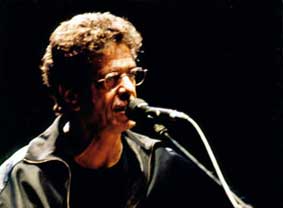 MUSIC - Lots of great concerts here this Summer! I went to listen to -and see - Lou Reed again yesterday. Excellent, really! Always this dirty garage sound, a very good voice and a cellist in the band who creates even more moments of grace. That didn't please the local rednecks who came to listen to some 'American hard rock' (?!?) but the true fans were not far from getting entranced. The 2004 Lou Reed is a great one!
Otherwise, not much new on the malt front these days, but the temperatures are going downhill so I'm about to resume our tasting sessions. Stay tuned! In the meantime, I urge you to check Johannes' new log entry about Macallan on maltmadness (scroll down), it's also spangled with lots of excellent musical tips.
---
August 12, 2004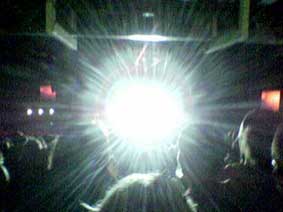 Massive Attack (by my new Nokia)
MUSIC - Well, I think this crappy picture says it all. I just came back from a concert by Archive (no link, I'm not a sadist) and Massive Attack... Frankly, I don't know why I went there... Perhaps a sudden attack of 'youngism'. It's not that I'm against all kinds of 'modern' music, and I even happened to like Massive Attack's first CDs. But Archive! My God! Except destroying a bunch of pustulous teenagers' tympanic membranes with a two-notes sub-bass line (bam-boom-bam-boom-bam-boom...) ad libidum - or should I say ad nauseam - and mine with lots of fucked-up drum breaks... But what do they think they are doing? I guess they think they're playing music. They even dress like Depeche Mode, imagine! They stink! Even Placebo plays better (said my daughter - she's right). Like the Duke once said: 'It don't mean a thing, if it ain't got that swing'. So right! Massive Attack played much better - easy - but they were way too much into ultra-hard trip-hop for my taste. Too bad...
---
August 10, 2004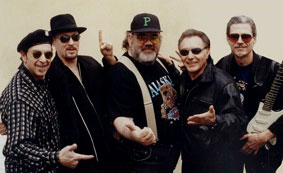 Canned Heat
MUSIC - I think I've found the Fountain of Youth - well, sort of. Guess which bands played in a row at the Foire aux Vins de Colmar, France, yesterday evening? One: Canned Heat. Two: Manfred Mann's Earth Band. And three: Jethro Tull.Yes, 75 minutes each. I felt like if I was 15, especially because the three bands still play today like in the seventies. I just had to close my eyes not to see some's big belly or baldness - anyway, they were all wearing caps or hats, just like on the pictures - and bang, thirty years younger! Yeah!
Canned Heat was excellent, they played their good old blues-rock with lots of energy... If you're too young to remember Canned Heat, here are just two short mp3 sample: Let's Work Together - Bad Trouble and a full mp3: Wait and See. Let's boogie! Btw, only one musician from the original band remains, it's drummer Fito de la Parra (second from the right).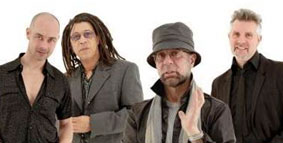 Manfred Mann's Earth Band
Manfred Mann's Earth Band was another story. Closer to FM prog-rock, but still a great punch. I really enjoyed listening to these old tunes I had not heard again since at least twenty years. For instance Springsteen's 'Blinded by the Light' and 'Spirit in the Night' or 'The Mighty Quinn' (all short mp3 samples). Guitar hero Mick Rogers was especially good (picture's right).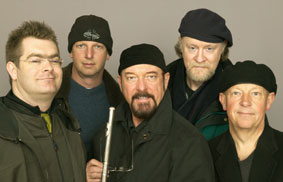 Jethro Tull
Now, as for the idiosyncratic Jethro Tull, it was really, really like thirty years ago. Again it was the guitar player, Martin Barre (picture's right), who was under the spotlights. What, you're less than 30? So I guess you don't know Jethro Tull... Quick, listen to Aqualung (mp3 - warning, I couldn't find any 'legal' version, so this is Herradeild PO, an Icelandic band playing. Not bad, actually!)
---
August 8 & 9, 2004

MUSIC - After Michael Marra, Momus, alias Nick Currie, is another Scot singer and composer I discovered quite recently - or should I say a 'provocateur'? Electro-pop, cabaret, Japanese-pop, folk-rock, electro-folk (!), jazz, reggae, blues... What an incredible blend of styles! Add to that his voice ala Donovan and his often extremely provocative - or should I say pornographic - lyrics and you get the picture: his work is odd and weird, but very, very interesting! Mp3s: Human Diversity, The Hippy Analog Portapak Video Revolution, Lovely Tree (demo).
---
August 7, 2004
MALTS - AN OLD BUNNY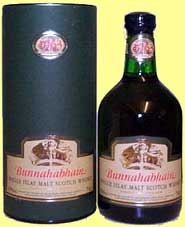 Bunnahabhain 1963 (43%, OB) This is not the more recent 40 yo 1963/2003, but the earlier OB, bottled around 1993-1995. Colour: amber. Nose: nicely balanced. Cold coffee, beeswax and fine oak. Some sweet and sour notes. Develops on all sorts of spicy notes and some quite strong balsamic vinegar. Hints of peat, smoked salmon. Quite complex! Mouth: quite simpler. Starts on fructose and fruit liqueur (strawberry). Peardrops, icing sugar. A little sweetish. Gets a little oaky but not too much. Cooked apricot, cooked rhubarb as well. Rather short, but enjoyable finish, on fruit eau-de-vie. This one isn't in the same league as the magnificent 1968 'Auld Acquaintance – Hogmanay Dram', for sure, but it's still a very good Bunnahabhain! 86 points.
---
August 6, 2004
MALTS - TWO SPEYSIDES FROM THE HIGHLANDS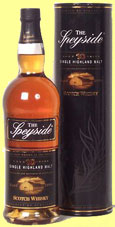 Speyside 10 yo (43%, OB) Colour: straw. Nose: light, spirity and slightly flowery. Hints of peardrops and varnish. Quite fresh, but lacking complexity and oomph. Mouth: a little weak and watery. Grainy, malty, with some notes of burnt wood and charcoal. A little 'sparkling' on the tongue. Notes of caramel and black toffee. Short and slightly bitter finish. A malt for mixers? No big flaw, though. Serge: 70, Olivier: 70.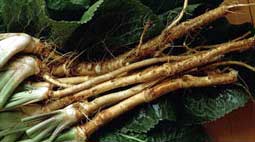 horseradish
Speyside 10 yo 1993/2003 (46%, Hart Bros, sherry cask) Colour: pale straw. Nose: much bigger than the OB. Big grassy notes, with lots of parsley, celery, horseradish. Hints of aniseed, yeast, malt and liquorice. Nice sherry notes, quite delicate. Much more interesting than the OB, that's for sure. Mouth; quite balanced and bold at the same time. Again, some grassy flavours. Soy sauce. Quite woody. Nice sherry (fino?) Some pepper and nutmeg. A little burning. Long finish, on alcohol and wood. In short, a good, solid malt, even if not a winner in any way. Serge: 78, Olivier: 80.
---
August 5, 2004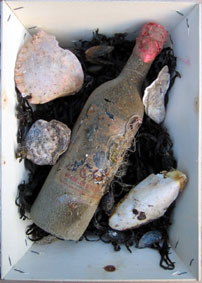 WINE (and malts) - Here's a bottle of Bordeaux... 2000! I know, you were thinking it had been kept in a cellar for 50 years. But in fact, there's a guy in Brittany who's a former aqualung diver, and who had the idea to immerse some brand new bottles into the sea and wait for two years before he puts them into some wooden oyster hamper with some wrack and a few shells. He then sells each hamper to tourists, like if it were an antique bottle taken from a wreck. Well, he doesn't claim it is, actually, but I must say the visual effect is stunning. I didn't taste the wine yet, but maybe some independent whisky bottler could try the trick with some malt, and hence invent a new special 'sea finish'. No salt in whisky? You bet? (Merci Sylvie).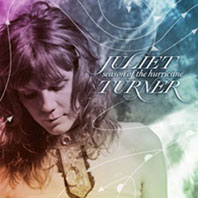 MUSIC - Yet another exciting folk-rock Irish singer: Juliet Turner. I've heard she's quite big in Ireland, but I must admit I had never heard of her before. You can have a listen to 'Sorry to Say' or 'Tuesday Night Ladies', two very nice accoustic tracks (mp3). And of course buy her CDs if you like them, especially the latest one, 'Season of the Huricane'.
---
August 4, 2004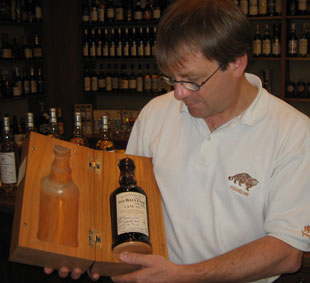 MALTS - I was just at La Maison du Whisky in Paris yesterday, with fellow Israeli malt maniac Roman, when Jean-Marc Bélier, the skillful keeper of this beautiful and well-known shop (okay, enough publicity) just got a parcel from Balvenie, containing one bottle of the latest... 50 yo . Price on LMW's catalog: 9,000 Euros. Yes, 'cheaper' than in the UK. Btw, can you see the small tear of love in Jean-Marc Bélier's left eye?
---
August 3, 2004
New feature: the long awaited Index page. It's still a little rough around the edges, but I think it'll be quite useful.
---
August 2, 2004
MALTS - TWO MALTS FOR WINE FREAKS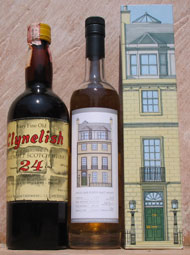 After some wines like the Gewurztraminer SGN 2000 Letzenberg Thomann Domaine du Manoir (magnificent), Riesling Brand 2002 and Gewurztraminer VT Rangen 1998 Zind-Humbrecht and Ai-Danil Pinot Gris 1940 Massandra-Sotheby's, it's not that easy to choose some malts that will match these beauties. But it's doable! So we chose with some friends the Laphroaig 17 yo OB for the Islay Festival 2004 (so strong), the Brora 22 yo 1972 Rare Malts (my #1), the Longrow Samaroli Dreams 1987/1999 (big, bold peat) and these two puppies I never tasted before…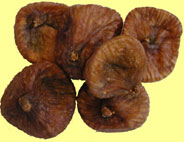 dried figs
Clynelish 24 yo 1965/1989 (46%, Cadenhead for Mainardi, 75cl) Another 'Old' Clynelish, from the distillery that was to become Brora. Colour: dark amber, a little opaque. Nose: very subtle and velvety. Quince jam, sherry, caramel, whiffs of peat. All sorts of dried fruits (tangerine, pear, banana, date, fig). A great multilayered nose, quite spectacular. Mouth: bold, but very 'precise'. Sherry, salted caramel, dried orange. Lots of spices (cinnamon, nutmeg, clove). Some great, very subtle peaty notes. Long and complex finish. In short, an absolute beauty! 93 points.

melon de Provence (orange flesh)
Longrow 13 yo 1990/2004 (54.5%, SMWS 114.3, 50cl) A bottle made to celebrate the opening of the Edinburgh new Society venue on Queen Street. Colour: straw. Nose: very pure and fresh, extremely sharp and clean peat, even sharper than the Samaroli. Very crystalline. Develops on fresh fruit notes a la Bruichladdich (melon de Provence, peach). Not overly complex, but a superb purity. Mouth: again, very pure and straightforward. A great mix of fresh fruits, pepper and smoke. Hints of chilli, and a long, peppery finish. A great Longrow, the cleanest I ever came across, that deserves no less than 91 points on my scale.
---
August 1, 2004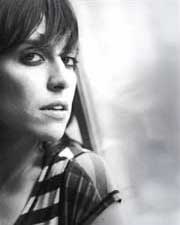 MUSIC - Feist's 'Mushaboom' (mp3) is purely delicious and her new album 'Let it Die' is a must, punto basta. Please consider buying it if you like the song.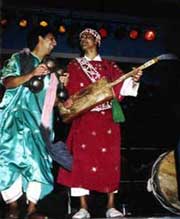 Jil Gnawa, live in France
MUSIC - Genuine roots of jazz, blues and rock and roll? Whether true or not, I really like this extaordinary music by the Gnawas, who came from western Africa and were deported to Morocco as rich sultans' slaves. Their spiritual leader Sidi Bilal was the first slave to be set free by the prophet Mahomet. The Gnawa people and the local populations then mixed to form a brotherhood with a blend of African and Arabic culture. They started to practise a ritual called 'lila de derdeba'. This ritual evolves around music creating in a deep form of inner communication. The syncopated rhythms, devotional incantations and haunting bass lines were soon to inspire Jimi Hendrix or John Coltrane and a lot of other great jazz or rock musicians who went to Morocco to play with the Gnawas. Hendrix spent a whole summer with them. You can listen to a nice example of live traditional Gnawa music by Jil Gnawa here (mp3), or to some live 'fusion' Gnawa music by Jbara here (mp3). But the absolute must is to attend the yearly Festival of Essaouira!
---
MALTS - BENRIACH ROLLER COASTER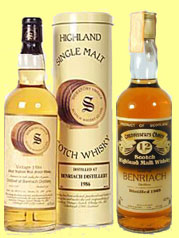 Benriach 12 yo 1969 (40%, G&M Connoisseur's Choice old brown label) Colour: gold. Nose: beautiful freshness, with lots of fruit, flowers and a little coffee. Lots of peach, apricot, melon, guava Rosewater, lavender perfume. Hints of fresh walnut. Fantastic nose, typical of great bottle age on a very good malt. You'll never find such a nose in a recently bottled malt, even if very good. Hints of spices, like nutmeg or cinnamon. Mouth: how great! Subtle and balanced, with lots of spices coating lots of great fruits. Getting a little peppery and woody, but in a nice way. Medium long finish. A beauty, even if the aromas are a little scattered. Serge: 88, Olivier: 90.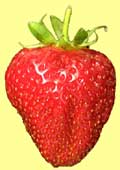 Benriach 12 yo 1986/1998 (43%, Signatory, casks 4804-4805) Colour: white wine. Nose: lots of strawberry and rose at first, but all that vanish quite quickly. Gets a little yeasty and lactic. Hints of grass. Some sour notes. Mouth: sweetish, quite close to new make. Very little cask influence. Somewhat thin, very undemanding. In short, one of these casks one won't remember for long. Medium finish, on feints. Serge: 74, Olivier: 75.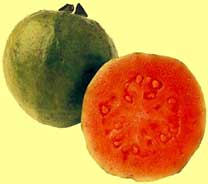 guava
Benriach 34 yo 1968/2003 (49.8%, Hart Bros) Colour: dark yellow. Nose: again a great freshness, not unlike the 1969 G&M. Coffee, camomile, dried pineapple, pink grapefruit, orange. Hints of milk chocolate and cold tea. Great complexity, and much less wood than expected. Mouth: bold and punchy. Lots of crystallised fruit, herbal teas, toffee. Hints of fresh tropical fruits like guava or mango. Some spices. Long finish, on a mix of pepper and fruit, perhaps just a little undefined. A great, old malt, not tired in any way. Beautiful whisky – the best Benriach I ever had, of course. Serge: 90, Olivier: 93.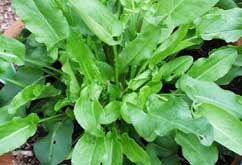 sorrel
Benriach 34 yo 1968/2003 (50.4%, Peerless, cask 2593, 137 bottles) Colour: bronze-gold again. Nose: a little less expressive. Cold coffee, fresh fruit, vegetables. Lots of litchi, sorrel, fresh spinach. Violet candies. Less complex than the Hart Bros, and a little more wood influence, whatever the cask was – 34 years ago. A few winey notes, probably a refill sherry. Very nice, still. Mouth: bold and very satisfying, even if, again, less complex than its Hart Bros brother. Very good, with lots of fruits, some dried orange and some caramel. Cake, Cointreau, chocolate. Long finish. A very good whisky, lacking perhaps just a little aromatic oomph. Well, you see what I mean, I hope. Serge: 87 points, Olivier 88.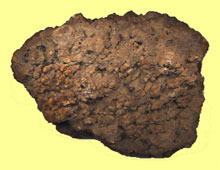 MALTS - See the picture above? It's a 4cm thick piece of 'wine stone', taken from an old Alsacian oak cask's inside. It's quite salty when you put your tongue on it. So, when somebody tells me whisky can't taste salt, I always feel like I should send him this stone. Sure, new casks or casks which have been used only for a few years won't develop that much 'stone', but still...
---

July 2004 <--- August 2004 ---> September 2004


Check the index of all entries:
Whisky
Music
Nick's Concert Reviews