August 2004 <--- September 2004 ---> October 2004 part 1
---
September 30, 2004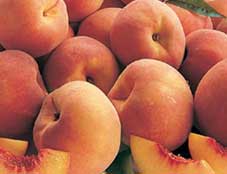 Ardmore 13 yo 1990/2003 (55.8%, G&M, cask #12277-12778, bourbon) Colour: amber. Nose: quite smoky, with some nice peat as often with Ardmore. A little spirity. Nice fruity notes (melon, peach, apricot). Mouth: quite bold but a little rough compared to some earlier versions. Peaty and fruity. Long, peppery finish, getting just a little dry. In short, a nice Ardmore that doesn't do any exploit, but that's most 'sippable'. 85 points.
---
September 29, 2004
MALTS - TWO SIMPLE HIGHLANDERS

Glen Garioch 10 yo (40%, OB, circa 2004) Colour: gold. Nose: quite light, feinty and milky. Lots of broiled cereals, mashed potatoes, porridge. Mouth: medium body, a little spirity and malty. Grainy, getting grassy. Hints of spices. Medium finish, getting a little sour. Not too bad, but nothing special. 78 points.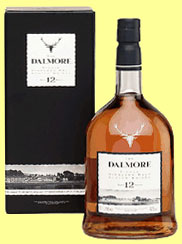 Dalmore 12 yo (40%, OB, 2004) Colour: golden. Nose: very smooth and rounded. Sweet sherry, very syrupy. Hints of dust, dried orange, milk chosolate. Mouth: very smooth, sweet and enjoyable. A little sugarish. Herbal tea, sherry, Mirabelle jam. Nice finish on cooked apricot. So sweet, even a little 'decadent'. 80 points.
---
September 28, 2004
MALTS - TWO NEW GLENFARCLAS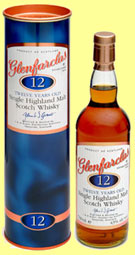 Glenfarclas 12 yo (43%, OB, circa 2004) Colour: amber. Nose: rather smooth, quite sherried and slightly spicy. Quite elegant. Some winey notes, hints of vanilla and wood. Mouth: quite sherried, getting a little rough and woody (tannins). Hints of liquorice and toasted bread. Nice balance, but the finish is a little drying. A good all-rounder. 80 points.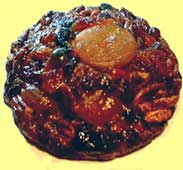 Fruitcake
Glenfarclas 1994/2004 (46%, OB, oloroso hogshead, 600 bottles for France) Colour; amber. Nose: lots of sherry and wood. Fruitcake, dried fruits, orange peel, chocolate. Classic, even if not too rounded. Mouth: lots of sherry again, somewhat like the old Macallan 12 yo from the mid-nineties. Nice and bold, very satisfying, even if it might lack a little further aging. 82 points.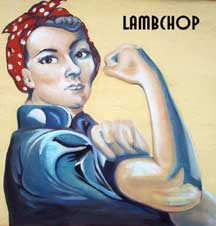 MUSIC - Darkness, eccentricity, morbid wit and playfulness: this is Lambchop, a cult band from Nashville, Tennessee that really has class. Here are some very good mp3 samples from their latest CDs: Grumpus, from 'Nixon - 2000', The new cobweb summer and Is a woman, from 'Is a woman - 2002' and Something going on from 'Aw C`Mon - 2004'. As always, please buy their CDs if you like them.
---
September 27, 2004
MALT MANIACS - Most of the statistics have been updated, including our Top 100 lists. Check the Special Optional Bonus!
MALTS - TWO CLASSICS FROM SPEYSIDE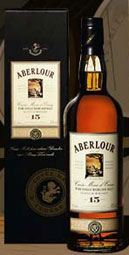 Aberlour 15 yo 'Cuvée Marie d'Ecosse' (43%, OB) This one is said to be made only for France, but you can find it at several 'foreign' places. Colour: golden amber. Nose: nice, quite fresh, with lots of pastry, vanilla and sherry. Develops on hot butter, toffee and honey. Nicely balanced. Mouth: quite smooth and balanced. A little vegetal. Hints of caramel and fresh fruits. A rather long and peppery finish (white pepper), perhaps just a little drying. A well crafted malt. Cheers to Mary Stuart! 84 points.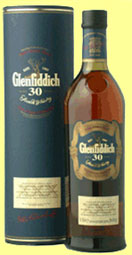 Glenfiddich 30 yo (40%, OB) Glenfiddich's gone halves with this one: roughly 50% sherry, 50% bourbon. Colour: golden. Nose: not too expressive at first. It needs time to open up. A little dusty and woody at first nosing, it develops on some light fruity notes (pear, quince). Gets slightly sour. Not very aromatic, to say the least, but quite elegant and refined. Hints of vanilla. Mouth: nice, balanced and quite satisfying, despite the low ABV. Hints or ripe mirabelle and pear. Medium finish, on pepper. A little drying. Quite slender, in fact, but really elegant. I'd love to taste this one at 43% or, better, 46%! 87 points.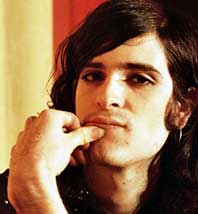 MUSIC - The first time I listened to a Devendra Banhart song, I thought it had been recorded in the early 70's, and I even wondered if it wasn't an unreleased T-Rex track - or an unknown Marc Bolan solo effort, for that matter. But I've been flabbergasted when I found out that it was a young 'eccentric-folk' artist, not even 25 yet. Listen to Will is my friend or Rejoicing in the hands (both mp3) - I think both are very nice.
---
September 26, 2004
MALTS - TWO NEW ALLIED BOTTLINGS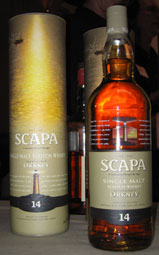 Scapa 14 yo (40%, OB) A brand new bottling by Allied, with a new livery. Colour: amber. Nose: fresh, light and grassy. Lavender. Hints of fruits (pineapple, green pear). Whiffs of smoke. Nice! Mouth: surprisingly bold. Some farmy notes, hints of tobacco and some nice fruit: apricot, quince jelly, melon fresh almonds. Very nice! Rather long, fruity finish. Nice presence at 40%! One step above the former 12yo, I'd say. 82 points.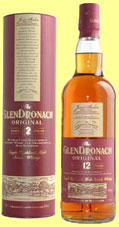 Glendronach 12 yo 'Original' (40%, OB) Again a new bottling by Allied. Colour: amber. Nose: very milky, lots of broiled cereals. No traces of sherry that I can smell. Gets quite oaky, nutty and buttery. Mouth: on hot pastry, praline and dried fruits. Not very complex, much less interesting than the new Scapa OB. Medium finish, on grainy notes and vanilla fudge. Nothing special, I'd say. 78 points.
---
September 25, 2004
MALTS - THREE BRAND NEW G&Ms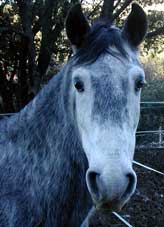 Ardbeg 1994/2004 (40%, G&M Connoisseur's Choice) This one is from the last batches Iain Henderson did at Ardbeg before the distillery's latest closure. G&M seem to have many casks, as they already released a batch in 2001, at 7yo. Colour: white wine. Nose: very feinty and farmy (horse stable). Much less smoky, iodized and 'maritime' than the usual Ardbegs. Quite malty and earthy. Mouth: starts a little sugarish, then develops on smoke, yes, grass and charcoal. Not thrilling, that's for sure. Short and curiously weak finish. A shadow of an Ardbeg? 78 points.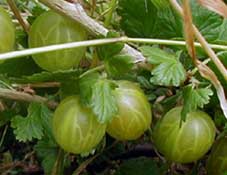 Bladnoch 1989/2004 (40%, G&M Connoisseur's Choice) A brand new bottling. Colour: straw. Nose: very nice, fruity (lemon, tangerine) and floral. A little spirity but not too much. Nice hints of spices from the wood. Mouth: very nice, fresh and balanced. Citrus, gooseberry, herbal tea. Medium long finish, on pear. I like this one as much as the 1987 and 1988. Some perfect summer malts, that can bear an ice cube when it's very hot. 84 points.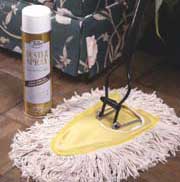 Macallan 1995/2004 (40%, G&M, Speymalt) G&M bottle some great whiskies, but I must say this particular series always left me skeptical. Most were too weak and dry for my taste, so let's check whether this brand new version is any better. Colour: amber. Nose: cooked apple, cinnamon, old wood, dust mop, hints of sherry… not much else. Quite weak, again. Mouth: very smooth but 'skimpy'. Hints of white pepper, getting dusty and drying. Short finish, on wood and crystallized orange. Well, it's not too bad, but you won't remember it for long. 77 points.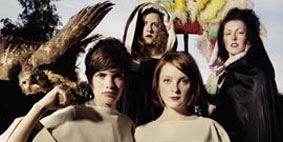 MUSIC - Four very young English female musicians playing a blend of Brit-rock and electonica and sometimes singing in French... That should have kept me away and I still wonder how and why I managed to put my hands - sorry, my ears on Electrelane's stuning composition The Valleys, where the simplest drumbeat ever and hypnotic organ loops underline two choirs (female and male) responding to each other. Listen to it, I think it's stunning.
---
September 24, 2004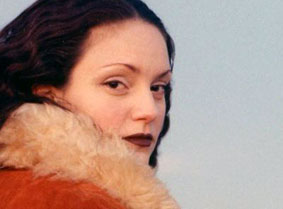 MUSIC - Haunting accordion, cello or violin, excellent orchestrations, a nice voice even if not her main asset, that's Nina Nastasia, from New York City. Yet another skillful and very interesting young singer! Have a listen to either the powerful This is what it is or Stormy Weather (mp3) and 'you'll see what you'll hear!' ;-)
MALTS - TWO BALVENIES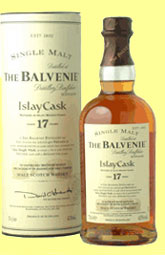 Balvenie 17 yo 'Islay Cask' (43%, OB) An interesting 94-casks cuvee I had never tasted before - I know I'm a little late. Some loved it, some hated it. It's been finished for 6 months in some Islay casks - some say it was Ardbeg, some others say Laphroaig, and the last said it was a blend of various distilleries, including Lagavulin. Some have also argued this one isn't a single malt anymore, but rather a vatting of different distilleries. Well, let's just check what 'the glass' says. Colour: pure gold. Nose: very earthy, with lots of gentian spirit - I love that - melted with Balvenie's typical honeyed notes. Beautiful, I think. Hints of vanilla cream and dried orange. Mouth: surprisingly peated, like if somebody had just poured twenty bottles of Ardbeg into each cask. Quite smoky - and even salty. Again, hints of gentian (roots) and liquorice, added to the sweet, honeyed notes. Long and beautiful finish. What a great balance! 90 points.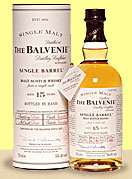 Balvenie 15 yo 1988/2003 (47.8%, OB, cask #3971) This one's from the 'single barrel' series – bourbon casks only. The Balvenie people try to select casks that taste more or less the same, but there are variations indeed, even if not dramatic. Colour: straw. Nose: quite discrete at first nosing. Pear, pepper, vanilla, oak… hints of light honey. Mouth: much more spectacular. Lots of honey, caramel, melon, peach… Gets just a little woody (spices, vanilla, tannins) and drying after a while. A very good, solid malt, somewhat less creamy and smooth than most other Balvenies. 86 points.
---
September 23, 2004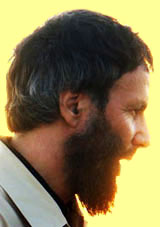 MUSIC - Thank God music crosses the borders freely! I had forgotten about Cat Stevens aka Yusuf Islam since a long time, but the news of his blacklisting by the US authorities today gave me the idea of having a short go at his recent work. It's nice! Have a listen to 'The little ones' (mp3), it's a beautiful, yet very sad song. Thanks to the US government!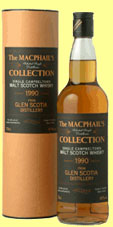 Glen Scotia 1990 (40%, MacPhail's Collection) Glen Scotia's always been overshadowed by its neighbour Springbank, but I feel the revenge is soon to come. Colour: light amber. Nose: very maritime (sea spray, seaweed, iodine), almost 'fishy'. Hints of peat, with a salty tang. Wow, interesting! Mouth: fresh and clean, on tangerine and Japanese seaweed. Some great spicy notes (clove, nutmeg, pepper) and a medium long, nicely balanced and salty finish. A very nice find, even if this one isn't for the lovers of 'smack-in-you-face' malts. 86 points.

Longmorn-Glenlivet 25 yo (40%, G&M distillery label, bottled 2004) First-fill sherry only. Colour: full amber. Nose: bold fresh sherry and lots of tropical fruits (passion fruit, guava). Almost smells like an old Yquem! Nice spicy notes (cinnamon, nutmeg, ginger). Mouth: smooth, sweet and very rich, on dried pineapple and apricot. Notes of strawberry jam. Gets a little peppery, tannic and drying, but this one still slides down you throat like velvet. A beautiful, voluptuous malt. 90 points.
---
September 22, 2004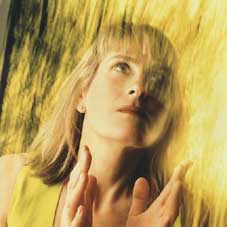 JAZZ - Nora York is an excellent, imaginative and adventurous jazz singer from New York City. Listen to her silky voice on And the angels hover above us or the Beatles' If I fell, with extraordinay pianist Richie Beirach. Nora wrote: 'My music grew out of relationships with jazz musicians because they were the most capable of playing my musical ideas'. Well, it works.
MALTS - TWO NEW ARRANS

The Arran Malt (43%, OB, 2004, now 7-8yo) Colour: light straw. Nose: very feinty and spirity, really smells 'the distillery'. Lots of farmy and malty notes. Quite close to a newmake, but not bad at all. Lots of white fruits developing. Mouth: nicely perfumed, with some toasted notes. Malty and milky. Rather long finish. A nice whisky, quite clean and fresh. A breakfast malt? 79 points.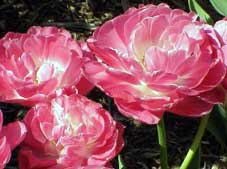 Peony
Arran 7 yo 'Finished in a Port Cask' (57.5%, OB for La Maison du Whisky, 684 bottles, 2004) 6 month finishing. Colour: blush wine. Nose: coffee, toasted bread. Nice hints of blackcurrant leaves and Port (strawberry jam). Hints of peony. Mouth: quite bold, with yet some 'distillery' tastes (working still). Fruit syrup (pear), dried fruits, hot hay. Long and bold finish, a little chocolaty. A good malt – Arran really improves these days! 82 points.
---
September 21, 2004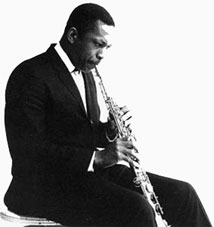 BIRTHDAY - Yes, yesterday was my birthday, and I celebrated with the best of the best: sipping a Brora 1972 while listening to John Coltrane's 'My Favorite Things' (mp3). Mmmmmmmmm..........

MALTS AND REST - From left to right: (1) this rocker is made out of a genuine whisky blending vat. At £975, it's for true aficionados only! Ideal when you're gloriously drunk?
(2) And oh, did you ever try this 2,000 euros whisky-spitting chair? I'm not joking, look there. Looks like a judge's chair... but aren't all judges sober?
(3) Now, if you prefer something 'artier', this nice chair by contemporary sculptor Tibor Timar is made out of welded steel, found wood and whisky barrel slats. I don't know its price but it must be quite expensive...
(4)... While this Jameson inflatable chair will cost you around £5 only (check ebay). It also exists with other brands such as Canadian Mist. What, you don't like fluo green?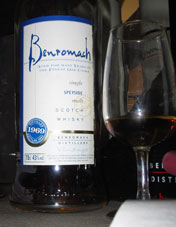 Benromach 1969 (43%, OB, bottled Sept 2004) This one's just been bottled! Colour: full amber. Nose: wow, some great old casks must be in there! Quite rich. Apple compote, cooked fruit with white pepper. Develops on bitter chocolate, toffee, honey, heather. Superb. Mouth: bold and rich, yet very elegant. Fresh Havana cigar, ripe fruits, toffee, dried orange. Medium long finish, getting just a little drying. A great old malt, not tired in any way, that deserves no less than 91 points. Just perfect for sipping in your new inflatable chair, while listening to India Arie's 'Brown Skin' (mp3) ;-).
---
September 20, 2004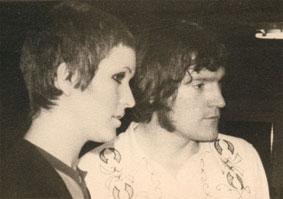 MUSIC - In the series 'Absolute Gems from the Past': 1969, Julie Driscoll and Brian Auger play The Doors' anthem 'Light my fire' (mp3). I think nobody played it that well. Perhaps even the Doors didn't.
MALTS - TWO NEW EDRADOURS and a few cask samples

Edradour 10 yo 1994/2004 (46%, Signatory, cask #344, 787 bottles) This one must have been a big butt! ;-) Colour: coppery. Nose: lots of wood and lots of sherry. Hints of old cardboard and Tia Maria coffee liquor. Gets quite chocolaty and nutty. A very nice nose. Mouth: lots of wood again (pepper, cocoa powder). Hints of iquorice, sherry, dried orange and lemon jam. It's good – so much better than the former 'dumpy' Edradours! Quite long and creamy finish, on coffee. In short, not too complex but bold and thoroughly enjoyable. 82 points.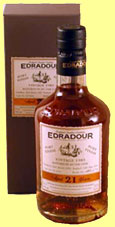 Edradour 21 yo 1983/2004 (53.6%, OB, cask #03/041, 776 bottles) Again, must have been a huge cask. Colour: amber – orange. Nose: very elegant and balanced, not overwhelmed by the Port. Quite bold and rich, with lots of fruits (dates, figs, cooked strawberry). A little spicy (clove, cinnamon) and honeyed. Hints of eucalyptus. Nice! Mouth: creamy, on fruit jam (strawberry, raspberry) and hazelnut. Chocolate, praline, Turkish delight. Long and bold finish. Not too bad for a Port wood finish! 83 points. PS: Richard Joynson found some peat in it, and wondered if that was Iain Henderson's boots. Lol! PS2: we also had an excellent Edradour 1993 Marsala finish that's work in progress. A truly fantastic finishing, for once (90 points). Watch that one when it gets released. Two 18mo samples of Ballechin were absolutely great too. One was a full Portwood matured beauty (85 points) and the other one from a Burgundy cask. The latter was just stunning: 89 points.
---
September 19, 2004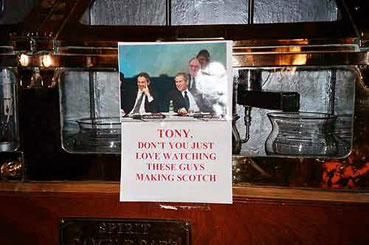 MALTS - This is Bruichladdich's spirit safe, nicely decorated when the TRA (or something like that - or was it the CIA?) was watching the distillery through its webcams, looking for a WMD plant... You don't know the story? It's here. (Thanks again Peter)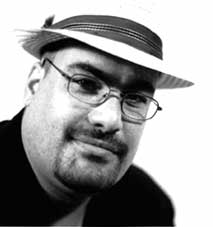 MUSIC - Extraordinary Eric Mingus, son of fantabulous jazz innovator Charlie Mingus. Must be so difficult to live a musician's life with such a heavy name. Of course Eric doesn't quite hold a candle to Charlie, but I found the bluesy Romantic Fool (mp3) to be very moving and so nicely written and sung, and His Blood in Me (mp3) is very nice too. Yes, Charlie's blood, but his great mind too! Emotions...
---
September 18, 2004
MALTS - The Malt Maniacs Monitor has just been updated - now more than 6,180 ratings!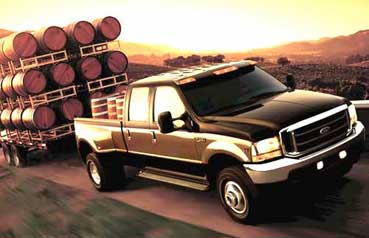 'Black cars don't make it', sang somebody. True but this black Ford 350 seems to be quite useful to move a few barrels. I guess this picture came from an American ad or booklet by Ford... I hope Range Rover will make a similar one one day - why not with some big sherry butts? (Thanks Peter)
MALTS - TWO OLD BALBLAIRS AND A YOUNG ONE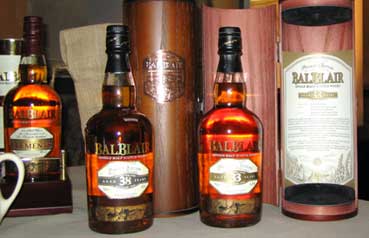 Balblair 38 yo 1966/2004 (44%, OB, Spanish oak cask, 2400 bottles) A brand new bottling. Colour: light amber with a little bronze. Nose: much fresher than expected. Lots of beeswax, eucalyptus and menthol. Grandma's cupboard. Hints of cooked apple, spices and fresh walnut. Some fine woody notes. Mouth: superb, on fir-tree honey, gingerbread and sultanas. A little syrupy and creamy. Very elegant, with a beautiful balance. A true nectar, with a long, honeyed finish. 92 points.
Balblair 33 yo 1966/1999 (44.2%, OB, Bourbon cask) Nose: quite similar to the 38yo, even if the casks weren't of the same kind. Just a little less of everything. Mouth: same comment, perhaps a little more tropical fruit. Less complex but incredibly fresh for such an age. 89 points.
Balblair Elements (40%, OB, 2004) Another rather mundane malt I never tasted before. It's a blend of 16, 8, 5 and 3 yo malt, the average being 5.5 years. Colour: straw. Nose: light and grassy, with notes of fresh mushrooms and fresh cereals. Quite clean and enjoyable. Mouth: fruit syrup, pear juice, and a bit of salt on the tongue. Medium long and fruity finish. A simple, but very enjoyable malt. 80 points.
---
September 17, 2004
MALT MANIACS - Plenty of news on maltmaniacs.com (scroll down). My report on WhiskyLive Paris, Ho-cheng's on the Bruichladdich Academy, Davin's on the Islay Festival, not to mention Johannes' great new log entries with a detailed report on the official launch of the new Macallans in Amsterdam. What a load!
MALTS - TWO NEW LADDIES, ARMED TO THE TEETH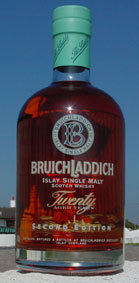 Bruichladdich 20 yo 'Second Edition' (46%, OB, 'Flirtation', 2004) Here's the brand new Laddie that already made many buzz-kills talk. It's been finished for five weeks in some Rivesaltes casks from Cazes, the grape variety being mourvèdre. Colour: strawberry jam. Nose: honey, vanilla and fresh fruit (melon) with whiffs of wine. Not too many winey notes in fact, much less than I'd have expected. Hints of red fruits developing after a while, together with some fine oak. Quite nice! Mouth: smooth, quite creamy and toffeeish. A little woody, with vanilla and ripe fruits, caramelized apple. Gets a little spicy (nutmeg) with just, yes, a few spicy wine notes that don't overwhelm, but rather underline the malt. Medium long finish, on toasted bread. A very good Bruichladdich, even if not as stellar as the 20 yo 'first edition'. But the latter had some enemies too ;-) 86 points.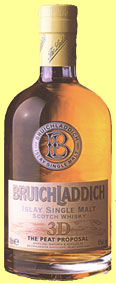 Bruichladdich 3D 'The Peat Proposal' (46%, OB, 2004) This one is technically a 3 yo as it's a vatting of three different runs: some 15 yo peated at 8 ppm, some 6 yo peated at 25 ppm - an Invergordon run, I guess - and some 3 yo Port Chalotte, peated at 40ppm. Colour: light gold. Nose: quite harsh, with lots of 'young' peat. Quite smoky. I guess there's a good deal of Port Charlotte in there – or is it the 'upholding' malt from the Invergordon era? The whole isn't as peated as, for instance the Very Young Ardbeg, but it made me think of some young Broras I could taste lately (Cadenhead 13yo). Hints of sherry, cooked fruits and vanilla fudge. Mouth: bold and powerful, with lots of peat. A little farmy. Some seaspray as well. Notes of vanilla and hints of sherry and old wood that make it just a little 'un-structured', as they sort of fight the peat that's full of youth. Very long finish, even if it sort of goes two different ways at the same time. A very interesting try, for sure. 85 points.
---
September 16, 2004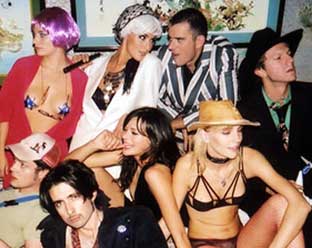 MUSIC - No, this is not an old picture of Roxy Music! Exit Jacques Brel and the flat lands, now the Belgians swing and groove! Want evidence? CheckMagnus, a good electronica band that blends funk, Brasilian, trip hop, lounge and low fi quite successfully. Have a listen to 'Jumpneedle' (mp3) if you're into this kind of music, and of course buy their CD if you like it (thanks, Luc).

Imperial 1993/2004 (45%, G&M for La Maison du Whisky) Colour: deep amber. Nose: nice and quite powerful, with lots of Havana tobacco and some sweet honeyed notes. Gets quite phenolic and peppery. Hints of turpentine. Mouth: quite creamy and nutty. Whiffs of peat and pepper. Develops on dried fruits, orange zest and caramel, with a little vanilla. Rather long and spicy finish, with a good balance. A good, solid malt, maybe the best Imperial I ever had. I guess the 45% make most of the difference! 85 points.
---
September 15, 2004
MALTS - TWO PEATED BENRIACHS BY SIGNATORY - yes, peated.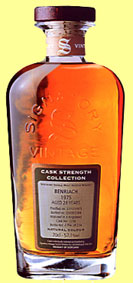 Benriach 28 yo 1975/2004 (57.1%, Signatory Cask Strength, hogshead #7216, 234 bottles) Bottled last week! Here's Signatory Vintage's new 'Cask Strength' bottle, the former dumpy having been discontinued. This Benriach comes from the peated runs Seagram was doing in the past for blending purpose. You'll read more about this topic in my E-pistle about WhiskyLive Paris to be published on maltmaniacs.com shortly. Let's taste this one now… Colour: amber. Nose: very rich and bold. Pinewood, peat, resin, turpentine, tropical fruit (passion fruit). Hints of liquorice… Wowie! I just love this beautiful and very special nose – what a holy pile of different aromas! Mouth: bold and powerful, but not pungent. Quite oily with a great peat. A walk in a pine tree forest after the rain. Tons of cooked fruits (cooked mirabelle, apricot pie), liquorice, spices. Long and very interesting finish, on camphor and caramel, with a salty tang. This Benriach is absolutely superb! 92 points. (Pssst, it'll be available at La Maison du Whisky shortly)

Benriach 10 yo 1994/2004 (46%, Signatory UCF, cask #1629) This one is even more peated, and one could easily think it's Caol Ila when tasted blind. Thank God Signatory wrote 'Heavily Peated' in bold letters on the label! Colour: light straw. Nose: Pure and clean peat, somewhat like some of the peatiest Ardmores. Lots of white fruits. Gets a little minty. Interesting, even if not overly complex. Mouth: a little harsh, almost pungent. Notes of rubber, tar and green malt. Gets a little grassy and peppery. Long, peaty finish. In short, an intriguing Speysider, ready for the peated era to come – or is it already here? It's nowhere near its older brother the 28yo, especially regarding complexity, but it's well worth trying, that's for sure. 82 points.
---
September 14, 2004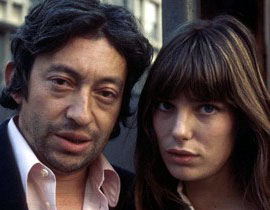 MUSIC - Somebody wrote this is 'the ultimate classic slice of 60'/70's Gallic pop' and I agree I should talk a little more about French music from time to time. So, here's the legendary 'Je t'aime, moi nons plus' (mp3) by Serge Gainsbourg and Jane Birkin (picture). Gainsbourg died in 1991 and we all miss him here. Another very nice song is 'Je suis venu te dire que je m'en vais' (mp3).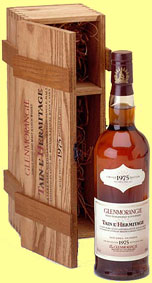 Glenmorangie 28 yo 1975/2003 Tain l'Hermitage (46%, OB, bottling #1560) Funny that after having tasted many Chapoutier wines earlier this month, I come across this Glenmorangie finished in some… casks from Chapoutier's. These casks contained some red Hermitage – and not Tain l'Hermitage, which is the nearest city, not the vineyard – partly Sizeranne, partly Le Pavillon, but Dr Lumsden doesn't quite know in which proportion. The grape variety is pure syrah, and the malt spent no less than four years in these Hermitage casks. Was it too much? Let's see… Colour: amber. Nose: round, nicely balanced. Some very nice woody notes. Very spicy (syrah!) and almost like some old boy's jam (all sorts of red fruits, especially plum). A great nose. Mouth: lots of quite harsh tannins. Chapoutier uses some brand new casks for his Pavillon, so no wonder the malt's alcohol extracted that many tannins. Hints of sulphur. Gets quite winey after a while. Notes of vanilla and dark chocolate. Rather long, but tannic and slightly sweetish finish. Not too enjoyable, I'd say, but the nose is really great. 82 points.
---
September 13, 2004
MALTS - Back from WhiskyLive Paris: lots of new bottlings! Let's start with the brand new Macallan range, if you wish. I'll report on many other interesting discoveries within the next days...

Macallan 12 yo Fine Oak (40%, OB) Colour: straw. Nose: fresh and light, not unlike a Lowland malt (Glenkinchie). Quite grassy and vegetal, with some flowery notes. Very clean, and very little sherry if any. Mouth: a little sweetish and sugary. Some white fruit (ripe apple, gooseberry). Not bad at all but lacks personality. A naked Macallan? 78 points
Macallan 12 yo Sherry (40%, OB) This is the brand new packaging of the 'regular' 12 yo – see the 18yo's picture below, it's similar (pictures thanks to La Maison du Whisky). Colour: amber. Nose: chocolaty, with lots of toasted bread and dried orange zest. Not too complex, much less than the 'old' 12 yo from the middle of the 90's, in any case. Mouth: quite heavy oloroso aromas. Caramel, chocolate… Not bad but nothing special. I'd say it's just a little vulgar. 78 points. I even liked the Fine Oak a little better, mind you.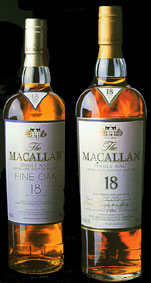 Macallan 18 yo Fine Oak (43%, OB) Made with a mix of bourbon and sherry casks. No vintage on the label anymore, while the new 'sherry' version states 'distilled in 1986 and in earlier years', which means it isn't a 'vintage' 18 yo Macallan either. Colour: straw. Nose: fennel, old paper, old wood. Some citrus notes. Quite enjoyable, but far from being a stunner. Mouth: quite sugarish, with quite a lot of tannins. Hints of white fruits. A little thin, but rather good, although nowhere near the now old 18yo. 80 points. Too bad I couldn't taste the new 18 yo 'sherry' (picture above).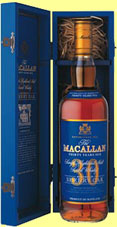 Macallan 30 yo (43%, OB, circa 1998) I didn't have this one at WhiskyLive, but at 'Le Market', fellow Alsatian Jean-Georges Vongerichten's new 'fusion food' restaurant on Avenue Matignon. Colour: deep amber. Nose: caramel, toffee, dark chocolate, white pepper and lots of spices (clove, nutmeg). Gets a little resinous. Stunning! Mouth: very smooth, lots of sherry, lots of chocolate, dried orange… Hints of peat and spices. Some very nice woody notes. A perfect balance, even if this is not exactly my style of malt. It's a little too smooth for my taste, but I can't decently give it less than 90 points.
---
September 11, 2004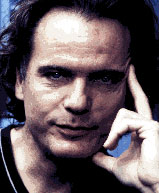 MUSIC - JAZZ - Emmanuel Bex is an excellent hammond organ player from France, and his CDs 'Mauve' and '3' are on my top shelf since they were out. Why not have a listen to his great bluesy version of Edith Piaf's 'Hymne à l'Amour' (mp3) - and of course buy one his CDs if you like it?
---
September 10, 2004

MALTS - Blow again, trumpets! Lex Kraaijeveld (left), of Celtic Malts fame, and Luc Timmermans (right), a true Glenfarclas specialist from Belgium, join the Malt Maniacs. That's fantastic news for us! And yes, the mania goes on and on...
---
September 8, 2004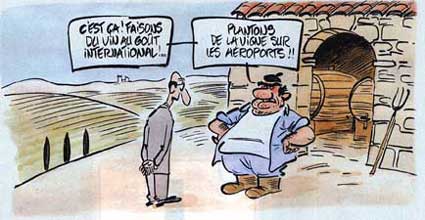 French bureaucrat: 'Right! Let's make wine that tastes international!...
French winemaker: Let's plant vines on the airports!!'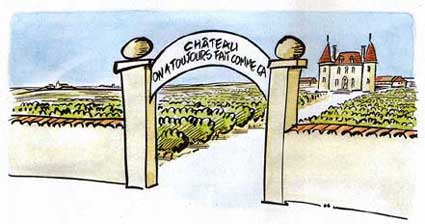 Château We Always Did It This Way
Cartoons seen in 'Le Point', a French weekly magazine, Sept 2. issue. A little self-mockery never does any harm, does it? Btw, is there any We Always Did It This Way Distillery in Scotland?
---
September 7, 2004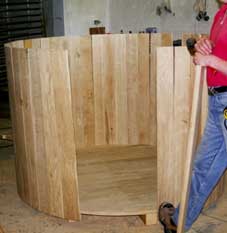 MALTS - Are they building a new kind of hoggie? No, it's just a wooden hot tub made in the Highlands. I don't know whether you can fill it with whisky - I guess you can - but that would be ideal for making the Naomi Campbell finish fellow Malt Maniac Klaus always dreamed about... And if you want a cheaper one, you can always have a look at the plastic version here. Yes, much less romantic...
---
September 6, 2004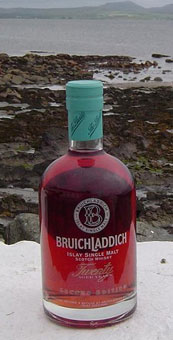 MALTS - This is a picture of the brand new 'pink' Bruichladdich 20yo. I'm not sure you'll get the true colours on your screen, but the cap's usual Laddiesque aquamarine should help you calibrate you sight. And if you want to read some truly romantico-emphatic copywriting, you can click

. (Back label for the world except the US - Will open a new window). Thanks Ho-cheng.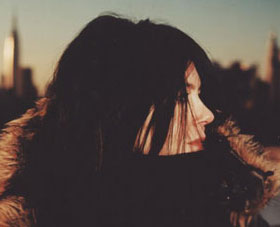 MUSIC - July and August haven't been very sunny here, but September started beautifully with lots of sun and 32°C in the shade... The perfect moment for a good Bladnoch and some catchy pop music. Something nice but really not too serious, for example... Why not have a listen to A Girl Called Eddie then? Cool voice, nice arrangements... Try The Long Goodbye (mp3), for instance. Not bad, don't you think? (Please buy her CD if you like her music).
---
September 5, 2004
MALTS - THREE ABERFELDIES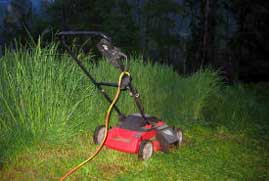 Aberfeldy 13 yo 1978/1992 (43%, Master of Malt, casks #7786-7787) Nose: very light, almost evanescent. Notes of freshly mown lawn, fresh almonds and cream, not much else. Very discrete, that's for sure. Mouth: a little weak. Slightly spirity, getting a little nutty. A shadow of a malt, I'd say. Short finish. No serious flaws, but not much aromas and no flavours either. Serge 70 points, Olivier 73 points.
Aberfeldy 1978/1997 (40%, G&M Connoisseur's Choice) Nose: very light again. Malty and rather caramelised. Hints of apple juice, not much else, I'm afraid. Mouth: cold coffee, dried banana, cold herbal tea (camomile). Medium finish, on dried herbs. Really lacks a little more oomph – quite neutral, in fact. Serge 71 points, Olivier 71 points.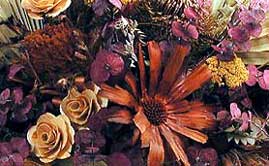 Aberfeldy 16 yo 1966 (40%, G&M CC old brown label) Nose: very refined, very elegant. Dried flowers, camomile, dried tropical fruits (guava, mango, coconut, dates). A great nose, extremely subtle. Mouth: much more powerful than expected. Herbal liquor, caramel, dried cherries. Quite a lot of punch for such an old and venerable G&M! Hints of cookies. Medium, but great buttery finish. Not an absolute winner, but a very, very good Aby. Serge 85 points, Olivier 86 points.
---
September 3, 2004
MALTS - TASTING TWO FLOWERY TEANINICHES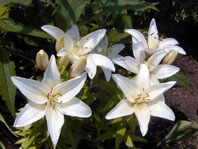 Lis
Teaninich 26 yo 1973/2000 (50%, DL Old Malt Cask, cask #1275) Colour; straw. Nose: beehive, wild flowers, apple vinegar. Rich and compact. Flower nectar (lis), honey, cooked apple, hints of fresh rubber. Very nice! Mouth: most enjoyable. Apple juice, burnt rubber, bread crumb, burnt cake, quince jelly. An excellent malt that answers the question: yes, there are many great Teaniniches around… (watch also the Rare Malts versions). Serge 85 points, Olivier 86 points.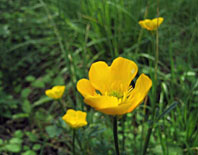 Buttercup
Teaninich 21 yo (57.2%, James MacArthur) Colour; straw. Nose: again, lots of honeyed notes, very similar to the OMC we just had. Beeswax, pollen… Gets a little milky and creamish. A little more delicate, I'd say. Develops on some nice flowery notes (daisy, buttercup). Mouth: very punchy! Sweet, on candy sugar and jam (quince, apricot). Quite woody, with some white pepper. Long finish, on vanilla and pepper (i.e. wood). Serge 86 points, Olivier 88 points.
---
September 2, 2004
WINE - CHAPOUTIER PART II: THE REDS
After eight whites (see yesterday), we had fourteen reds and one sweet white. Wow! Let's go...
Rasteau 2003 red Made out of pure Grenache, which is quite an un-complex grape variety. Perfect for the 'new' tastes! Nose: black cherry jam at full speed, plus some blackcurrant syrup. Yes, not overly complex, but highly demonstrative. Mouth: ditto. Not much typicality, but lots of oomph. A wine for the 'world-taste', that could come from many (hot) parts of this planet. 80 points, still, because it's made perfectly.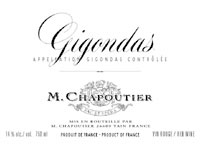 Gigondas 2000 red Again a typical part of the Southern Rhone Valley. The grapes are harvested by hand and the wine is matured for more than a year in oak casks and vats. Nose: blackberry and strawberry jam. Refined and rather elegant. Blackberry syrup. Mouth: quite sharp, a little tannic. Lots of morello cherries, and a rather spicy finish. Very good, even if not too complex. But Gigondas isn't Hermitage! 83 points.
La Bernardine 2000 red (Châteauneuf-du-Pape) Did you know the popes lived in this part of France in the Middle-Ages, hence this strange name of 'The Pope's Newcastle'? This Châteauneuf is made out of pure Grenache, which is very special as most Châteauneufs are made out of up to 13 different varieties. The soil consists in rolled stones from the River Rhone's former bed. The wine is entirely matured in oak. Nose: lots of raspberries and blackberries again, also some cherries. Quite bold and spicy. Some animal notes (hare's belly, civet-cat). Mouth: really chewy and easygoing. Most enjoyable, even if it somewhat lacks a little complexity. 84 points.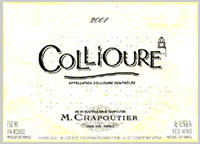 Collioure 2001 red Collioure isn't in the Rhone Valley, but near Perpignan, next to the Spanish border. Lots of sun, lots of sea influence, and some very bold wines I always liked a lot. Nose: extremely demonstrative and playful. Lots of iodine. Rich and almost hot, but in very nice way. Not heavy at all. Mouth: quite complex, with some toasted notes and some spices. Hints of liquorice. Wow, for around 11 euros, it's a bargain, and of course I couldn't resist. Ah yes, a rating: 90 points.
Occultum Lapidem 2003 red (Côtes du Roussillon-Villages) Again we're in the South of France here, near Narbonne. Nose: ouch, lots of fruits but I feel it's a little too much now. Seems to be a little woody… Mouth: rich and very bold, I'd say even overly concentrated. Who said Parkerized? Very tannic, with some vanilla and lots of cooked fruits (hot jam). Well, it's really nicely made, but it's not my style. I prefer the Collioure a lot. 82 points, still.
Limestone Coast 2001 red (Australia) Just like many other French producers, Chapoutier built a vineyard down-under. Most interestingly, they decided to use a well-known Rhone Valley native grape variety: Shiraz (Syrah in French). I'm very curious… Nose: unlike many Australian or South-African Shiraz I know. Less bold, hot and aromatic, and perhaps a little subtler, almost in a Bordeaux way! Some would say it's a little understated, but the Syrah's usual spicy aromas are well here. A little smoky too. Mouth: quite soft and round, but not dull in any way. Lots of fruits (berries), but the whole is a little restrained. Not a Rhone, not really an Australian… A style on its own! Interesting… 80 points.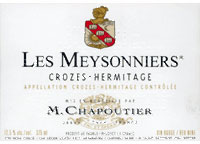 Les Meysonniers 2001 red (Crozes-Hermitage) We already had the white, here's the red, entirely made out of Syrah – I mean Shiraz. Again it's hand-harvested, and a quarter of the cuvee is matured in oak casks for one full year. Nose: toasted bread like in the whites – I guess it comes from the oak – and lots of red fruits. Some flowery notes (violet and even lavender). Mouth: quite tannic but nicely rounded. Notes of fresh strawberry and quite some vanilla. A nice wine for a good price (around 10 euros). 83 points.
Deschants 2002 red (Saint-Joseph) Again, pure Syrah, from the right bank of the River Rhone. Nose: elegant and nicely balanced, but a little weak, as most wines from 2002 in this region. Quite flowery, with hints of liquorice and spices. Mouth: fruity and spicy, but restrained, with a short finish. A garden wine. 81 points.
Deschants 2003 red (Saint-Joseph) The Deschants is really good when the vintage is good! No, no, it's not the case with any wine, some are always bad ;-). Again, it's fruity and spicy, but it has these typical animal aromas… Rugby changing-room after France-England? 87 points.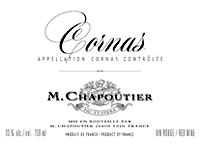 Cornas 2000 red Cornas is an underrated part of the Rhone's right bank, I think. This one is matured in oak casks after its malolactic fermentation, and again, is made with syrah. Nose: very nicely balanced, with a mixture of toasted bread, red fruits and bitter orange (and no, it's no sherry). Mouth: sweet pepper, coffee-grounds, blackberry. The wines from Cornas used to be quite harsh and dry (they were saying 'one looked like a laughing horse' after a sip), and everybody started to de-stem the grapes before pressing them. Nowadays, perhaps the Cornas became a little too 'easy'. Anyway, I like this one very much. It's got a nice vivacity, and a nice, toasted finish. 84 points.
Les Bécasses 2001 red (Côte-Rôtie) Again pure Syrah, on one of the most legendary parts of the Northern Rhone Valley. There are two different 'terroirs': the 'Côte Brune', schist with limon and glacial-era pebbles, and the 'Côte Blonde', a lighter soil colour due to silico-calcareous deposit from the glacial era. The wine is entirely matured in oak casks, partly new. Nose: lots of violets, with some raspberry and hints of spices. Not as bold as I'd have expected, but very nice. Mouth: quite complex, but just a little restrained. Quite some wood, and lots of spices. Some notes of 'garrigue' (Mediterranean low vegetation). Again, not too bold, but I really like the complexity. 87 points.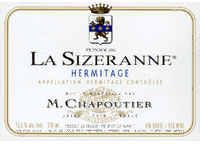 Monier de la Sizeranne 2001 red (Hermitage) Wow! A legendary wine, surely one of the best red Hermitages (with Chave, among others). It's been constantly better than Jaboulet's 'La Chapelle' the latest years, and is made biodynamically since a few years. Nose: brilliant! Lots of fruits like raspberry and blackcurrant, and some quite heavy liquorice. It's bold and rich, but still very elegant. Yes, wow! Mouth: lots of soft tannins, raspberry, blackberry, blackcurrant and spices. Long finish, extremely satisfying. What's dangerous, is that it's very, very drinkable. But it costs around 40 euros… Well, it's worth it! 92 points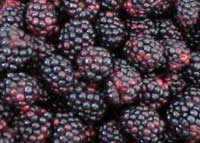 La Mordorée 2001 red (Côte-Rôtie) This is Chapoutier's best Côte-Rôtie, coming from the best plots from the Côte Blonde (60 yo vines). It is sort of a 'grand cru', even if this appellation doesn't exist there. A 'grand cru' must come from the best vineyards, and mustn't just be chosen amongst various casks – you know, the winemaker tasting his casks and declaring 'this one's gonna be my grand cru!' Yes, many do that. Anyway, back to the Mordorée. Nose: extremely elegant. Roasted peanuts, ripe blackberries, herbs from Provence, olive… Just beautiful. Mouth: chocolaty, milk caramel, and lots of fruits and spices. Extremely good – I love it, and it's well worth the 100 euros they're asking for a bottle, I think. Very concentrated, it really is a superstar. 95 points.
Rivesaltes 1973 sweet red This is something completely different, coming from Perpignan's region. It's all made out of Grenache, and fortified. The maceration is very long: 1 month, and then it matures in oak tanks for two years before bottling. Nose: much fresher than expected. Ripe fruits, raspberry jam… Beautiful and elegant – which is not always the case with such fortified wines. Mouth: exceptionally bold and rich. Sweet but not overly so. Lots of berries, vanilla, soft tannins… It seems to be very young, yet it's its thirty year old. Bravo! 95 points (and only 12 euros a bottle!)

Les Coufis de Paille de l'Ardèche 2001 sweet white This is very special, made out of Viognier using the same technique as the people from Jura (not the island!) when they make their 'vins de paille' (straw wines). The withered grapes are hand-picked and dried on a straw bed for many months before pressing. The result is usually very sweet and aromatic, yet not as complex as a good 'late harvest' wine. The fermentation is always very slow, because of he high concentration and natural sugar level. Nose: superb and astonishing freshness, I'd say lighter than most Jura vins de paille. Lots of tropical fruits. Mouth: sweet, bold and intense, yet elegant. Again, tropical fruits, apricot and honey. My wife loves this kind of wine – many women do – and so do I. Must be my feminine side. 89 points.
Thanks again to Chapoutier for this wonderful session !
---
September 1, 2004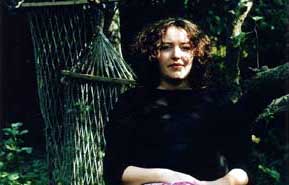 MUSIC - British folk revival? Frankly, I don't know but what's sure, is that I like Kathryn Williams' work a lot. A beautiful voice, fine compositions and kind of a 'depth' that makes that she's anything but just another young singer coming from a provincial art school. You can click here if you'd like to download some great tunes by Kathryn Williams.

MALTS - Hakushu 21 yo 1981/2003 (60.7%, SMWS 120.1, Japanese oak) This is the second expression of Hakushu I ever had. Colour: light amber. Nose: extremely oaky, but quite clean. Fresh and fragrant, on all sorts of nuts. Hints of cider, vanilla cream, coffee drops and Madeira. Mouth; extremely spirity and pungent. Marzipan, bitter almonds, black pepper. Not overly complex, but quite a beast, that's for sure. Hints of varnish. Incredible it's so strong at 21 years. Not really 'drinkable', so to speak, but a most interesting dram. Serge 83 points, Olivier 86 points.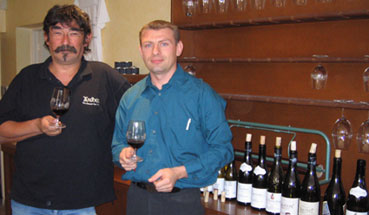 WINE - Don't get fooled by the Ardbeg polo-shirt. Yes, let's talk about wine, for once! Don't worry, it won't be too long before I fall off the wagon again and concentrate on malt, but I thought the latest tasting session we had at Chapoutier last week was very interesting, because we had a big, big share of their production. Chapoutier is active mainly in the Rhone valley. They are amongst the kings of the Hermitage (they do own 35% of the hill – by far #1) and are very famous for several reasons. First, almost all of their labels are also 'printed' in Braille (who's going to do this in the whisky business first?), second, they treat their vineyards in biodynamy – just like fellow maniac Olivier Humbrecht – and third, because their wines are usually very good. "Filtering a wine is like making love with a condom," said Michel Chapoutier. That's why they don't filter any of their wines anymore, and we can't blame them for that, can we ? Anyway, here are my short notes… Please note that I'll use the 'malt maniacs scale' rather than Robert Parker Jr.'s, which is much narrower.
Here are the whites we had - I'll write about the reds tomorrow
La Ciboise 2003 white (Coteaux-du-Tricastin) Made out of Bourboulenc 20%, Grenache white 20%, Clairette 20%, and Marsanne 40%. The soil is made out of rolled stones. Nose: nicely fresh, with notes of lime-tree flowers and honey. A little mineral and grassy. Mouth: lacks a little oomph. Weak and somewhat grassy, with hints of honey. A very nice nose but too bad the mouth is kind of weak (and the finish quite short). But that's far from being part of Chapoutier's flagship wines, so let's pass quickly. 78 points.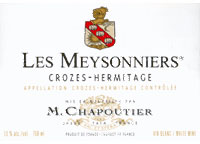 Les Meysonniers 2002 white (Crozes-Hermitage) This one is made out of pure Marsanne (Chapoutier doesn't use Roussanne anymore, too fragile and needs too much 'chemical help'). Nose: toasted notes, quite mellow and flowery. Hints of honey. The mouth is quite fresh, with a nice acidity. Perhaps too much acidity, as often in 2002, which was very wet and gave many rather un-mature wines. A little bitter as well, as often on very fertile soils. 79 points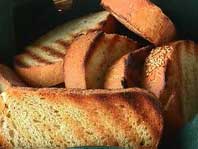 Deschants 2001 white (Saint-Joseph) Again made out of pure Marsanne. Nose; extremely expressive: honey, toasted bread, lots of flowers, with some nice buttery notes (hot butter). Mouth: a great balance? Nice acidity, with some tropical fruit notes and fructose. Citrus, honey, toasted bread again. And again getting a little bitter on the finish. 85 points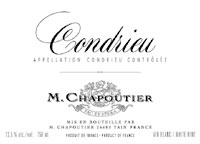 Condrieu white 2002. Made out of pure Viognier and completely hand harvested. The Viogniers from Condrieu are completely different from the cheaper versions some make in the South of France or in some other hot regions in the world. The latter are usually much more aromatic, but are much duller and have a shorter finish. Let's the Condrieu in this difficult vintage now. Nose: superb, very fresh and toasted. Quite aromatic in fact. Notes of lavender and violet, plus apricot pie. Mouth: fresh apricot and nice acidity. A little short, due to the vintage, but very good provided you don't keep it too long in your cellar. 87 points.
Condrieu white 2003. Ah, here's the famous extra-hot vintage. Nose: herbal tea, toasted bread, hints of turpentine. Interesting, already a great balance. Mouth: lots of jam (strawberry jam). Notes of raspberry and a few terpenic flavours. The finish is a little 'flabby', due to the very hot year 2003 was. But it's still a great Condrieu, one will have to drink quite quickly again, it appears. Keep the 2001 for your cellar! 88 points.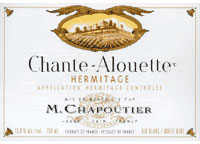 Chante-Alouette 2001 white (Hermitage) Haha, now we're really talking! White Hermitages were the kings' wines (not the reds, as many believe) and anyway, the Rhone Valley's output was mostly whites in the Middle-Ages. This Hermitage is made out of pure Marsanne again, and Chapoutier uses 1/3 new casks and 2/3 vats. Nose: beautiful freshness. Hints of alcohol. Toasted bread, hints of turpentine. Some quince, honey, and even a little ginger. Quite complex and beautifully balanced. Mouth: Beautiful, a little grassy, but not harsh in any way. Some eucalyptus and ginger again, with hints of fresh almonds. An excellent vintage. 90 points.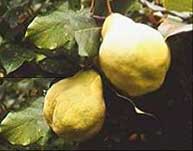 Quince
L'Ermite 2001 white (Hermitage) This is what Chapoutier calls a 'sélection parcellaire', meaning a selection of the very best plots like 'l'Ermite' or 'le Méal', where the vines are very old. The soil is granitic, extremely poor, which is good for wine. The wine itself is matured for at least 9 to 10 months in 100% new oak. It's supposed to be the best of the best, no need to say. Let's see… Nose: truly exceptional, on quince jelly and dried fruits. A little 'stony'. Don't get me wrong, I was meaning 'mineral'. Mouth: rich and fresh at the same time, and again quite mineral like some waters. Just a little short, even if really beautiful and quite complex. I'd say I prefer the Chante-Alouette, which is much, much cheaper, as the l'Ermite is worth 185 euros a bottle (thanks to Mr Parker, who rated it 95-98 – both the 1999 and the 2000 even got 100/100!) My rating for the 2001: 89 points.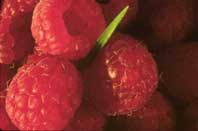 Le Méal 2001 white (Hermitage) Another 'sélection parcellaire'. The vines are 50 year old, no less! Nose: lots of flowers and fruits this time, plus some hints of burnt rubber (Port Ellen?), hydrocarbs, raspberry and blackberry. Wow! I love it! Some great toasted notes as well. Mouth: beautiful, very fresh, just a little heavier than l'Ermite. But what a nice 'fullness' – quite majestic, in fact. I couldn't help buying a few bottles, even if at 150 euros each it's not really a bargain. But again, life is short… 92 points (again, not to be compared with Parker's way of rating).
Till tomorrow for the reds, and thanks to the great and friendly Chapoutier guy who organized all this (see the picture above). I never, ever happened to attend such a high-flying session at any whisky distillery or bottler's.
---

August 2004 <--- September 2004 ---> October 2004 part 1


Check the index of all entries:
Whisky
Music
Nick's Concert Reviews