March 2004 <--- April 2004 ---> May 2004
---
April 30, 2004
ARTS & LABELS - An anynonymous Dutch malthead (starts with a J and ends with an S) just asked me whether I was trying to build some traffic to whiskyfun.com by adding some pornographic art to the pages (see yesterday's entry below). Erm... Not really, actually. But his humorous question made me think of the 1993 Mouton Rothschild. They had a Balthus drawing on the label, but there had been that much controversy that they made another label just for the US. See both versions below... Sure that it's something else than deers, stags and Celtic crosses...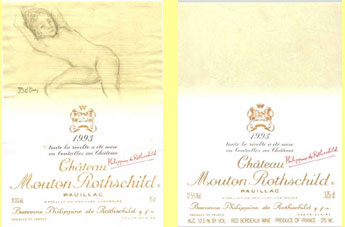 ---

April 29, 2004
MALTS - According to the Scotch Whisky Association, the exports of Scotch Single Malt Whiskies have been up 13.5% in value in 2003 (blends = 3.5%). Wow!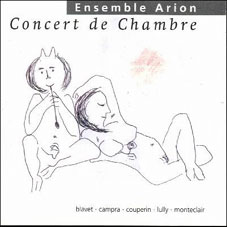 MUSIC - Just listened to a beautiful CD by the Ensemble Arion. Their rendition of André Campra's (1660-1744) emponymous French cantata is great. If you're into early classical music, you can listen to the 'Air Tendrement' (mp3) on the editor's website. And don't forget to buy the CD if you like it.
MALTS - LIMBURG 2004: A BLUEBERRYWINE FINISH!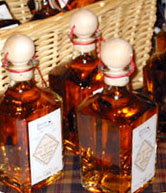 This is pure fun! The 'Friends of Malts' is a whisky club from Heppenheim in Germany, and not only they organise what you'd expect from such a club, but they also make their own funny 'finishings', sort of playing with a cask of Tomatin they bought. Some Germans produce some fruit-wine with blueberries, apples, redcurrant etc., so the Heppenheimer maltheads decided to let some Tomatin age a little further in some small casks having previously contained some of these 'fruit-wines'. And guess what, I thought it worked better than with many more 'official' experiments. Here are my notes regarding two of these strange – yet very funny – experiments:
Tomatin 12 yo Blueberrywine finish (43%, Friends of Malt, 29 b.) Nice dark colour, and a very nice fruity nose. You really get the blueberry, and a young Tomatin seems to be perfectly fitted to that. Not unlike some tawny ports. The mouth is very round and sweet, and the malt and the fruit go really well. I like that, because it's un-pretentious, because it's quite 'humoristic', in short because it works. Congrats! 80 points.
Tomatin 12 yo Applewine finish (43%, Friends of Malt) This one does not work quite as well as the previous 'blueberry' version, I think. A little sour, with some notes of 'cider' that don't go that well with the malt. But it's not bad at all, still – and it's still better than many tries 'from the official industry'. 76 points.
---

April 28, 2004
MALTS - LIMBURG 2004: SILVER SEAL TASTING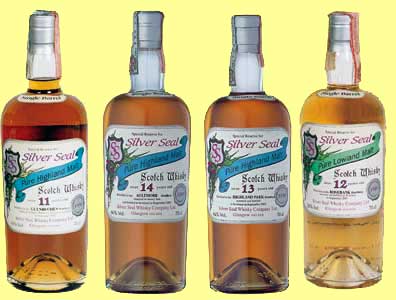 The man behind Silver Seal is Ernesto Mainardi, former founder of Sestante. Giorgio D'Ambrosio seems to be quite deeply involved in the business, and all the Silver Seal malts I already had were constantly good. The bottlings are said to be made by Douglas Laing. I could taste five different bottlings with Giorgio.
Glenrothes 11 yo 1990/2001 (43%, Silver Seal, 620 bottles) The nose shows some very nice sherry, quite a lot of toffeeish and coffeeish notes but a lot of freshness. Very little woody notes. The palate has a lot of vivacity and is bold and powerful – very satisfying. Much bigger than what we'd expect from a 43% malt. But it remains very elegant. Most enjoyable! 86 points.
Aultmore 14 yo 1989/2003 (46%, Silver Seal, 470 bottles) At first nosing this Aultmore appears to be nicely balanced, even if not very expressive. Quite elegant, with some nice sherried and buttery notes and quite some wood. The palate is also very nice but has a lot of tannins, which are soon to take control. In short, a little too woody for my taste. 80 points.
Highland Park 13 yo 1990/2003 (46%, Silver Seal, 680 bottles) Wow, what a superb and interesting nose! Roots, heather, gentian… I love this. Beautiful freshness and great peat. One of the peatiest Highland Park I ever came across. The palate is less complex, though, but is very balanced, on some fine honeyed and heathery notes. One of the best independent HPs I had. 89 points.
Rosebank 12 yo 1989/2001 (50%, Silver Seal, 750 bottles) Again a great nose: bitter almonds, all sorts of flowers, freshly cut apple, but not much citrus for a Rosebank. The palate is nicely balanced, but a little less interesting than the nose, as often. 85 points.
Macallan 13 yo 1990/2003 (46%, Silver Seal, 686 bottles) An interesting expression of Macallan, very perfumy and elegant. Lots of violet and lavender aromas and flavours, besides some unusually refined sherry, that makes us think of a fino rather than an oloroso. Very nice Macallan, again much better than many independents. 86 points.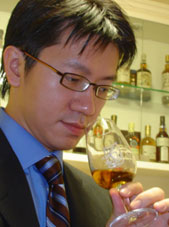 MALTS - Blow, trumpets! Ho-cheng Yao, from Taiwan, just joined the Malt Maniacs. So you can expect to read some interesting Far-eastern insights on malts in the near future on maltmaniacs.com.
---

April 27, 2004
MALTS - LIMBURG 2004: THREE OFFICIAL TALISKERS FOR A TRAVEL THROUGH TIME
10 yo 2000's – 12 yo 1970's – 8 yo 1950's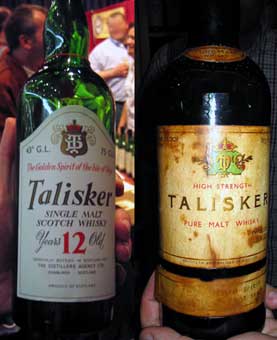 Talisker 10 yo (45.8%, OB, circa 2000) Just to start our trip, let's have this classic again. The nose is very smoky, with some 'fishy' notes. Quite austere, with almost no fruit. Lacks a little balance… Some big notes of apple skins appear after a while, though. A little 'military', whatever that means (I wanted to mean 'serious', but I'm not sure what the soldiers do these days is very serious). The palate is very peaty, smoky, with kind of a bitterness that somehow puzzles me. Very 'coastal', that's for sure. Very little fruit, but a long, bold finish… Some sugary notes appear… And then again a load of peat. Endless, but a little too rough. 87 points.
Talisker 12 yo (43%, OB 'Distiller's Agency', 75cl, bottled 70's) A genuine legendary malt, this is the pre-10 yo classical Talisker. I believe there were two versions, one signed by 'Johnny Walker', the other one by 'The Distiller's Agency', and it's the latter that I tasted. What really amazed me was the fact that it's like the newer 10 yo , just subtler and 'wider'. The nose has some nice cappuccino notes beside some very elegant peat and smoke – very present. Some cooked fruit as well, something like apricot pie and peach syrup. Very charming and perfectly balanced! The palate is also quite subtle but full-bodied. Smoked salmon, shells, cooked apple, blackcurrant jam, and something really organic and oily. Long finish, even if not as bold as the 10 yo 's. Again, it's more complex than the current 10 yo and perhaps not as bold as what I expected – In short, not the 'monster' I was waiting for. But that might well be good news… Anyway, it deserves no less than 89 points on my scale.
Talisker 8 yo (80 proof, OB UK, 'Pure malt', bottled late 50's) Now we're really travelling through time! The nose is magnificent and extremely fresh, with lots of tropical fruit – typical considering such an old 'edition'. Yes, the malt did spend almost 50 years in its bottle! Passion fruit, pineapple, mango… Also some musk. A very elegant old lady's perfume… Alas, the peat has vanished – but was there some peat before? The palate is much in the same style. Not very bold of course, but very fruity - tropical fruits again - like in some old Bowmores. A lot of style, even if there may well not be a lot of the distillery's character left. The finish is medium with notes of old Sauternes (crystallised pineapple, strawberry jam) lingering on your tongue. The following rating may well include an emotional part, but I feel we should go for 90 points. This rating isn't strictly 'organoleptic', but who cares?
---

April 26, 2004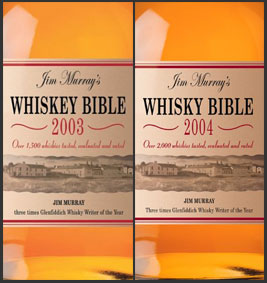 MALTS - Okay, after several tries at Amazon.com or in London, I could finally buy a copy of Jim Murray's Whisky Babble – sorry, Bible 2004. I should have spent my money on some drams instead.The first pages went smoothly, though. Murray shows off a lot, but there's nothing really wrong with that, I think, and perhaps he needs to un-directly attack his colleagues to get in the mood. Claiming you're the best is not enough, it certainly goes even better if you add that the others are bad. Not very elegant, for sure, but at least, it's not boring. Hey, some action! Then I went on with an A-Z reading of his ratings and tasting notes… And right at Aberlour 15 yo Cuvée Marie d'Ecosse, I said to myself 'Ite Missa Est'. Murray writes: "It is sold primarily in France, and one can assume only that this is God's way of making amends for that pretentious, over-rated, caramel-ridden rubbish called Cognac they've had to endure for the last couple of centuries". Wow, that's smart! I like malt much better than Cognac myself, but I can't figure out why Murray needed to write this childish comment. First, perhaps he should have known that France is the largest export market for whisky (in volume) and that we weren't especially waiting for the Cuvée Marie d'Ecosse - which is quite good, btw - to discover the amazing world of single malts, Second, that the French hence drink much more whisky than Cognac, and third that most of the genuine malt aficionados do also like Cognac. I mean, good Cognac. Sure, there are good Cognacs and bad Cognacs, good whiskies and bad whiskies, and good books and bad books. But what's sure, is that Murray's new opus certainly belongs to the latter category, if you ask me. And I will spare you the tons of inconsistencies strewn from Aberfeldy to Tullibardine. Me, chauvinistic? ;-).
PS: In his book, Murray talks a lot about some special pages on the web, where he would keep his data and notes supplemented and updated. Five months later, the crappy dummy's still there, unchanged. Murray brags a lot about the 1,250 single malts he managed to rate. Well, there are still only 1,250!
PPS: Funny how Murray, who was 'three times Glennfiddich Whisky Writer of the Year' (2003 edition cover) became 'The world's leading whisky authority' (on the most recent 2004 edition cover). Tomorrow the moon?
---

April 25, 2004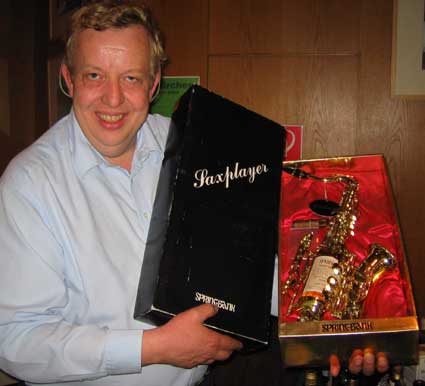 MALTS - I'm just back from the Whiskyfair, Limburg, Germany. Wow, it was my first time, and what a blast! I could taste a lot of legends (not Bowmore's - but some old Talikers like the 12 yo OB, some Old Clynelishes, some dumpy Cadenheads etc.) Anyway, i'll publish some tasting notes within the next days, and a big, bold report on maltmaniacs.com. Oh, by the way, who said malt and music don't fit very well? Look at the picture, this is Michiel, from Holland, showing us an old 'Springbank Saxplayer' that was made for Japan. I've been told there are only three in Europe. A pity? Not sure ;-). Anyway, watch this space...
By the way, while stopping at a German gas station, here's what I could spot on some shelf...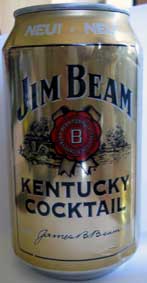 Yes, that's the company which makes the 'Highest Rated Whisky' (said an ad in Whisky Magazine, issue #35). Here are some details: 4.6% vol., contains Water, 11.5% Jim Beam Bourbon Whiskey, Sugar, Carbon Dioxide, Acids E334, E330, Flavours, Caramel E150, Preservatives E211, E202. Welcome to the modern world.
---

April 23, 2004

MALTS - Alberto, from Venezia, Italy, sends us some very interesting precisions about some old 'Italian' malts I tasted recently: 'First, the Original Clynelish: the one you opened (see April 2, 2004) was quite for sure the older bottle, and was selected and imported by Edoardo Giaccone (Edward&Edward), owner for some time of the largest whisky collection in the world (5000 different bottles, 600 to taste) in his tavern in Salò (Brescia). The bottle seems to have a "long type" tax stamp around the neck, probably printed with three Italian star-and-wheel symbols: all those details suggest a mid-60s bottling. I think you have to consider it a 100° proof at 56,9% ABV, not a CS bottling... Then: Zenith's Brackla bottling (see February 19, 2004) go more into the early 80s than in the 70s; there was also a 12 y.o. at 43%, if memory serves well. Bonifanti's Zenith Import portfolio in those years included Rosebank (20 y.o. 100° proof) and 15 y.o. 50% abv, the latter even in ceramic and in an ultra-limited edition at CS) and, of course, the Bulloch Lade Caol Ila (the basic 12 y.o. at 43% plus a 15 y.o. at 100° proof and a huge kitsch golden flagon with a 15 y.o. inside); you can still get it in Italy for 230-250 EUR, and quite easily too! I've seen a 12 y.o. for 130 EUR, it sold in two or three days.' Thanks, Alberto!
---

April 21, 2004
MUSIC - Jazz - Peter Silver, from Manhattan, is a fellow member of Malt Maniacs, and a great jazz musician. As a dentist, he's specialised in healing the 'jazz blowers': and you can sometimes meet several famous trumpet, trombone or sax players in his waiting room. Peter is an excellent trumpet player and bandleader himself (not conductor, he doesn't wave his arms around in front of the band, he just yells at them to get started - those are Peter's own words), and you can go and listen to his own big band in various gigs in the New York area. I couldn't help asking him two or three questions...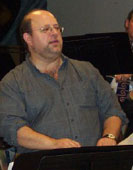 Peter, in which sense is jazz related to whisky, if you think it is...
Jazz and Whisky? I usually associate jazz with more intelligent people, since it requires some intellect to understand. I find that people who appreciate whisky are sensualists, folks who really get pleasure from the incredible palate of single malts. Then there is the intersection of listening to great jazz while enjoying an amazing malt, so that both sides of the brain are engaged at once. It can be a very sophisticated experience! I'm not saying that all intelligent people like jazz, but most folks who enjoy jazz seems to be intelligent. I know it's a generalization and I always say "Most people hate generalizations!"
Do you know some (other) famous jazz players who're into whisky (not talking about artificial paradises here ;-)
As you know, a lot of musicians became alcoholics in their attempts to deal with their lifestyle. I do know that the legendary saxophonist Coleman Hawkins loved whisky, but this was before single malts were available.
Thank you Peter. Peter especially likes to play some Count Basie with his big band. I just uploaded a big, bold and terrific example here (mp3, 3.3Mo, recorded on September 23, 2003). But the band also plays some great Pat Metheny...
---

April 19, 2004
MALTS - Johannes just published another great bunch of tasting notes. 12 Arbegs, 8 Caol Ilas, 4 Lagavulins, 4 Laphroaigs and 4 Broras within two days: that's a lot of peat. On my side I'll attend the Whiskyfair in Limburg, Germany on Saturday this week. So stay tuned...
---

April 17, 2004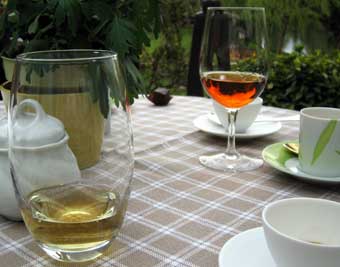 MALTS - We knew Johannes' big Cognac fishbowls, the sherry copitas, the French 'INAO' glasses, Riedel's whisky glasses, Glencairn's 'blender's' glasses, the tumblers... but today, after my lunch at l'Auberge de l'Ill (sorry, their cooking is great but their website is just crap, so no link), they poured me an Ardbeg and then a Lagavulin in a strange kind of glass I never saw before (left). And it worked very well, the malts' nose getting sort of 'fresher', but not dull at all. The other glass (background) contains no whisky, but a very good Armagnac Laberdolive 1976. By the way, did you already read Klaus' excellent glassware report?(PDF).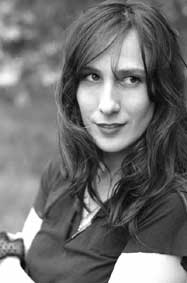 MUSIC - Another very good young singer who's new to me: Elizabeth Harper, from NYC. Check her website, many very good tunes are downloadable. Some are very good, even if the band's a little rough for my taste. My favourite track is Strange Familiar.
---

April 16, 2004
MUSIC - Nellie McKay bis. There's also another great on-line show on KCRW (Morning Becomes Eclectic). Thanks, FX.
---

April 15, 2004
MALTS - Some have asked how to identify Lagavulin 16 yo old version (pre-2000). That's quite easy, check below...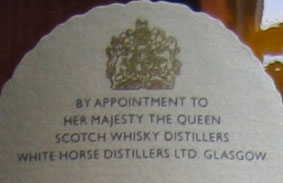 Top of the oval label: a golden royal seal instead of a sailship on the new version...

Bottom of the square label: 'White Horse' instead of 'Port Ellen'. The post-2000 version is great malt, but the older, 'White Horse' one was even better - an absolute winner! Check the shops in the small towns, especially the very dusty bottles...
---

April 13, 2004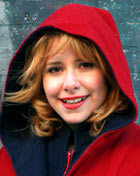 MUSIC - I've got a crush on 20 yo singer Nellie McKay. She mixes cabaret singing, pop and jazz with much happiness and joy - not to mention her freshness. Check this great video for instance, where she sings her 'Dog Song' at the Letterman's show. The live audio recordings on her official website are of poor quality, though. You'd better listen to her live at NPR show. Absolutely brilliant! Her last CD 'Get Away From Me' is stunning, and my favourite tracks are 'David', 'Manhattan Avenue', 'Ding Dong' and 'Really'. A must have!
MALTS - VARIOUS DRAMS I HAD RECENTLY - in Reims with my friend Paul...
Knockando 21 yo 1982/2003 Master Reserve (43%, OB) Tasted at Les Crayères, Reims, France. The colour is light Cognac, and the nose is very smooth and sweetish. Nice hints of sweet sherry, honey and vanilla. Very enjoyable. The palate is smooth and quite aromatic. Notes of fruit (dried banana, dried pear) and nice hints of eucalyptus. The finish is shorter than expected, though. In short, this one really is an improvement, compared to the regular Knockhandos. Very enjoyable, but not for the malt aficionados. A perfect beginner's malt! 80 points
Cragganmore 11 yo 1990/2001 (46%, Murray McDavid, Bourbon, October 2001 bottling) Tasted at Les Crayères. Very light colour, but punchy nose, quite clean and somewhat austere, well in the Murmac style. Lots of liquorice and freshly cut wood, and some grassy notes as well. Long and powerful finish. This one really is an anti-OB, and if compared to the 12 yo OB, nobody would say both come from the same distillery. 81 points.
Guillon (42%, OB, Single malt, Champagne, France) Tasted at La Cave d'Erlon in Reims, a nice wine and liquor shop which offers more than 400 malts for sale. The shopkeepers are very friendly, but when I asked for a dram of the Guillon, they seemed quite embarrassed. Was it because they knew the malt maniacs before, and because they feared the Guillon wouldn't match our usual expectations? Hum, let's check! Right in the heart of the Champagne region, near Epernay, Guillon distil some locally grown barley in some little water bath stills, which should be good news… The colour is dark straw, and the nose is quite pleasing. Not quite 'whiskyish', for sure, but it seems quite mature. But then, some odd 'old wood' notes appear, like if the casks they use aren't that 'clean'. Hints of Calavados, overripe apple, dusty. The first mouthfeel is quite 'frank', but suddenly everything falls apart. Watery, dusty, with just a few notes of cheap rum. Not good at all, and several heavy flaws that prevents me from rating it over 50 points. The next batches are said to be much better, but for this first one, I feel 30 points will do. Who said the French are chauvinistic? ;-)
---

April 12, 2004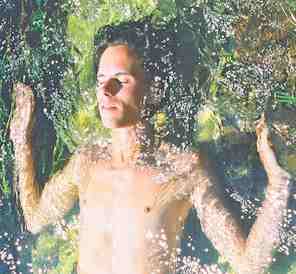 MUSIC - Another great dicovery: Andrew Vavrek. This guy seems to be completely 'off-circuit' with his early-Pink Floydish melodies. What's more, most of his tracks are downloable for free on his website! With titles like 'Peace on Earth', 'Sunlight' or 'Modern Life', which are my favourites, one can neither help thinking about John Lennon... And look at Andrew's picture above, doesn't he look very 'Woodstockish'? Yes, the good old days... very refreshing!
---

April 10, 2004
MALTS (AND CHAMPAGNE) - We just had a good Champagne session with our wine tasting club, the 'Suf Club'. We had 10 different versions, and here's the podium, for your information:
1. Veuve Clicquot 'La Grande Dame' 1995
2. Salon 1988 (Le Mesnil)
3. Bollinger Special Cuvée (core range – wow!)
4. Taittinger Comtes de Champagne 1996
After this very interesting session which proved us, once again, that the big brands 'usually' make the best Champagne, provided you choose the high-end cuvées, Olivier, who's also a member of the 'Suf Club' – no wonder – poured me a very good malt he just bought from Paul Ullrich's:

Glen Garioch 18 yo 1978/1997 (59.4%, OB, cask vatting) Its colour is deep gold, and the first nosing is very powerful. Coffee, sherry, orange peel – gets a little spirity (pear drops). The mouth is quite pungent: spirity, with lots of coffee, ginger, crème brulée, and some very nice peat. Too hot, though, and it really needed quite a lot of water and a few minutes before it became really enjoyable. Then it developed a lot further, with a great finish. 85 points.
---

April 7, 2004
MALTS - GO FOR LINLITHGOW?
Linlithgow 1975/1999 (56.3%, Scott's Selection) I bought this one last time I visited the Basel airport's duty free shop, in February. They had several Scott's Selection bottlings at 20% off, so I could buy a Glenrothes 1975 and this Linlithgow. The latter was soon to fill my hipflask, so that I could have a sip whenever I was in the mood for it during my trip to Istanbul. To be honest, it didn't impress me while I was visiting Hagya Sophia or sailing the Bosphorus, but now's the time to taste it more properly. I mean, in a glass… Its colour is straw with green highlights, and the nose is quite mellow at first. Quite woody, with some winey notes – fino, for sure. Liquorice, freshly cut grass, honey, cold coffee. Gets a little sourish. Good, but somehow 'dirty', lacks precision. The palate is much more powerful than the nose. After the first sour sherry notes, a lot of wood and some fruity notes arise (strawberry). A lot of liquorice stick and burnt milk as well. Then it gets really bitter, and the wood grows bigger and bigger. Long, but bitter finish. This one is too woody for my taste, I'm afraid. The sort of feeling that makes you think 'I'd really like another dram… of another malt'. And even if I paid less than 80 euros for it, it's far from having been a bargain. Especially deceptive when compared to the superb Old Malt Cask we had for the Malt Maniacs Awards 2003. My rating: 79 points.
---

April 5, 2004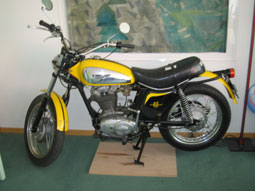 MOTORCYCLES - This magnificent 1974 Ducati Scrambler 450 is for sale in Basel, Switzerland. It's like new, and despite the fact that it hardly crosses the 130kph barrier, it's most enjoyable to ride. I have a soft spot for old Ducatis, and as my Pantah 500 just burned - yes, sad but true - I'm currently counting what's remaining in my wallet... Perhaps I'll be able to write a full article about it in the near future. Cross fingers!
---

April 4, 2004
MALTS - SIX STOLEN SAMPLES - While I was packing a bunch of samples from Olivier for Johannes, I found out that I had never tasted six of them before. So I decided to 'steal' 1 or 2 cl from each mini-bottle. Steal? Not really, I decided that would be the price for my time and the packing material. Fair enough, don't you think?
Cragganmore 1973 (40%, G&M Connoisseurs Choice) Nice golden colour. The nose is light and quite perfumy, with some orange, bread, and lilac, and a lot of beeswax (hive). Very refined and elegant. The mouth is a little watery at first, but then it develops on some nice wood, violet sweets, clove, crystallized orange and vanilla fudge. Very, very nice, even if the finish is a little short and weak. This one would have been an aboslute winner if bottled at 46 or 50%! 87 points.
Ledaig 19 yo 1979 (43%, OB, <2000) Colour: straw. Nose: overcooked coffee, hot milk, corn syrup. Yes, a breakfast malt! Whiffs of smoke. Gets more and more buttery.Mouth: starts a little weak. Weird tastes: cardboard, burnt bread, ginger tonic. Gets bitter and quite woody – not in a nice way. Short finish, gets really watery. Not my cup of tea, that's for sure. And where's the peat? 75 points.
Isle of Jura 21 yo (40%, OB, circa 2000) Light amber colour. The nose starts nutty and malty, with some roasted peanut and a whiff of smoke. Hints of ripe pear and eucalyptus. Very nice nose, quite fresh. The mouth is nicely balanced and fresh, but then it gets a little too woody. Notes of cappuccino and apple pie. Medium finish, nicely balanced. 85 points.
Dufftown 11 yo (58%, Vom Fass Cask Strength) Colour: straw. The nose is powerful and quite fresh at first, but then it gets very spirity (pear drops) and quite woody. Gets even a little sour (cider). The mouth is very strong, spirity, even pungent. Very grainy, with notes of pineapple. Long finish, but getting too woody and spirity for my taste. 78 points.
Royal Lochnagar 26 yo (40%, Vom Fass) Colour: straw. Woody nose, with some lavender and apple. Quite nice but not very special. The mouth is very balanced, with some nice wood, tropical fruit (mango) and hints of liquorice. A little weak, though. Medium finish, quite balanced but it lacks a little power. 83 points.
Bruichladdich 35 yo 1966/2001 (40.5%, Douglas Laing OMC, 228bt) Colour: golden. Nose: ouch, lots of wood, varnish, tannins and hints of eucalyptus. Could be some wood juice! Mouth: again a lot of wood, 'plank', tannins and a little vanilla. Gets thinner and thinner, dry and bitter. Not enjoyable at all. Finish: medium, getting even more weak and bitter at the same time. But why did they bottle this dull malt? Oh yeah, because it's 35 yo , I guess. Now I understand why Olivier never let me taste it ;-). 70 points.
---

April 3, 2004
MALTS - The Malt Maniacs Malt Monitor has grown up to approx 2,200 different malts rated - and lists now more than 5,000 ratings! Check the full monty version. As for the Big Brora Barnum, many new tasting notes have been added recently, and some more details about some new releases as well
---

April 2, 2004
MALTS - AWESOME SESSION - A FEW 'NORTHEASTENDERS' - This time again, we all brought two bottles each, and Christophe, our host, poured us a few drams as an aperitif. 'Alliance', a very good blend by Michel Couvreur, an Armagnac 1940, which isn't particularly suited to an aperitif but we wanted to check something about the wood's influence, and finally two new Caol Ilas by Signatory Vintage. Both were distilled at the same time, but one was 'plain and pure', and the other one finished in a Port cask. Until quite recently, I always thought this finishing trick was nonsense. But I finally happened to taste some Laphroaig Portwood by Signatory that was quite good, so yes, sometimes it works. I said sometimes. But let's check whether it worked with this batch of Caol Ila…
Caol Ila 12 yo 1991/2003 (43%, Signatory, c. #14170-14173, 789 b.) Quite fresh and clean peat, a little mono-dimensional, as often with Caol Ila. SV 82, OH 79.
Caol Ila 12 yo 1991/2003 (46%, Signatory Unch, Port Wood finish, c. #02/920/2, 1079 bottles.) Very sweet, the port masks the distillery's character. Not much peat, that's for sure. The 'plain' version is really better. SV 79, OH 77.
Time to kick off the 'official' part of our session now. I had two bottles of Old Clynelish 12 yo OB on my shelves, both bottled by Ainslie & Heilbron in the '60's for Italy. One was quite light in colour (importer Edward & Edward), the other one much darker (importer Di Chiano). I decided to bring the lighter one which happens to be a cask strength version. Frankly, I didn't know what to expect. Was it going to be as good as a Brora, provided it was the same distillery? Let's check this out right now…
Clynelish 12 yo (56.9%, OB, Ainslie & Heilbron for Edward & Edward Italy, pre-Brora, bottled 60's) Colour: straw. Nose: wow! Very fresh, which is great news considering the forty years the malt spent in its bottle. Very 'maritime', seaweed, overripe apple, heather, aniseed. Magnificent freshness! Then I get some fruit (fresh melon, fresh fig). Develops on strong coffee. Again, wow! Mouth: bold and powerful, with some nice hints of peat. Not like a Brora, sure, but neither like a 'new' Clynelish. Notes of fern, pepper, fresh fruit (rhubarb). Quite malty and grassy, then gets a little dry. Long grassy and peppery finish.What a fabulous whisky, not for little boys, though. I guess the peat'n'sherry freaks will not like it that much, but what's most interesting is that we've got another evidence of the fact that whisky does not deteriorate in its bottle, even with a cheap screw cap. Moreover, I really think it gets better, actually. Just like good wine! All the 'old' bottles we had recently proved that: several old Bowmores, Glen Garioches, Springbanks, Lochsides… and now this 'Old' Clynelish… Good news for our reserve stocks! Anyway, here are our ratings for the Clynelish: SV 93, OH 96. Okay, perhaps we got a little too emotional here, I admit it… Anyway, let's go on with our session…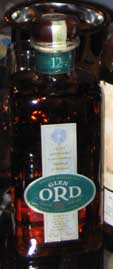 Glen Ord 12 yo (40%, OB, 2003) I already had this one, which comes in a new square bottle, and I liked it (80 points). Its colour is amber (heavy caramel) but the nose is quite fresh and enjoyable. Toffee, orange zest, hints of peat and Grand-Marnier. Gets a little woody.The mouth is a little too rounded and caramelised. A tad too woody as well. Some funny meaty notes. The finish is medium long. Interesting, a good middle-of-the-road malt, but it's a little too expensive (45 euros) I'll stick to my 80 points, and so does Olivier.
Invergordon 22 yo 1970 (45%, OB, Stillman's Dram) This one is a single grain. We just had a fantastic old one from the Peerless range at Whisky Live, so we're very curious about this OB, which was bottled ten years ago or so.Nice nose, marked by some great woody notes. Lots of vanilla, grass and lavender. Too bad, the mouth is weak with notes of Coca Cola, caramel and wood. Hint of lemon. But the finish is surprisingly long! In short, a nice single grain. Nice nose, deceptive on the palate… a well known song. SV 80, OH, 81.
Ord 11 yo 1985/1996 (57%, Cadenhead Auth Coll) Nose: great freshness, with some wonderful grassy notes. The mouth is bold and powerful, with lots of liquorice. Notes of vegetables: celery, dill, French beans. Long finish. It's fresh and quite special, and we like it a lot! SV 86, OH 88.
Old Pulteney 1986/2001 (46%, OB, Limited Edition) This one came in a fabric bag. Its colour is golden, and its nose shows some strong aniseed, celery, salsify and bitter orange. Again, quite special. Its mouth is marked by some heavy liquorice and wood, with some lavender, violet sweets and caramel. Hints of dried banana. Great balance. Not a winner, for sure, but its quite enjoyable. SV 85, OH 84.
Balblair 1989 (46%, OB, Circa 2003) Another one I already had in Paris, and I rated it 80 points. Let's check whether this rating stands… The colour is light amber, and the nose is a little vulgar. I get some varnish and beeswax. A little slack.The mouth is quite bold, powerful and very caramelised. Toffeeish and grassy, with a medium long finish. Again, a little vulgar. Our ratings: SV 77, OH 80.
Balblair 1973/1998 (53%, G&M 'OB') This comes from the series with the old fashioned orange-pink label. The malt's colour is Cognac, and the nose is heavily sherried. Toffee, wax, varnish, and some fresh fruity notes (orange, ginger, Grand-Marnier). Quite nice! The mouth is bold and quite rich. Lots of sherry, crystallized orange, toffee, burnt cake. Gets very woody – perhaps too woody. Very long finish, bold and rich. A genuine sherry monster that lacks a little complexity. SV 83, OH 85.
Old Pulteney 1969 (56.2%, OB Highland Selection, sherry butt #4195, circa 1998) Another sherry monster, for sure… Deep Cognac colour. The nose is much more refined than the Balblair's. Heavy sherry, eucalyptus, wood polish, varnish and cooked fruit. Very nice! Bold, rich and powerful mouth, gets dry, with lots of bitter chocolate notes. Van Houten, anyone? The finish is a little unbalanced and really dry. SV 85, OH 88.
Dalmore 30 yo 1966/1996 (52.3%, The Bottlers, cask #6871) Another one I already had with the Maniacs in Colmar, and which I liked a lot (90 points). Its colour is pure gold, and its nose is very classy, especially when compared to the two sherry monsters we just had. Lots of tropical fruit (passion fruit, melon, tangerine, orange) and milk chocolate. Slightly minty. The mouth is very bold and powerful, just a little rough. Lots of mint, pepper and bitter orange. Long finish, getting even dryer and bitter. I'll stick to 90 points, even if I could have downrated it a bit. Olivier gives it 88 points.
---
April 1, 2004
MALTS - Fellow maniac Johannes is still busy with his Dramsterdam Marathon. He just published some interesting notes about a few Bunnies and Laddies. Tell me about a playboy! ;-)
---

March 2004 <--- April 2004 ---> May 2004


Check the index of all entries:
Whisky
Music
Nick's Concert Reviews