April 2004 <--- May 2004 ---> June 2004
---
May 28, 2004
ADVERTISING – NO COMMENT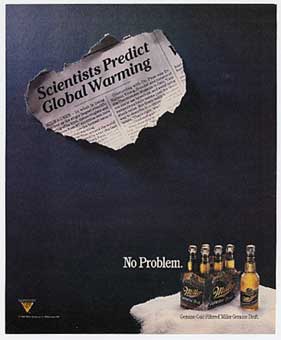 Miller beer 1990 ad. No comment.
SPIRITS – WORLD DRAMS TO PREPARE FOR ISLAY – PART IV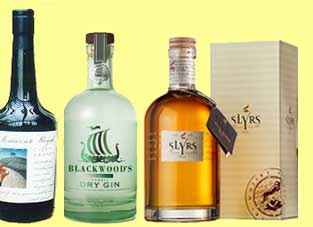 Time to go back to Europe now, before we have a final pre-Islay session tomorrow. I've got two interesting British samples, and a Bavarian malt I never tasted before. But let's start with…
From England: Somerset Royal Cider Brandy 3 yo (42%, OB) Cider Brandy had not been officially distilled in England for several hundred years until the mid 1980's. In the autumn, vintage cider apples, with wonderful names like Dabinett, Kingston Black, Stoke Red, Yarlington Mill and Harry Masters, are gathered, blended, pressed and the juice is then fermented in huge oak vats. After three months the cider is distilled and clear spirit is trickled into either Sherry, or new Hungarian or French oak barrels. Let's taste the result… Colour: light amber. First nosing: just like cider. Much fresher and lighter than a Calvados. Overripe apple, grass, sweet and sour notes. Nice but really lacks complexity, especially when compared to a Calvados. Gets quite woody after a while (plank). Mouthfeel: very balanced, a little spirity. A lot of cider and apple of course. Gets quickly quite bitter, and very woody. A lot of tannins invade your mouth, making the whole quite 'sticky'. Really rough, a genuine farmer's product. I guess the very young Calvados taste like this one, but they never sell Calvados that young. I think the Normans have their reasons… Okay, 60 points for this English young attempt.
From Scotland: Blackwood's Dry Gin (40%, OB) This one comes from the brand new Blackwood distillery, on the Shetland Islands. It's made with angelica roots, wild water mint, sea pink flowers, juniper berries, dried lemon, orange peels, cassia bark, liquorice root, ground nutmeg, cinnamon bark, orrisroot and coriander seeds. Well, I guess all those don't grow on the island, but that's an impressive list anyhow. Let's taste it… Colour: surprisingly pale green, almost white. Beautiful colour! First nosing: eh? Gin tonic? Yes, like a regular gin in which they'd already have poured some ginger ale… Very clean and fresh, most enjoyable, even if not utterly complex. A little eau de Cologne as well, but I can smell that in all gins. Quite a lot of plants emerge after a while… Makes me also think of green Chartreuse or Bénédictine. Or even Jägermeister. But much fresher, that is. Moutfeel: eh??? Martini Dry? Yes, this time, it's like if they'd already poured some dry vermouth into some gin! Perhaps they could just add a few olives into each bottle. Well, that makes sense, I guess some of the herbs they use are the same as the ones the Italians put into their vermouths. Anyway, it's very good… I could sip this on ice all day long in summer. Medium finish, on some nice dry bitter notes. Well, very impressive attempt! I can't wait to taste their single malt, to be launched in… ten years or so. Yes, patience. Okay, 80 points for this very, very good gin, which much better that any Bombay Sapphire, Beefeater or Gordon's.
From Germany: Slyrs 1999/2002 (43%, OB) I've heard good things about this new Bavarian single malt. They only use malted barley, smoked with beech. It's distilled twice in a 450 litres pot still, and then aged in some new American oak casks exclusively. It's already got a nice dark straw colour, despite its young age. At first nosing, it's very fruity and seems to be quite complex. It smells like something between a good Irish and a Lowlander. Fruits (a lot of melon) flowers (lavender, heather,) and roots (gentian, liquorice, wild carrots). Very delicate wood, with quite a lot of vanilla and cream (vanilla fudge). Wow, what a great nose! Mouthfeel: again, very nicely balanced, and quite bold but not rough at all. Lots of fresh wood (vanilla, tannins), butter, roots, liquorice stick… Much less fruity than the nose, but still very good. I guess it would have been better with a few more years, but it's perfectly done for such a young age. Long and bold finish, on some nice woody notes. Wow! I guess it's the best non-Scottish or Irish or Japanese Single Malt whisky I ever had, and I guess it deserves no less than 83 points. Very good, and congrats Herr Florian Stetter!
---
May 27, 2004
SPIRITS – WORLD DRAMS TO PREPARE FOR ISLAY – PART III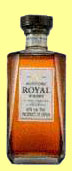 Let's go on with our world tour, and go to Japan, China and California this time…
From Japan: Suntory Royal (43%, OB) According to Suntory, this is one of the finest blended whiskies in Japan. It's entirely matured in some bourbon casks. Its colour is dark straw, and it's quite weak at first nosing. Lots of odd aromas: parsley, dill, rotten orange, old wood, cardboard, dried Chinese mushrooms, fresh pepper… and yes, soy sauce. Is that self-suggestion? Let's check the palate now: the first mouthfeel is weak and watery. Again some weird tastes: fruit spirit, cheap Cognac, old wood, burnt cake… Unlike any decent whisky I know. Gets grassy and sour towards the end. Short finish, on some bitter notes. Wow, and that was meant to be 'royal'? No kidding… 35 points.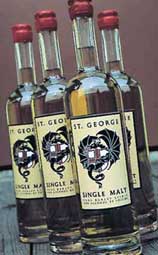 From the USA: St. George Single Malt (OB, California, lot #3) This one's made in California with a sixty litres Alsatian still. That means they use more or less the same still as the one I use myself every year! As for the wood treatment, and according to St. George, used Bourbon casks make up the majority of the program. They allow the spirit to breathe without imparting any overwhelming oak characteristics. French oak casks are used to give a layer of soft vanilla and to enhance mouth feel, and port casks to accentuate the cocoa on the palate. Let's try it now… Colour: straw. First nosing: very fruity. Then develops on perfumy notes (old rose, lavender) and Muscat. Very refined, almost feminine. Hints of fresh orange juice and kiwi, the whole being underlined with some burnt wood notes. Quite enjoyable, even if much closer to a fruit eau de vie than to a whisky. Mouthfeel: fresh and fruity. Develops on orange and litchi, with some milk chocolate and finally some blackberry. Quite short finish, on a mix of toasted bread and fresh fruit. Yes, very enjoyable, even if again, I wouldn't say it tastes like a single malt whisky at all. 75 points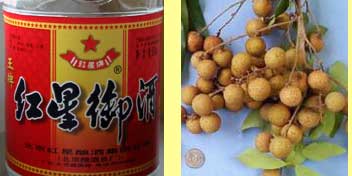 From China: Houng-Shin-Yu-Chou (Longan liquor, OB) According to fellow malt maniac Ho-cheng, from Taiwan, that means 'Red Star King's Liquor', and it's a very famous and popular liquor. It's a bottle I brought back from China a few years ago. The base ingredients are wheat and sorghum, and then it's flavoured with Longans, a fruit which is quite close to litchi, but which is even fruitier. Let's taste it! Its colour is plain white, and I guess it hasn't been matured at all. First nosing: extremely fruity and really weird. Longan of course, but rather dried ones – or almost rotten. Extremely aromatic, the fruit even masks the alcohol. Sort of perverse, whatever that means. Mouthfeel: ouch! Mixture of alcohol and fruit – yes it's a maceration. A lot of sour off-beat notes, that make it difficult o drink. I'll stop it right now, last time I remember I still had a sourish feeling even after I brushed my teeth two times. Very difficult to come up with a fair rating, especially because the Houng-Shin-Yu-Chou may well not have being made for occidental palates…
---
May 26, 2004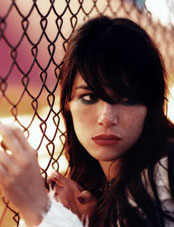 MUSIC - Another young new singer I like a lot is Rachael Yamagata. Yes, being pretty doesn't obligatorily lead to some spineless pap... Her creative singing makes me think of a blend of Fiona Apple, Lisa Germano, and even Sarah MacLachlan. Nice pedigree, eh? Even better than her CDs, her quite recent show on KCRW. Check the April 19, 2004 entry on 'Morning Becomes Eclectic' (very good real audio quality).
SPIRITS – WORLD DRAMS TO PREPARE FOR ISLAY – PART II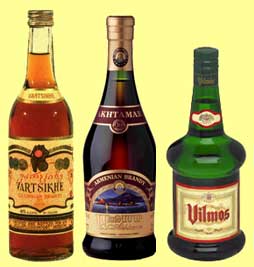 Time to go on with our 'international' tasting session. After Brazil, Israel and Ukraine, let's focus a little more on Eastern Europe and the ex-USSR…
From Georgia: Vartsikhe Brandy 7 yo (40%, OB) Elaborated not far from Tbilissi, this brandy (some still call that a Cognac) is made out of various grape varieties. It's aged for seven years in some oak casks. The colour is curiously orange, which just can't be 100% natural. At first nosing, it's much closer to a grappa than to a Cognac, which might prove that the wood had little influence. Big, bold muscated notes. Cooked butter, pear, cider apples, and finally a little wood and some brunt cake notes. Much fruitier and less mature than a Cognac, that's for sure. Mouthfeel: mellow and sweet. Branntwein, sugar, fruit cake, wood chips, caramel, and a litte blackcurrant. Medium finish, mainly on some sugary notes. In short, it's not that bad, and I know some cheap Cognacs that aren't really better than this Georgian ersatz. But I guess the nomenklatura had some better ones, especially some from Crimea. 55 points.
From Armenia: Akhtamar Brandy 10 yo (42%, OB) This one's made in Yerevan, and it seems that it's got quite a reputation, despite the fact that Armenians only make some brandy since 1937. The company is owned by Pernod-Ricard. This one's colour is really 'Cognac'. The nose is also much closer to a good three-star Cognac. Quite winey, with some nice notes of wood and vanilla. Still a little rough and dirty. Gets even a little dusty after a while… And perhaps some nutty notes as well. The first mouthfeel is very balanced. Really close to a 'simple' Cognac. Lots of wine, raisin, vanilla, cream. Looses a little consistency and balance after a while, and gets a little spirity, with some 'dirty old wood' notes. Medium finish, getting a little sour and dusty. This one's much better that its Georgian counterpart, but it still can't be the one the apparatchiks were sipping. Too bad I has no Crimean brandy to taste right now… Anyway, 65 points for this one.
From Hungary: Vilmos Pear Brandy (38%, OB) It's made out a pear nicely named 'Flesh of Conference'. It's said to be white and crumbly, rich in juice, sweet smelling, sweetish-sour and muscaty. Let's check whether the spirit has the same characteristics now. Colour: plain white. If it's aged, it's aged either in steel tanks or in glass. First nosing. Fresh and very fruity. Quite different from the Williams pear we distil here in Alsace. Much less aromatic, but still quite good. Very clean, very close to the fruit. Just a little weak and watery. Mouthfeel: nicely fresh and balanced. Starts with some perfumy notes (Muscat) and develops on pear, sure, but also on apple. Gets more and more spirity after a moment, while the pear notes vanish. Short finish, the whole letting your mouth fresh as a baby's mouth. In short, of course it was impossible to beat our amazing Alsatian Williams pear – yep, chauvinistic again – but this Vilmos is quite enjoyable, especially in summer, because it's quite light and fresh. I'm sure one could drink two litres of it when chilled. 69 points.
---
May 25, 2004
MALTS – FORTIFIED, THEY SAID...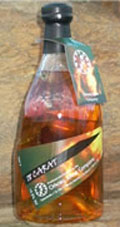 Man's creativity has no limits, and that's a good thing - sometimes. Yes, after the odd 'finished' malts (blueberry, Kriek, applewine etc.) this had to happen: a malt-finished wine is now on the market. The name is 18 Carats, it's made by the Orkney Wine Company, and it's an Orkney carrot wine fortified with Orkney single malt whisky. No, no typo. I don't know what they think at Talisker's, but I must admit I'd love to taste it. I'll try to put my hands on a bottle and report to you asap, promise. Duty, heavy duty... Thanks, Mark.
SPIRITS – A FEW WORLD DRAMS TO PREPARE FOR ISLAY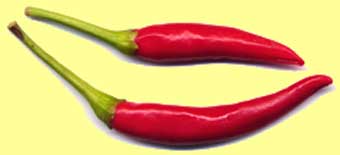 Yes, the Islay Festival is around the corner, so I felt it would be a good idea not to focus on single malts too much at this very moment. And just because Feis Isle is truly international, I decided to taste a few spirits from all over the world. Thanks Roman and Lex for having provided me with some of these…
From Brazil: Ypioca Cachaça (39%, OB). Like rum, Cachaça is a product of sugar cane and has a character somewhat similar to it, though somewhat drier. Whereas rum is produced from the molasses made from the sugar cane, Cachaça is produced directly from the juice of the cane. This one's colour is light straw. Very similar to a tequila at first nosing. Quite light, some lemony and very grassy notes. Hints of spices (pepper, chilli) and green sweet pepper. Really close to a tequila! Palate: very light and quite weak. Lemon zest, grass juice (ever tried that?), cucumber, sweet pepper, raw French bean and , a little ginger and some 'waxy' notes. Wooosh… very, very short finish. Well, I guess that mustn't be too bad when mixed with some lemon juice and chilled, on Copacabana beach, while listening to Chico Buarque… 25 points.
From Israel: Carmel Mizrahi Arack (40%, OB). Carmel is Israel's leading producer of wines and spirits and of course they make some arack, the well-known anise-flavoured drink of the Middle East. Its colour is plain white, and at first nosing it's full of anise and slightly 'burnt' notes. A little less exuberant than Turkish raki or Greek ouzo, I'd say. Some quite unpleasant off-notes, but I guess this one has to be drunk with a lot of water anyway. Let's try it neat for the moment… Yes, the palate is much better than the nose, even when tasted 'naked'. The fact is, these anise-flavoured liquors are not meant to be nosed… Same with French 'pastis', 'anisette', or even 'absinthe'. Anyway, it's quite enjoyable. A lot of vivacity and some complex fruity notes like lemon, tangerine, melon make their way through the anise. Yes, very good when neat, but let's add a few drops of water… As expected, it becomes somewhat translucent, but not completely milky like pastis, ouzo or raki. Very refreshing! I like it very much… Oops, I emptied the full glass! I told you it was good… 75 points.
From Ukraine: Gorilka Pepper Vodka (40%, OB) This one's done with red pepper. not some black one like in most eastern countries. Colour: light gold. Quite interesting at first nosing, wit some pepper of course, but also some nice honeyed notes, and some hints of grass, vegetables, and even a little ginger. Much more complex than most vodkas I know… But I don't know many vodkas, I'm afraid. The first mouthfeel is quite smooth, but that doesn't last very long. A sudden blast of pepper is soon to attack your palate, and just coats it all around. You can feel just a few fruity notes on your tongue, but other than that, it's just pepper from Pepper's. Well, an interesting experience, for sure… Quite challenging! But frankly, it's not very enjoyable. Okay, 50 points will do. BtW, I'm sure it'll make a great dressing for a pizza! I'll try that!
That's all for today – my palate's already completely broken. Watch this space tomorrow, for some more 'deviant' drams! Now, where's my bottle of water again?…
---
May 21, 2004
MUSIC - When a whisky personality gives you a good tip, it should be related to… erm… whisky, shouldn't it? Well, not always, as it appears. As a matter of fact, Nick Morgan, Diageo's Marketing Director for classic (and premium!) malts, just advised me to have a listen to a rather obscure singer from Florida, named Jim White. The good news is that there's plenty of music to listen to on his website, even if most files are real audios. There's one very good mp3, though: 10 Miles to Go On a 9 Mile Road. This title itself says long about White's almost Dadaistico-pataphysical (eh?) universe. What strikes me as well, is the fact that besides his great lyrics, inspired melodies and interesting 'collage' techniques, he never sounds exactly the same, unlike so many other singers. Make some friends listen to his kaleidoscopic music 'blind'. They'll either tell you it could be Lou Reed, JJ Cale, Leonard Cohen, Neil Young, James Taylor, Gram Parsons, or even marvellous newcomer Damien Rice, depending on the song you'll choose. Which doesn't mean his style is unconsistent - quite the opposite, in fact! In short, I like him very much, and I'll immediately order his strangely titled new CD, 'Drill A Hole In That Substrate And Tell Me What You See'. Please do the same if you like Jim White as much as I do. And thanks for the tip, Nick!
---
May 20, 2004
MALTS – SUMMER'S AROUND THE CORNER...

28°C in the shade… Yes, that's right, summer's almost here, at last! Time to celebrate with my favourite summer malt: a young Rosebank. Let's pick an old 35cl bottle I didn't open since September last year and that had been hibernating in the kitchen's cupboard: the Rosebank 10 yo 1991/2001 (43%, Signatory, casks #539-540). Its colour is very pale, and the nose is very flowery (lilac, lavender, lily) and quite grainy and malty. Bread crumb, hot milk… And then some freshly cut apple notes do appear. Alas, no citrusy notes that I can smell this time… Mouthfeel: smooth and fresh – quite clean. Develops on some slightly spirity notes, cider, nutmeg… Gets a little grassy and dry, and a little dusty as well. Medium finish, on some pepper and white fruit notes (not too ripe pear). But again, no citrus. In short, a good Rosebank, but more in the Glenkinchie style. 78 points. BtW, just had a visitor in the swimming pool (see picture above). She's cute, isn't she? No wonder some call us frogs… Don't worry, I didn't eat her à la Provençale… I just put her back into the nearby river where she belongs.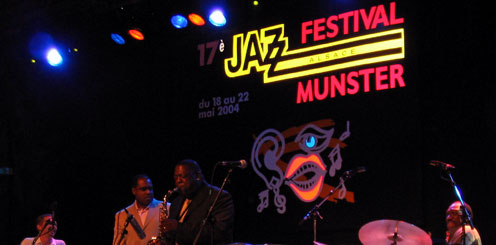 JAZZ - Just came back from a fantabulous gig at Munster's Jazz Festival. From left to right: Pat Bianchi on the Hammond B3, Terell Stafford on the trumpet, Jesse Davis on the alto sax and Alvin Queen himself on the drums. They played a powerbop that just blew my mind. Woohoo! I think I didn't listen to such a powerful set live since... Miles Davis at Nice festival, more than twenty years ago! Watch Pat Bianchi in the future, he's the less famous - and the youngest - player in the band, but he's absolutely great.You can listen to a sample of his playing on Retha (short mp3). Something like an interbreed of Joe DeFrancesco and Jimmy Smith. Wow! Stafford is brilliant, Jesse Davis had some Coltranian notes, and Alvin Queen... Well... He sounds like a whole big band!
---
May 19, 2004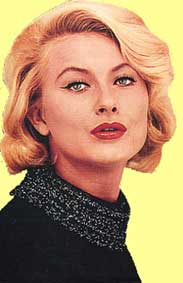 JAZZ - I just happened to listen to Swedish singer Monica Zetterlund's jazz recordings with Bill Evans. Simply wonderful... I especially liked her great singing on 'Come Rain or Come Shine' or 'It Could Happen To You'. You can have a good example of her beautiful voice on Värmlandsvisan (mp3 - old Swedish song). And if you want to have a little laugh, perhaps you can try to put your hands on her Swedish rendition of Toots Thielemans' ''Bluesette', called 'Bedårande Sommarvals' - whatever that means.
Follow-up translations and comments by Ulf Buxrud: Värmlandsvisa: Värmland= is the name of a province in the heartland of Sweden.Visa= is a descriptor word meaning a simple set of tune and lyric combined, often of folkloristic origin.This ancient folkloristic tune and lyric stems from the province of Vaermland. It has been transformed to a jazz beat.
Bedårande sommarvals: Bedårande= infatuating/enchanting/charming. Sommarvals= summer waltz. This melody was composed by Toots during the Swedish epoque of his life. It does reflect the Scandinavian mood, hence Swedes prefer to refer to this melody by its Swedish title instead of 'Bluesette'.
MALTS - JIM MURRAY'S WHISKY BIBLE AGAIN - I should really worry about my growing masochism: yes, I finally opened the small opus again and went through a few more tasting notes at random until, on page 149, I reached the entry about Baillie Nicol Jarvie. Mr Magnificent Malt Guru writes 'as fruity and mouthwatering as a riesling, but infinitely better'. It's true that Murray knows a lot about wine! Didn't he write about a 'Bergundy' wood finish on page 83? Rolling on the floor laughing my ass of here... Frankly, I can't see the point in comparing a blended whisky to a grape variety, or to a kind of wine. Clownish, irrelevant and totally inept - not to mention the fact that Riesling is my favourite white wine. But perhaps you guessed it ;-) - see also April 26.
---
May 18, 2004
MALTS - FIVE MALTS UNDER THE ALSACIAN SUN (short notes)

Speyburn 10 yo (40%, OB) Colour: straw. Nose: very malty, barley, feints (porridge, broiled cereals). Relatively fresh. Some nice notes of hay and fruit (gooseberry). Palate: quite weak and a little watery. Grainy, caramel, a little dusty. Gets slightly bitter. Short finish, on cardboard and caramel. Not utterly interesting, but it could have been worse. Ratings: SV 73, OH 74.
Macallan 1994 (40%, G&M Speymalt) Colour: dark straw. Nose: light and quite fragrant, but curiously quite unsherried. Traces of milk chocolate, wood, orange juice. Quite weak –a shadow of a Macallan. Palate: weak and a little dusty. Again, some orange juice, a little caramel, a little tannins an some notes of old cardboard. Weak finish – nothing to do with any of the poorest official Macallans. SV 70, OH 70.
Tormore 11 yo 1989/2001 (43%, Signatory, refill sherry butt #920260) Colour: white wine. Nose: very milky and malty. Porridge, oat, butter, rice pudding. Interesting. Palate: dusty and feinty. White fruit (white melon) and rhubarb. Somewhat like a very good vodka, quite enjoyable. Would be interesting to try it chilled. SV 80, OH 80.
Glenrothes 1978/1995 (40%, G&M Centenary Reserve) Colour: light amber. Nose: light and fragrant again, not that different from the Speymalt Macallan. The usual G&M style. A little orangey, notes of vanilla, malt and wood. Enjoyable but not very special. Palate: quite balanced like a rather good Speysider, but it's still quite MOTR. Any official Glenrothes is better. Medium finish, on malt. Ratings: SV 78, OH 72.
Glen Garioch 21 yo (43%, OB, Taiwan reimport, circa 1999) Colour: amber. First nosing: peat and smoke, not unlike an Ardbeg. Develops on orange and peat, bonfire, dried fruit (apricot) and a lot of heather honey. Absolutely wonderful, somewhat in the Highland Park 18 yo style, only even better – and peatier. How great! Mouth: rich, superbly fruity and, again, quite peaty. Honey, courgette flower, crème brûlée, some lavender. Very long finish, extremely satisfying. Just plain beautiful. SV 91, OH 92.
---
May 16, 2004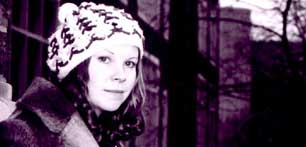 MUSIC - Janine Stoll is great young indie Canadian singer. You can listen to her beautiful singing on Wedding Dance (mp3). A voice, a guitar, punto basta! Please buy her CD if you like it. BtW fellow Californian maniac Mark Adams has just been impressed by Norwegian pop-rock singer Sondre Lerche, while Johannes is more into French 'electronic' band Air these days...
MALTS – CLYNELISH 14 yo OB: NEW TRY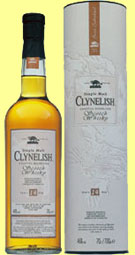 I've somehow shocked myself with the 69 points I gave to the Clynelish 14 yo (46%, OB) while tasting it blind last night. Murray rated it 88, and Jackson 81, and that's another league! It's no secret that Clynelish is one of my favourite distilleries, and whereas some independent bottlings – especially some young ones - are quite 'average', I couldn't admit Diageo came up with such a poor expression. Yes, the problem must have been on my side! Anyway, as I had a second sample on my shelves (thanks, Govert), I just decided to have another go at both, plus at a young OMC Clynelish worth 84 points on my scale. Should be a good benchmark – too bad I haven't got any Flora & Fauna anymore. Now, let's compare all three...
| | | | |
| --- | --- | --- | --- |
| | OMC 1989 | OB 14 yo #1 | OB 14 yo #2 |
| Colour | White wine | Straw | Straw |
| 1st nosing | Spirity and perfumy | A lot of orangey notes – a little dusty | A lot of orangey notes – but much cleaner and fresher |
| Nose | Gets flowery and quite lemony, not unlike some good Lowlanders. A little restrained, though… | Really develops on all sorts of fruit, mainly orange, tangerine. Gets more and more perfumy, with some feinty sourish notes that somewhat break the balance. Quite nice, though… Hints of wood. | The orangey notes grow bigger and bigger, and it makes me think of John Glaser's 'Orangerie', or of some Mandarine Imperiale liquor. Definitely cleaner and fresher than blind #1, and without the offbeat notes. Very nice, even if a little simple. Too bad I don't get any of the 'coastal' notes, nor any smoke. |
| Mouthfeel | Spirity and powerful | Bold but a little 'sweet and dirty' | A little lighter, cleaner |
| Palate | Very sharp with a lot of fruit, some smokiness (peat), and some dry woody notes that make it less clean than expected. | Feinty, spirity (eau de vie tutti frutti), getting quite dry and woody. Some fruit but quite undefined. | Again, cleaner, even if less bold. Orange zest, vanilla, tannins. Less feinty than sample #1. |
| Finish | Long and quite peaty and peppery. Enjoyable. | Long but getting dirtier, and somewhat bitter. Too bad. | Medium long finish, on orange zest and pepper. |
In short, the OMC is much peatier and smokier than the two versions of the OB. The latter might be subject to batch variation, or the bottles that had contained the samples haven't been opened for the same time. You can really feel it's the same distillery, or even the same age, but the first one was dirtier, while the second one was much cleaner. Anyhow, 69 points for the first one is not enough, and I'll rise my rating to 79 points. The second sample is worth 84 points on my scale – just the same rating as the OMC's, even if both are very different. Anyhow, I feel justice is done now.
---
May 15, 2004
MALTS - SIX NEW BLINDS FROM JOHANNES' - or how to learn humility

First malt - Colour: white wine. First nosing: malty and a little spirity. Some caramel… Could be a blend. Corn flakes, grain, gets a little dusty. No fruit whatsoever… It must be a cheap Highlander or something like that. Mouthfeel: very light and simple. Grain, cereals, some wood… It then gets quite bitter and dry. The finish is quite short, making the whole quite unenjoyable. What could it be? A single malt? Well, if I really have to give you three names, I'd go for Drumguish, Tobermory or Loch Lomond. My rating: only 59 points. The answer: Tormore 12 yo (40%, OB, Bottled +/- 2003). Well, that's the new 'blue label' bottling, and we're in 'blend' territory. Anway, I was way off the tracks again…
Second malt - Colour: white wine again. First nosing: very similar to #1. Grainy, dusty, perhaps a little more feinty with some burnt wood notes. Erm… Less clean than #1, in fact. First mouthfeel: again, almost the same as #1, just a little more 'dirty'. Again, it gets bitter towards the end, and the finish is medium long, which is bad news. Yuck! It's even worse than #1 in fact, and I wouldn't go farer than 50 points. Guesses: the same names, Drumguish, Tobermory or Loch Lomond. Is this a punishment flight, Johannes? Answer: Imperial 18 yo 1982 (43%, Chieftain's). Oh yes? What an ugly stuff! One of the worst malts I ever had… Could anybody tell me why they bottled that one as a single malt? For some old empires nostalgics?
Third malt - Colour: white wine again and again. At least, they didn't caramelise it. First nosing: we're along the same lines again, if this one is a little more 'stylish' and quite cleaner. Very grainy, malty. Cereals, corn flakes, brunt cake, coffee. Again, better than #1 and 2, but nothing thrilling, still. Mouthfeel: spirity, perfumy. Now, that's different. Eau de toilette, grain, feints, raw apple spirit. Quite odd and, to be frank, not very enjoyable, even if it's less dull than the previous ones. What can it be? I'm sorry, but I'd go for the same names again: Drumguish, Tobermory or Loch Lomond. Or perhaps Littlemill or Tormore… It's very young, in any case, I'll rate it 65 points. The punishment continues, it appears… The answer: Arran NAS 'Non-Chillfiltered' (46%, OB). Fudge, I missed that one again. Perhaps they should have filtered it?
Fourth malt - Colour: straw. First nosing: now, this one's better. Quite fresh, with again some perfume, fresh apple, hot cake. Quite malty. Traces of sandalwood, incense, café latte. Again, nothing special, but it appears we're stepping towards the 70 points or more this time. Mouth: again slightly better as well. Malty, a little woody, but gets a little dry towards the end. Too bad! Weak palate, dry finish… Well, I feel this one deserves 69 points, but no more. As for names, I'd say Tobermory, Arran, Auchentoshan… The answer: Clynelish 14 yo (46%, OB). Ouch, what a debacle! I can't believe it! This is 'my' beloved Clynelish? I really have to have a go at it again. I have some samples from some other bottles on my shelves, so I'll have a 'hopefully revisionist' tasting of this one asap.
Fifth malt - Colour: light straw. First nosing: quite spirity, with some white fruit, melon, and some coastal notes. This one's much cleaner, certainly much stronger, and quite sharp. The palate is quite powerful, with some spirity notes, a lot of fruit (melon, gooseberry, kiwi, rhubarb) and quite some wood. Long finish, getting a little woodier and dry after one or two minutes. Okay, we're in another division now. The coastal notes really make me think of a young cask strength Bruichladdich, or perhaps a Clynelish or a Bunnahabhain. Anyhow, I like it. 82 points. The answer: Tamdhu-Glenlivet 10 yo (58.9%, Cadenhead's). Again I missed that one, but I must confess I don't know Tamdhu very well. Good stuff, anyhow…
Sixth malt - Colour: white wine. First nosing: powerful and youthful. Nice fruit (apple, pear, even passion fruit). A little feinty and quite vegetal: herbs, parsley. A good Lowlander, perhaps… Mouthfeel: wow, fruit and herbs. Very bold. Sorrel, lemon juice, fresh mint, green Chartreuse… I really like it, it's quite special. Porridge and oats as well. Again, very good! Quite long finish, on some acidulated fruit like tangerine or clementine. My guesses: Bladnoch, Auchentoshan, Rosebank. 85 points. The answer: Bladnoch 14 yo 1989/2003 (53.6%, Cadenhead's). Ah, good, at least I nailed one. Good for my maltreated ego. A very good Lowlander, no question. Good work, Cadenhead's!
ADVERTISING - 70 YEARS MAKE A GAP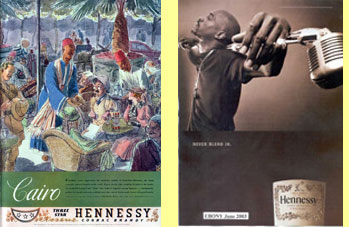 Left, a 1934 'colonial' ad for Hennessy Cognac. Right, a very recent 2004 ad for the same brand. Interesting, isn't it? I'm sure our African friends will appreciate the evolution. Maybe things are getting globally better with time, after all? (See also May 7th.)
---
May 14, 2004
UNNAMABLE - It is our very duty to be aware of the fact that what you're going to see does exist, even if this picture might create a psychological disorder, especially if you're a very sensible person. This picture isn't a fake, and has been taken in the United Sates of America in 2003. I should advise you to remain seated and to take a deep breath before you click

(will open a new window). Thanks, Christophe.
---
May 13, 2004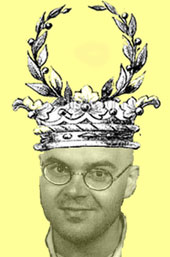 MALTS - Emperor Johannes just did a major update of Maltmadness, which is now... erm... perfectly up do date. Check it out asap and rule Emperor Johannes!
---
May 12, 2004
WHISKY ADVERTISING - Did you know I'm an advertiser? 'Don't tell my mother, she believes I'm a piano player in a brothel', says a famous French book's title... Anyway, I just found a few interesting ads, which somehow depict the evolution of the women's role in whisky advertising. Well, perhaps you just can't always talk about pure crystalline water running down the hills...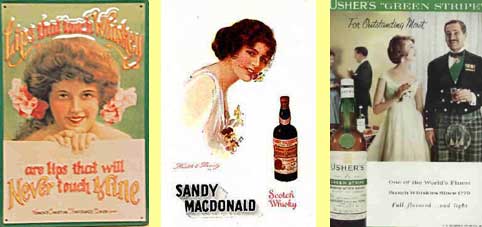 From left to right: US riverboat sign (discouraging) - early 20th Century postcard (decorative) - 1954 Usher's 'For Outstanding Merit' (admiring - he must be a man!)
From left to right: 1967 Zsa Zsa gabor for Smirnoff 'Don't darling with me if it's not Smirnoff' (warning - yeah I know, it's no whisky but I like Zsa Zsa) - 1967 Lauren Hutton for White Horse (claiming) - 1971 J&B (inviting)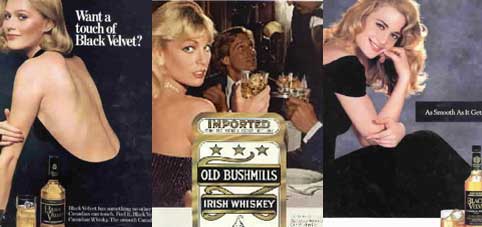 From left to right: 1975 Black Velvet (very inviting) - 1981 Bushmill's (very very inviting) - 1995 Black Velvet 'as smooth as it gets' (calm down!)
I'll post publish more ads in the future... Unless you tell me you don't like that!
---
May 11, 2004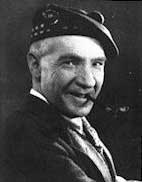 MUSIC - Maybe it's because the Islay Festival is approaching: I just felt the need to listen to some old Harry Lauder tunes. His thick Scottish accent instantly transports you to Inverness, Port Charlotte or John o'Groats, whichever Scottish place you're in the mood for. Have a listen to 'Roamin in the Gloamin' (both mp3 or real audio on that page). You'll see, it works!
---
May 10, 2004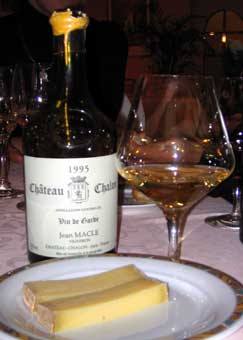 FOOD - Gone for a short trip though Jura, France last weekend. I could have one of my favourite dishes: some great Comté cheese with a Château Chalon by Jean Macle. I'm sure this pairing would please many maltheads, especially some Islay fan. Château Chalon is a tiny village in Jura, and only wine made as 'vin jaune' (roughly the same method as for dry sherry) get the right to carry this name. Oh, BtW, no need to say that 'Jura' and 'Isle of Jura' aren't the same thing.
---
May 9, 2004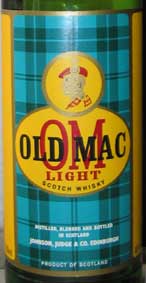 WHISKY - This is the first example of a 'light' whisky I ever saw - I mean, 'light' being the opposite of 'regular' in this case. What's even funnier is the fact that I saw this bottle in Turkey, just next to its 'regular' version. Both versions were bottled at 40% ABV. A way of trying to convert some Muslim market? Bottler: Johnson, Judge & Co, Edinburgh.
---
May 8, 2004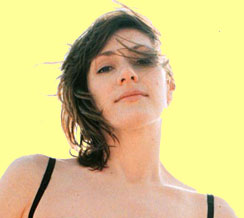 MUSIC - French born Katell Keineg lives both in Ireland and in NYC. She's been around for ten years or so, but never reached huge notoriety, which is a shame. I like her songs which gather some slightly Celtic influences (no wonder, her name is Briton), some catchy folk-rock ala Natalie Merchant and a haunting voice. I especially like her songs 'Veni Vidi Vici', 'One Hell of a Life' and 'Marietta'. You should listen to 'Beautiful Day' (mp3) which is far from being her best tune, but gives you a good example of her beautiful voice and singing.
MALTS - Benrinnes 1972/1995 (40%, G&M Connoisseur's Choice) Colour: light amber. Nose: mellow, quite perfumy and strong for just 40%. Lots of fruit developing, like apricot, melon, guava and mango. Gets even more perfumy and finally quite a lot of oaky notes emerge. Gets even a little minty. Quite enjoyable! The mouth is quite light at first, then it gets a little bitter and dry. A little weak, but a very nice structure and some nice flavours (orange, caramel, apple, wood). In short an enjoyable malt, even if not a winner. Much subtler than our benchmark Speysider, Mac 12. 85 points.
---
May 7, 2004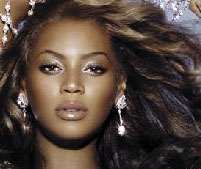 SPIRITS - While Jim Murray shoots at Cognac as much as he can, and while the French think it's out of date, the American R'n'B singers have made the 'yak' (Cognac in US slang) their favourite drink. Already in 2002 Busta Rhymes sang 'Pass the Courvoisier', and now Beyoncé dances amidst some bottles of Rémy Martin in his new video 'Naughty Girl'. Funny, ain't it? BtW, here are some lyrics from Busta Rhymes' song. Get prepared to a genuine piece of modern litterature...
"Give me the Henny, you can give me the Cris
You can pass me the Remi, but pass the Courvoisier
Give me the ass, you could give me the dough
You can give me 'dro, but pass the Courvoisier
Give me some money, you can give me some cars
But you can give me the bitch make sure you pass the Courvoisier
Give me some shit, you can give me the cribs
You can give me whatever just pass the Courvoisier"
MALTS - A SECOND FLIGHT OF 6 BLIND SAMPLES - Second part of our tasting session.

Blind #37 - This one's colour is the usual 'straw' and it's very fruity at first nosing. Lots of tropical fruit like mango (eh, an old bottle again?) and white fruit (yellow peach, gooseberry). Then a lot of kiwi – but it can't be a malt from New Zealand, can it? Nice hints of rhubarb as well… Great! Very nice woody structure that holds the whole together. In short, what a superb nose! The mouth seems to be perfectly balanced. Strawberry and pepper (a woman's favourite – no sexism intended). Passion fruit. Quite long and very fruity finish. Very refined, very good. Could it be an great old Rosebank? Or one of these old unsherried Bowmores? But it seems to be quite young, still… A little confusing. Or maybe a great Clynelish?… What? What do I hear? It's a Glenfiddich? Holy sugar! Yes, it's Glenfiddich 'Over 8 years' pure malt (43%, OB, 60's). Alright… No wonder Glenfiddich's got such a huge reputation worldwide! SV 89 OH 88.
Blind #38 - Colour: straw again. Nose: fresh and quite clean, a little discrete at first. Hints of peat and a little pepper, then gets a little spirity and sourish (cooked green apple). Somehow ala Ardmore, or like some 1981-1983 Brora. The mouth is quite powerful at first but gets then much more balanced with some white fruit (gooseberry), some peat and some peppery notes. Very enjoyable, if not stellar. Medium to long finish. I think it might be a 1981-1983 Brora, or a Clynelish, or an Ardmore. Johannes' answer: Clynelish 1989/2002 (46%, W&M, Bourbon Barrel). Good, I wasn't too far from the tracks. SV 85, OH 87.
Blind #39 - Again, straw. Strange milky notes at first nosing. Broiled cereals, dust, cardboard, porridge, maize. Quite dry. Then it gets vegetal, and even a little sweetish after a while. Quite dull, if you ask me. The palate has a lot of (added?) caramel, and is quite grassy and spirity. The it gets really weird, with lots of cold, light coffee notes. Just between us, this one is far from being interesting, not to mention enjoyable. And I have no clue about what it is. What's sure, is that it's worth no more than SV 78, OH 78. What is it, Johannes? Oh, a Balvenie 15 yo 1985/2002 Single Barrel (50.4%, OB). Well…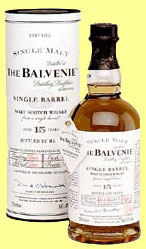 Blind #40 - This one's colour is white wine… And its nose is very spirity and very sour at first. Then it gets sour and spririty ;-) I don't like it at all! Let's quickly switch to the palate… Aargh, dusty, dirty… A disaster, I think, even if Olivier doesn't quite agree with me. I think it's full of flaws. Very rough, with perhaps a little peat but mostly some defective cask tastes. I still wonder why I gave it 70 points! (OH 79). But what is it? Perhaps a Ledaig? Oh, it's a Glen Garioch 19 yo 1982/2002 (50%, DL OMC) ! Not the best cask they had, that's for sure. But the one who'll never fail isn't born yet, says the poet… This Glen Garioch's peat fooled me, that's for sure.
Blind #41 - As for its colour, back to the straw. The nose is just the same as #40's, just quite better. Some peat, some sour notes (stable, hay), very organic. Yes, it's nicer, but still not enjoyable. The palate is much better than #40's again, with some nice peat, even if it lacks complexity. A Ledaig again? (I didn't have the previous malt's name when I tasted this one). The 'stable' notes make it quite different… Can't be an Islayer. The countryside against the sea? Medium long, salty finish. Yes, I think it could be a Ledaig again. Oh no, I'm way off the tracks again: it's an Inchgower 26 yo 1976/2002 (49.9%, Hart Brothers). Oh, forgot our ratings: SV 78, OH 65.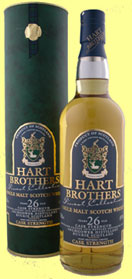 Blind #42 - Colour: white wine. Nose: lots of Williams pear eau de vie. Extremely strong and powerful… gets grassy with time, with some interesting hints of peat. Nice woody notes as well… Not bad! The mouthfeel is bold and powerful. Very spirity and fruity, with hints of peat. Lots of melon, apricot, cooked apple. In short, not much to say about this one, but it's still good, solid whisky. Erm… could it be a Ledaig again? What? I'm wrong again? Yes, it's Glenturret 10 yo 1991/2002 (55.5%, Hart Brothers). Good, I'd better go to bed. Sometimes I feel this is a dog's life… Oh yes, the ratings: SV 80, OH 83
---
May 6, 2004
MALTS - A FLIGHT OF 6 BLIND SAMPLES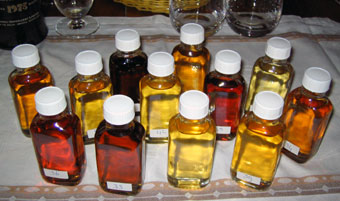 Here are some samples from Johannes' and some from Californian Maniac Mark Adams (via Johannes). By the way, here's a little game: can you spot the Cu Dhub on the above picture? If yes, you just won my eternal consideration! Anyway, all samples were tasted completely blind (no clue and no list) and were part of a set of nearly 60 different samples, all undisclosed. Malt Maniacs' Olivier Humbrecht joined me for this special session. Then we had a second flight of six samples, but these notes will be published shortly. Anyway, here is the first half-dozen...
Blind #31 - Colour: straw. First nosing: quite mellow, with some nice sherry and some nutty notes. Seems to be a little MOTR. When nosing deeper, it gets a little feinty, slightly sour, and a little woody as well. Some traces of flowery notes and some nice honey. Soft and sweet, more like an OB. Mouthfeel: somewhat warming but not too much, a little thin. Notes of caramel and wood. Becomes quite watery and peppery after a while (tannins). Short finish. In a nutshell, good nose, poor palate. Really a MOTR malt, not very interesting. The Macallan 12 yo is much bolder and richer. I first thought it was a malt like Deanston or Brechin, or even Mostowie… But it was Glenglassaugh 1986/1998 (40%, MacPhail's Collection) Ratings: SV 75, OH 77
Blind #32 – Here's the son of the (in)famous Loch Dhu, I think! Is it any better? Let's find out. Colour: dark mahogany (pipe juice). Nose: overcooked coffee, Jägermeister (German herbal liquor), Kalhua, overused water from a vase. Quite 'dirty'! Quite malty as well, even a little perfumy. Stale Guiness? Tennent's Stout? Pelforth Brune? Mouthfeel: just a little vivacity at first, but everything falls apart quite quickly. Gets quite perfumy, like if you drank some eau de Cologne… and some charcoal that bites the palate. Very short finish. Its only advantage is that it's perhaps better than Loch Dhu! I thought it was Cu Dhub (40%, OB, Speyside distillery) and I was right. Well, no real merit here… Ratings: SV 62, OH 67
Blind #33 - Colour: Virginia tobacco. Quite aggressive at first nosing, especially when compared to the Mac. Notes of marzipan, rosewater. Goes on with some tropical fruit (an old malt?) and burnt cake. Gets a little sourish, but there are also some interesting coastal notes ala Springbank. Mouth: quite bold and rich, with a strange mixture of malt, tropical fruit and pepper, somehow like a weird Talisker. Then it gets a little soapy and quite perfumy. It seems that the alcohol holds it together. Medium long, but weak finish. Well, it's nothing to say that we don't like it much. Could it be one of the old 'Pernod' Edradours or a weird Bowmore (Darkest, anyone?) No, it was Balmenach 30 yo 1972 (50.1%, Hart Bros, Port cask). Our ratings: SV 70, OH 72.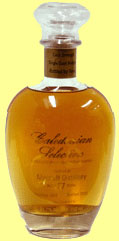 Blind #34 – Colour: dark straw. Nose: aaaaah, much better! Beautiful orangey notes, hot bread, rosemary, pink grapefruit. Great and complex nose, with even a little basil and parsley. The palate is bold and quite rich. Dried orange, kumquat, dry ginger, fructose. It easily defeats the Mac 12, which seems to be much more rustic and less fruity. Develops on kiwi, caramel, 'Werther's Original' candies. Long and rich finish – an excellent malt! My guesses were Royal Brackla or Dalmore, before it turned out that it was a MacDuff! The MacDuff 27 yo 1973 (51.7%, Caledonian Selection, USA, c. #HH37/6) to be more accurate. Ratings: SV 87, OH 89.
Blind #35 – Beautiful copper colour. Very powerful at first nosing, with great sherry and some great pinewood and resinous notes. Very clean and stylish, it really sends the Mac 12 back to school. Nice orangey notes, X-mas cake, fresh walnut. Wonderful nose. The mouthfeel is extremely strong, yet beautifully balanced. Again, a great and elegant sherry. All sorts of dried or crystallised fruit: orange, tangerine, banana… In short, it's bigger than blind #34, but perhaps a little less elegant and complex. Gets a little dry after a while. And frankly, I hadn't even a clue about which distillery it was, except that it was a very good Speysider. And it was Glen Grant 29 yo 1972/2001 (53.6%, Hart Bros, USA). Well, as it turns out, Glen Grant is a great Speysider (well, not always…) Anyway, our ratings: SV 87, OH 87.
Blind #36 – Nice amber colour. At first nosing it seems weaker that the two previous malts, but the heavy alcohol is soon to take control. Nice sherry and nice wood, but not too many different aromas. A little simple. Could be a cask strength Macallan or an A'bunadh. The palate is much nicer, for once. Quite creamy, a little sweetish, and very satisfying. This one is nicely 'crafted'. It sort of 'coats' your mouth. A very, very good OB, I think. As some say: 'Good Quality, Long Use!' My first guesses were Macallan C/S or A'bunadh, and it was Aberlour A'bunadh batch #8 (60.2%, OB) indeed. SV 87, OH 89.


MALTS - Glasses - A gentleman said to me in Limburg: "It's a shame so many whiskyfans buy a lot of expensive bottles, and just don't care about the glasses they use". So right! The glass' influence is vital. So, both Malt Maniacs' Olivier and I just compared a bunch of glasses, by nosing one of our benchmark malts, the Macallan 12 yo (43%, OB). Our ranking stands as shown on the picture, from best (left) to worst (right). No need to say that the results might have been different, had we nosed some different malts - especially cask strength whiskies.
---
May 5, 2004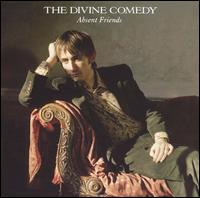 MUSIC - The Divine Comedy's new album 'Absent Friends' is really great. I especially like Neil Hannon's baritone voice, somewhat ala Iggy Pop, but their repertoires are very different (who said thank God?) Have a listen to Overstrand (mp3), a nice tune from one of their earlier CDs. Don't worry, it's not too Dantesque...
MALTS - LIMBURG 2004: THE LAST DRAMS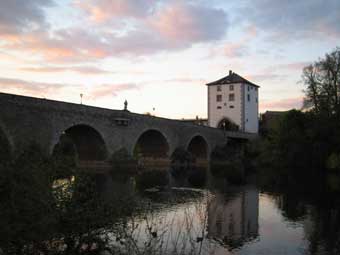 Ben Nevis 35 yo 1967/2003 (52.5%, OB, c. #2218, 165 b.) This one comes from Bernd Wolf's Caledonian Connection. A beautiful version, much more balanced than some younger casks (30 or 32yo) one can find in France these days. Superb balance, great and very elegant sherry. Extremely satisfying. One to buy! 90 points.
Brora 61.18 21 yo 1982/2004 (59.40%, SMWS, 'Matured to elegance') Well, almost no peat at all in this brand new bottling by the Scotch Malt Whisky Society. The nose is very fruity (a little citrusy) and somewhat spirity and pungent. Not sure it has 'matured to elegance', in fact. The palate is quite sweetish, with hints of tropical fruit and very, very little peat. The finish is quite long and bold. Just good. 84 points.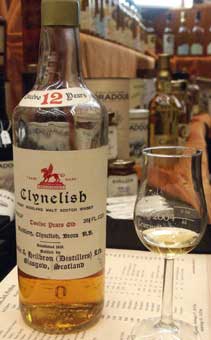 Clynelish 12 yo (70 proof, OB Ainslie & Heilbronn, 60's) After the Italian 'Edward & Edward' version I had a while ago, here's an UK OB this time. This one's much smoother (some would say weaker), it's also got more sherry. Very nice balance, with lots of fruity notes. Very elegant, and much less 'brutal'… Well, I don't like brutality, but I still liked the Italian better, which was at 100 proof, let's not forget it. 88 points.
Cooley 10 yo (59.3%, Cadenhead's, bourbon, 234 b., b. 2003) This is a cask from the distillery which makes the famous Coonemarra CS. It's very nice, very 'direct' with lots of peat and some sweetish fruity notes. Yes it's well an Irish! Not very complex, sure, but still very good. A perfect hipflask malt, I'd say. 85 points.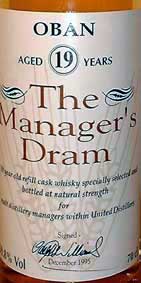 Oban 19 yo (59.8%, OB, The Manager's Dram, b. Dec 1995) I'm glad I could taste this one, as there're basically only two or three expressions of Oban around. These bottles were presented to UDV's distillery managers. This one is beautiful, very malty, quite peaty and maritime. Somehow like a very good Clynelish. And what a perfect balance! Happy distillery managers – how can we apply? 90 points.
Tomatin 30 yo 1972/2002 (43%, The Whisky Exchange) These bottles came from the Vintage Hallmark of Saint-James, and TWE bought them after they went bankrupt. The nose is nicely sherried, elegant and refined, very classical. The mouth is nicely balanced as well, even if far from being complex. In short, a very good old sherried Speysider. Nothing more, nothing less. 85 points.
---
May 4, 2004
MALTS - LIMBURG 2004: THREE LAPHROAIGS, THREE GLEN GARIOCHS AND A FEW SPEYSIDERS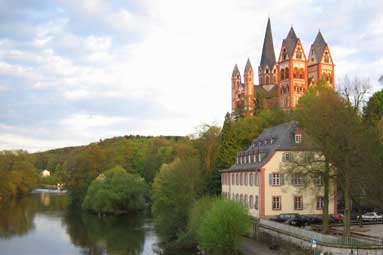 Laphroaig Vintage 1977 (43%, OB) I believe this one was bottled in 1995. Too bad I couldn't taste it HtoH with the 1976. Its nose is very fruity at first, but heavy peat and smoke are soon to appear. Then it develops on passion fruit, and then peat and smoke again, and then fruit… That's endless: wow! The palate is exceptional, somewhat in the 15yo's style but simply with a little more of everything. And the balance is absolutely superb. 92 points.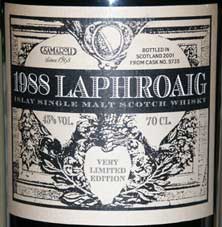 Laphroaig 1988/2001 (45%, Samaroli, c. #5735) Again an Italian bottling. The nose is very smoky – even 'cheesy' says Stephan. Lots of smoke, dark chocolate and Havana tobacco. Very good, quite extreme, but lacks a little freshness and 'coastality' – tell me about a barbarism ;-) 86 points.
Laphroaig 11 yo (40%, OB, for Islay Festival 2003) I missed the 2003 Islay Festival, so I was happy to be able to taste this one, said to be kind of a peatier version of the regular 10yo. Well, at first nosing, I though it was very light, or even weak, and watery. A real lack or oomph. The palate confirms this first impression. Sure there's perhaps more smoke than in the 10yo, but the latter is more balanced, and more enjoyable and drinkable. OK, 80 points because it's Laphroaig.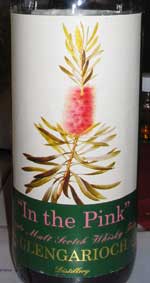 Glen Garioch 34 yo 1966/2000 (46%, Moon In the Pink) Moon is an Italian importer which works quite a lot with Samaroli. 'In the Pink' is one of their most famous series. This Glen Garioch is incredibly light in colour, but its nose is a fruity explosion! Lots of tropical and white fruit. Guava, litchi, gooseberry, watermelon… And a some great peaty notes. It's quite minty on the palate, with some toasted bread and again, some white fruit. It seems to me much younger than it actually is. Nice wood – and a very noce style altogether, even if it's far from being the most complex Glen Garioch I had. 87 points
Glen Garioch 36 yo 1967 (55.5%, DL Platinum) Big, bold and rich. Wow! Quite heathery and honeyed, with some great peaty notes which sort of underline the whole. The palate is in the same vein, full bodied, bold and rich yet very balanced. In short, again a great Glen Garioch. 90 points.
Glen Garioch 23 yo 1979 (56.4%, OB, sherry butt #5351) Here's an OB this time. The nose is quite peaty, with lots of resinous tree, Grand-Marnier and sherry. A very 'pretty' whisky. Its mouth is bold and powerful, yet very harmonious. A perfect combination of fruit, sherry and peat. One can't ask for much more… Perhaps a little more 'emotion'? 88 points.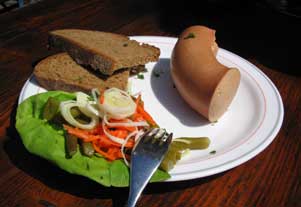 After having found out about why the German cooking isn't our friends' main asset (yeah, this is what you get after having waited for 45 minutes at 'Zum Batzenmarkt, am Kornmarkt - Limburg') we tasted a few interesting Speysiders...
Caperdonich 29 yo 1972/2002 (46.9%, Peerless, c. #6698) Another old cask from Duncan Taylor's. Its nose is amazingly interesting, very special. Lots of pinewood, eucalyptus and toasted bread, somehow like some Vicks. The mouth is great as well, very resinous, camomile, all sorts of herbal teas. I like it a lot, even if it's nowhere near a classic Speysider. 90 points.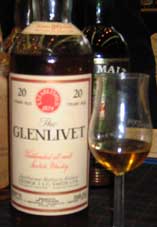 Glenlivet 20 yo (45.7%, OB, 'unblended all malts', 2400 b., circa 1970) This one was bottled for Barretto, an Italian importer. A great all-rounder, very fresh for its age and, again, with lots of tropical fruit and vanilla. Some spices as well. Not tired in any way, very elegant – just a little lack of power. 89 points.
Glenburgie 13 yo 1990/2003 (57.9%, G&M Reserve, cask 12510, sherry, 596 bottles) Another excellent cask bottled by G&M under their 'Reserve' label for Van Wees - Whiskyworld. Great sherry, very bold, rich and satisfying, but in no way overwhelming the malt. That's what I'd call a perfect balance. You'd never think Glenburgie can be that good – thanks Marc for having let me taste this! 86 points.

Glendronach 8 yo (45.4%, OB, dumpy green 75cl bottle) This one is an old OB, imported by Ruffino in Italy. It's very different from the usual sherried Glendronachs. Incredibly fresh, like a very good Lowlander. Lots of flowery and fruity notes (passion fruit), with just some hints of wood. The palate is sort of 'amusing' with lots of litchi and mango. Again, superb freshness! Great! 87 points.
Glenfarclas 1979/2004 Port Pipe (46%, OB, c. #3518, 750 bottle) George Grant (picture above) is a genuine road warrior and he happily contributes to many whisky festivals all over the world. But Germany is a big market for Glenfarclas, so he was on a conquered field while in Limburg... He let me taste a brand new Glenfarclas, and I believe it's been made for Germany. Its nose is very balanced with nice sherried notes, some coffee, rhubarb (yes, strange mixture) and white melon. Hints of toasted bread. The palate is very fruity (fruit salad) and quite enjoyable, but it lacks a little structure altogether, and leaves kind of a feeling of 'weakness'. It's very good, but I'm sure there are many better Glenfarclas around. 80 points. By the way, there was an incredible exhibition with more than 250 different bottles of Glenfarclas. George himslef couldn't believe his eyes (see picture below...)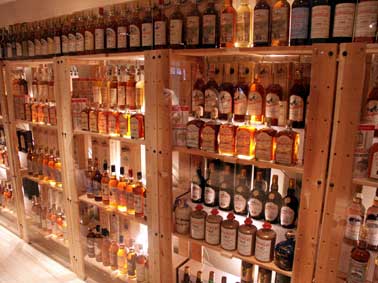 ---
May 3, 2004
MALTS - LIMBURG 2004: FOUR SPRINGBANKS AND THREE LONGROWS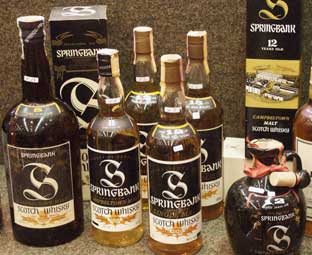 There were many different and rare Springbanks and Longrows to taste and frankly, it was difficult to make a choice (see above!). But prices - prices... So I decided to adopt a low profile. Well, sort of...
Springbank 10 yo 1993/2003 (46%, Whisky Galore) This Springer is amazingly maritime, to the point that one could wonder whether they didn't mis-stencil a cask of Longrow – or perhaps they didn't clean up the pipes or the still that well between a batch of Longrow and this batch of Springbank. Anyway, both the nose and the palate are quite smoky and spirity, and you can't help thinking of Longrow, or perhaps Clynelish. The oak's vanilla is here as well. A different Springbank, that's for sure – most enjoyable. 88 points.
Springbank 27.52 14 yo (46.7%, SMWS, 'redcurrant fun', portwood finish) Another 'finishing experiment' that works. I've been told the Society did this because the previous cask was leaking (hence the rather low alcohol level). I'm not sure about the logic behind this, but when nosing it, I've been sort of amazed by the great fruity notes, typical of some good port. All sorts of currant, cooked strawberry and, of course, wine. The mouth is quite balanced, even if very sweetish. Very satisfying. 87 points.
Springbank 7 yo 1992/1999 'Da Mhile' (46%, OB, organic) One of the only (the only?) organic whisky, made with organic barley from around Springbank. It's said to be not that good, so I'm happy to be able to taste it without having to buy a bottle. It's extremely fruity at first nosing, with some strange dirty floorcloth notes. The mouth is very sweet, almost sugary. It really lacks complexity, not to mention distillery character. But okay, let's rate it 80 points for the whole concept.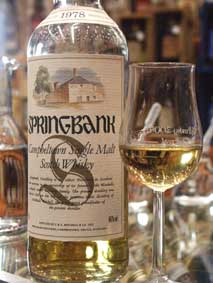 Springbank 1978 (46%, OB, 'House and Tree' label) Another old Springer, for Germany this time. I believe it was bottled 6 or 7 years ago – or even more. Anyway it's very elegant, floral, with some nice peaty notes. It's not very sherried. A great presence on the palate, with some lavender, violet, and even some eau de Cologne. You guessed it: perhaps it's a little feminine. Too feminine?. 87 points.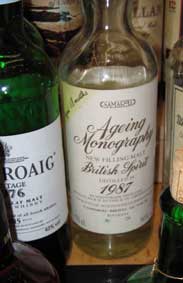 Longrow 1987/1989 (50%, Duthie/Samaroli Ageing Monography, 18 months old, 75cl) Well this one isn't whisky technically speaking, and the label says it all: it's 'British Plain Spirit'. But it's very interesting, still. Yeasty, very peaty (burnt tyre), amazingly youthful and mature at the same time. A lot of style! I couldn't help thinking of Port Charlotte… Well, Port Charlotte is even better, I think. Anyway, 85 points for this baby.
Longrow 10 yo 1994/2004 (46%, OB) Already the new 2004 version! Let's check it out… The nose is quite feinty, and there isn't so much peat at first nosing. It's mostly fresh and fruity and, okay, then comes a little peat. But where's the peat monster we were used to? It's quite rough on the palate, and very spirity. Not very enjoyable, I'm afraid. The peat smoke arrives a bit late, and the whole is quite a disappointment. But I'm sure the 2005 version will be better! 79 points.
Longrow 15 yo 1987/2002 (55%, Samaroli, c. #115, 312 b.) This one does also exist at 45% vol, says Michiel Wigman, who poured me the dram. It's got a very nice peaty nose, quite extreme but not as much as the 1987/1999 'Dreams'. Very, very smoky. But quite surprisingly, its mouth is balanced, almost sweet. Lots of peat of course, but almost no fruit – lacks a little complexity compared with the 'Dreams' which blew my mind. 88 points.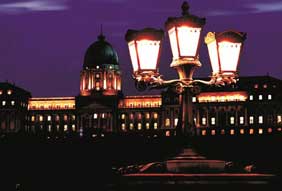 MALTS - Janos Holocsi, a barman from Budapest (Hungary) has just invented a cocktail to toast the enlarged European Union. It's a mix of 16 wines, spirits and fruit juices representing most of the EU's 25 members. The cocktail is made up of British gin, Austrian orange and pineapple nectars, Belgian mandarin liqueur, Danish, Finnish and Swedish vodka, French cognac, Greek metaxa brandy, Dutch grenadine, Irish whiskey, German schnapps, Italian martini, Portuguese port, Hungarian tokay, Spanish 43 liqueur and Strohhalme from Luxemburg. I don't have the proportions yet, but I'll try to prepare one in the future. I guess I'd better put my hands on some miniatures... Or perhaps somebody will sell it as a 'pre-mix'?
---
May 2, 2004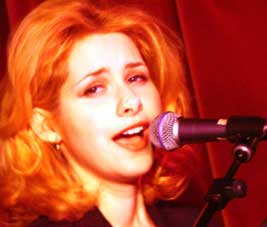 MUSIC - Nellie Mckay again and again... She added more than a dozen tracks she just recorded live at the Knitting Factory LA on March 29 to her website (mp3). Beware, her music just grows on you... See also the April 13 entry.
MALTS - The Malt Maniac Malt Monitor has just been updated. 2264 different malts are now listed and rated.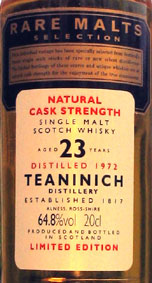 MALTS - Teaninich 23 yo 1972/1996 (64.8%, Rare Malts, 20cl) It's in 1996 that UDV released a 6x20cl pack that included a Brora, a Glendullan, a Caol Ila, a Dailuane and this high-strength Teaninich. The latter was the last one I didn't open yet - perhap because it was the less appealing. Quite overpowering at first nosing, it then develops on some smoky and orangey notes. It really needs a lot of air to begin to 'breather'. It then offers you some amazing beehive notes: wax, honey, wood, with some flowery (dandelion) and fruity (gooseberry) notes finally breaking though. The first mouthfeel is extremely powerful. Hints of 'still', a little feinty, Chinese fruit (longan), honey. Quite special, I like it. Long but spirity finish... What's interesting is that at almost 65%, it doesn't need any water to show a great complexity. But it somehow burns your throat, still. 87 points.
---
May 1, 2004
MALTS - I just added a few pictures of some Old Clynelish pre-Brora bottles here.
MALTS - LIMBURG 2004: UNSOUDABLE BEAUTY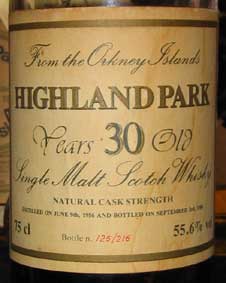 Highland Park 30 yo 1956/1986 (55.6%, G&M for Intertrade, 216 bottles) A great Highland Park bottled at cask strength for Italian malt guru Ferdinando Fiori - who was also behing Turatello and now High Spirits. Its nose is exceptional, with some very elegant sherry and a lot of depth. Not much 'old bottle' effect this time, but this fantastic HP has been in glass for 'only' 18 years. The palate is amazingly good with a lot of camphor and eucalyptus, some great fruit and a beautiful wood structure. This one was built like a cathedral. The finish is exceptionally long for such an old malt, and it really does 'the peacock's tail' towards the end. Absolutely flawless and thrilling. It's not that often that an IB beats the OBs when dealing with Highland Park, so I'll give it some well-earned 95 points.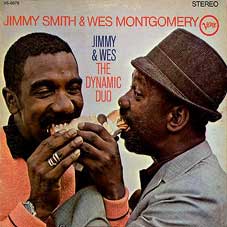 MUSIC - Jazz - I've always been into jazz organ, since I listened for the first time to 'The Dynamic Duo' by Jimmy Smith and Wes Montgomery on my father's Thorens . That was in the late sixties and I was a little boy, but this fantabulous record still is on my hitlist... An aboslute must... And here's another great jazz organist I really like...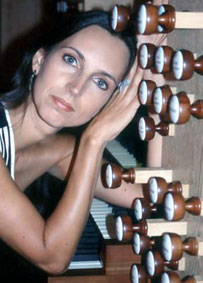 German-born Barbara Dennerlein plays like nobody else. You should listen to Funkish (mp3) where she plays the Hamond B3 brilliantly and 'in the good old vein'. And please buy the CD if you like it!
MALTS - LIMBURG 2004: ANOTHER PHILOSOPHY FROM A to B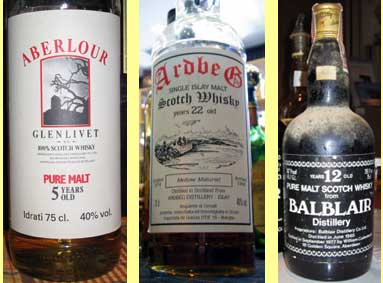 Aberlour 5 yo (40%, OB, Liquorama Italy, 80's) 'Another Italian white wine' says the chap who pours me a dram of this one. Its nose is quite light and grainy, but most enjoyable. One to sip near a swimming pool or on the beach – in Italy, of course. Its mouth is very balanced, very enjoyable, not unlike a very good blend. A super J&B? Anyway, I think it's better than the Glen Grant 5 yo of Italian fame. In short, a summer malt. Too bad it's an extinct version! 79 points.
Ardbeg 22 yo 1974/1996 (40%, G&M for Italy, white label) This very interesting Ardbeg ought to have been 'mellow matured', according to the label. Oh yeah? At first nosing it really smells like a fresh Prat-ar-coum oyster (well, like any good oyster but I wanted to give you this link) after you just opened it. Wow! Extremely subtle, smoky, and very original because there's absolutely no 'peat blast' like in most Ardbegs. The most subtle I ever had. Brilliant! The palate is fantastic: extremely smoky, smoked oysters, seaweed, with a medium-long but amazing 'maritime' finish. Anytime again. 94 points.
Balblair 12 yo 1965/1977 (45.7%, Cadenhead Dumpy) One of those old Cadenheads dating back from the 'Aberdeen' time! I'm really curious… The nose is quite dusty but in a good way. Mocha, bitter chocolate (Van Houten), dried orange, old cardboard. Not tired at all! The mouth is very nice, full of cooked fruit (blackberry pie, Christmas cake), fresh fruit (apricot), and tropical fruit (the old bottle effect, I guess). In short, it's surprisingly good! Enough to earn 86 points.
MOTORCYCLES - Ducati will launch its new Paul Smart 1000 in 2005. Which one do you like better, the new one or the older 750SS (here a 1974 model)? No question on my side, I like elegance better.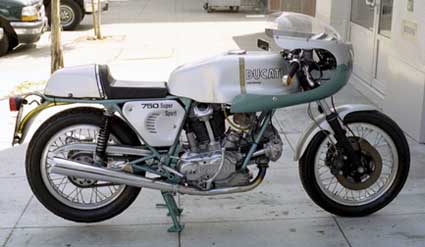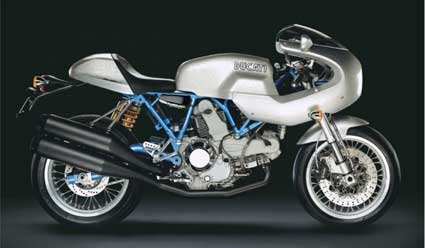 ---

April 2004 <--- May 2004 ---> June 2004


Check the index of all entries:
Whisky
Music
Nick's Concert Reviews